As individuals we deposit our hard-earned money in banks and it is considered safe as banks are regulated by Reserve Bank of India. In the same way, depositories help you in storing all your financial assets such as
stocks
,
bonds
,
mutual funds
,
exchange traded funds
(ETFs), certificates of deposits etc. in electronic or
Demat
form. They help in keeping your digital transactions safe and convenient. It is regulated by the
Securities and Exchange Board of India
(SEBI).
In this article:
What are Depositories?
Depositories acts like your bank account. As you store money in your bank account similarly, a depository helps you store securities in your
Demat account
.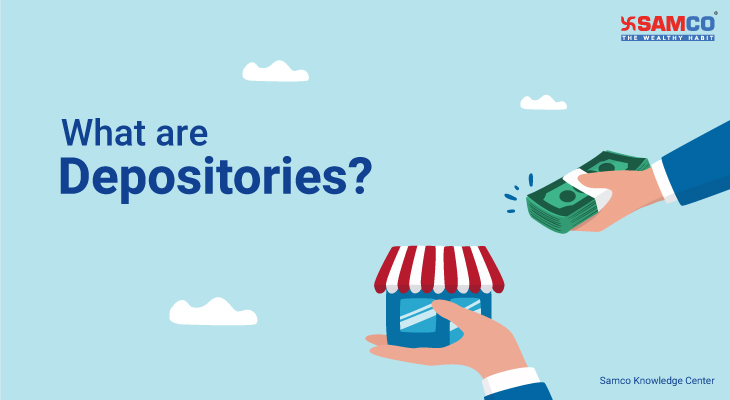 There are 2 Depositories in India:
NSDL is the oldest and largest depository in India. It was established on 12th December 1995 and started its operations in 1996 in Mumbai. It was the first depository to provide trading services in electronic format. Today, NSDL has more than 2 crore active customers, 276 depository participants and 36,096 DP serving centres across 1,982 cities as on 30th September 2021.
CDSL came into existence after NSDL in February 1999. Its goal is to provide convenient, dependable and secured depository services. CDSL is the first depository to reach five crores Demat accounts. Today it has 591 depository participants registered with it as on 30th September 2021.
Apart from these, they offer a wide range of services like,
Dematerialisation services
Rematerialisation services
Transfers between depositories
Off-market transfers
Lending of securities
Nomination services
Collateral and mortgage of securities
Recommended watch - What are Depositories?
Who is a Depository Participant (DP)?
Just as bank has their branches, depositories have their registered depository participants or DPs. They act as agents to the depositories. So, the broker you approach to
open a demat account
is the depository participant such as
Samco Securities
. The DP will help you in buying and selling securities and provide a
trading platform
.
How does a Depository Work?
The key instrument needed to trade in the stock markets is a
Demat account
. When you buy and sell shares, your Demat account is credited or debited.
So, how does a depository help in the process of trading?
When you open a Demat account with your depository participant, they provide you a
trading platform
. Using this platform, you place buy and sell orders. Let's understand the process with a simple example. Assume you want to buy shares of
Infosys
at Rs 1,706. You place a market order and buy 10 shares using your trading platform. You will receive 10 shares of
Infosys
in your Demat account in two working days after the trading day. The ownership of these shares is transferred to you by the depository. Let's say after a month the price rises to Rs 2,000 and now you wish to sell the shares. Again, you place an order from your
trading platform
to sell the shares. In the backend, the shares which are in your Demat account will be debited. In return, equivalent amount will be credited in two working days after the trading day. After which the ownership of the shares will be transferred to the next buyer by NSDL or CDSL. When you sell the shares from your Demat, a nominal DP selling charges is levied by the depository. It is charged when you sell a delivery from your Demat account.
Functions of a Depository
1. To regulate smooth transactions. 
In case of physical share certificates, investors had to constantly enquire if the shares were transferred under their name or not. Today because of depositories the transfer takes place automatically in two working days after the trade. This ensures smooth and timely transactions.
2. Corporate Actions
When companies issue bonus shares or dividends to its shareholders, it automatically gets transferred to your Demat account. This process is smoothly done by the Depository.
3. Pledge and Hypothecation
Securities held by an investor can be used as collateral for loans. The depositories provide a collateral account in which pledged securities are held till the time the borrowed money is repaid.
Indian Stock Markets Before Depositories
Before the concept of Demat was first introduced by SEBI, physical share certificates were held and the process was quite burdensome. After purchasing the shares, investors had to safely keep the share certificates in custody and ensure that it does not get misplaced. So, when shares were purchased through a broker, they would give you the share certificates in the name of the seller with the transfer form attached to it. The buyer would send the certificates along with the transfer form to the company's registrar. The registrar would get new certificates printed with the buyer's name. This process would take more than a month and had a lot of risks involved such as,
Certificates could get lost in transit
The certificate could get damaged etc.
Quite often, the transfer form got rejected because the signature in the transfer form did not match with the signature in the company's record books. To overcome all these problems dematerialization was introduced. And to ensure the process is quick and easy, depositories were introduced.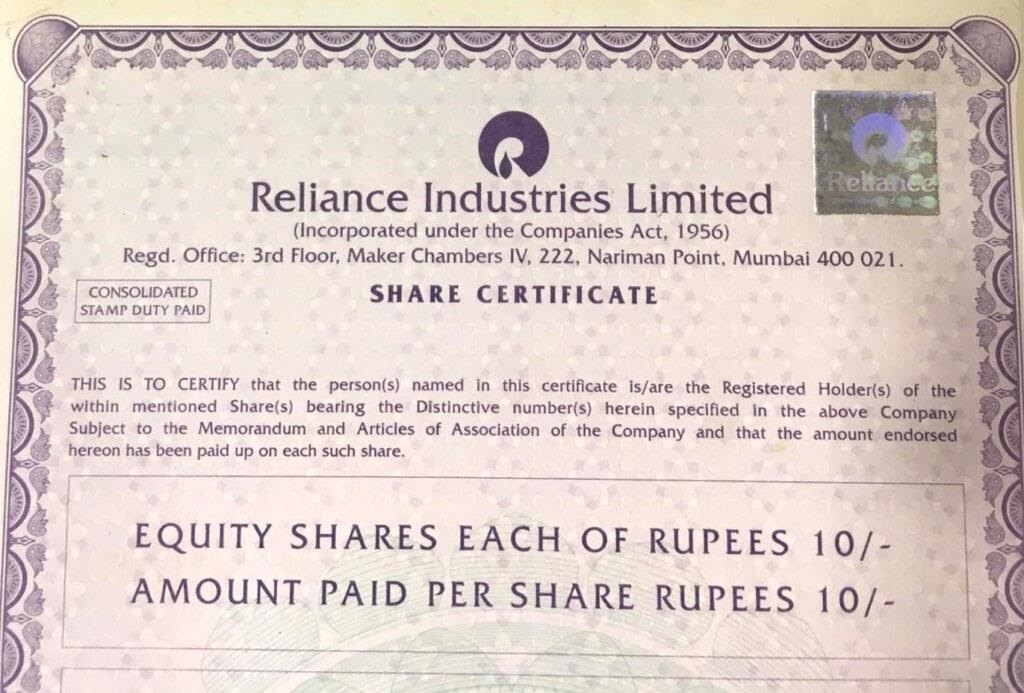 A picture of the physical share certificate of Reliance Industries.
Benefits of Depositories in India
1. Elimination of risks associated with physical certificates. 
Formerly, investors were exposed to various risks when it came to dealing with physical shares like –
Risk of theft of stocks
Loss of certificates during transit
Electronic trading via a
demat account
has made the process a lot more convenient.
2. Immediate transfer and registration of securities
Before depositories came into existence, it took around 15 days to 1 month to transfer shares. You had to fill a transfer form and courier it to the SEBI's office. But today the settlement is done electronically after-market hours within a few days.
3. Reduction in brokerage
Electronic trading has multiple benefits such as,
Reduced paperwork
Easy and quick transactions
No courier charges and a lot more.
As the broker's costs are reduced, this benefit is passed on to investors in the form of low brokerages.
4. Periodic status reports
You can easily download and view the status of your portfolio digitally anytime and anywhere.
5. Elimination of problems related to change of address and bank accounts.
Let's say you have a portfolio of stocks of 50 different companies. Today you wish to change your address and bank account details for all of them. Previously, for any small update, you had to courier your documents to each company. But today you can simply update the information in your Demat account and the depository will get it updated for all the companies in your portfolio.
6. Safety of Investors
Depositories constantly monitor and review various things for the safety of investors. This includes:
Periodic inspections on the activities of DP.
The transactions on the platform are end to end encrypted.
Insurance policies are taken by the Depositories. It helps DP to cover investors for the loss accrued due to errors, omissions or negligence.
Difference between NSDL and CDSL
| | | | |
| --- | --- | --- | --- |
| Sr. No. | Particulars | NSDL | CDSL |
| 1. | Full Form | National Securities Depository Ltd. | Central Depositories Services Ltd. |
| 2. | Operating Market | National Stock Exchange | Bombay Stock Exchange |
| 3. | Year of Establishment | 1996 | 1999 |
| 5. | Promoters | IDBI Bank, UTI, etc. | BSE, HDFC, SBI, BOI, BOB etc. |
| 6. | Number of depository participants registered | 276 | 591 |
| 7. | Investor Accounts active | 2,37,55,327 | 4,64,66,132 |
| 8. | Demat account number format | 16 digit alphanumeric number which begins with 'IN' followed by 14 numeric digits. | 16 digit Demat account number. |
*Data as on 31st September 2021 
How do you Open a Demat account?
Can you simply walk into NSDL or CDSL office to open a Demat account?
The answer is NO. Think about it, can you directly go to the RBI to open a saving account? Similarly, to open a Demat account, you have to visit the Depository Participants (DP). So, to avail services provided by the depository you have to get in touch with a DP like
Samco
. Recommended reading
: How to open a Demat account with Samco in just three simple steps
?
Advantages of Trading Through a Demat account
1. A Demat account promises security of transactions. It provides timely delivery of shares and reduces fraudulent transactions. 2. There is less paperwork when you buy and sell through a demat account. Hence, the cost per transaction is also lower compared to physical trading. 3.
Demat accounts
have provided flexibility and ease of working from anywhere. All you need is an internet connection. 4. In addition, investors can invest in various investment options with a
Demat account
like:
Final Thoughts
Depositories have simplified our investment journey by expertly managing electronic trading process. Today you can invest in shares in just a few clicks using your
Demat and trading account
. So, don't wait for long.
Open a FREE Demat account
at Samco and get access to our robust trading platform –
Samco App
.
Mutual fund investing platform RankMF
Expert-selected mini portfolios or baskets of stocks – StockBasket.
Now that we have understood what is a Depository, let us move on to the next article on
how the stock markets work
.
FAQs
1.Who Regulates Depositories and Depository Participants?
The Securities and Exchange Board of India (SEBI) regulates and inspects the depositories and depository participants in India.
2.What is ISIN number?
ISIN stands for International Securities Identification Number. It is a unique 12-digit identification number allotted to a security. It helps you track and store securities with ease.
3.Can an investor open multiple Demat accounts with a depository?
Yes, an investor can open more than one demat in the same name with a different depository participant.
4.Why does the DP selling charges change from DP to DP?
DP selling charges is a source of revenue for the depository and also for the depository participants. The charges are fixed by the depository. Additional charges are levied by the depository participant. Hence the charges vary from broker to broker. Samco is a renowned discount broker. You can check the brokerage charges by
clicking here
.