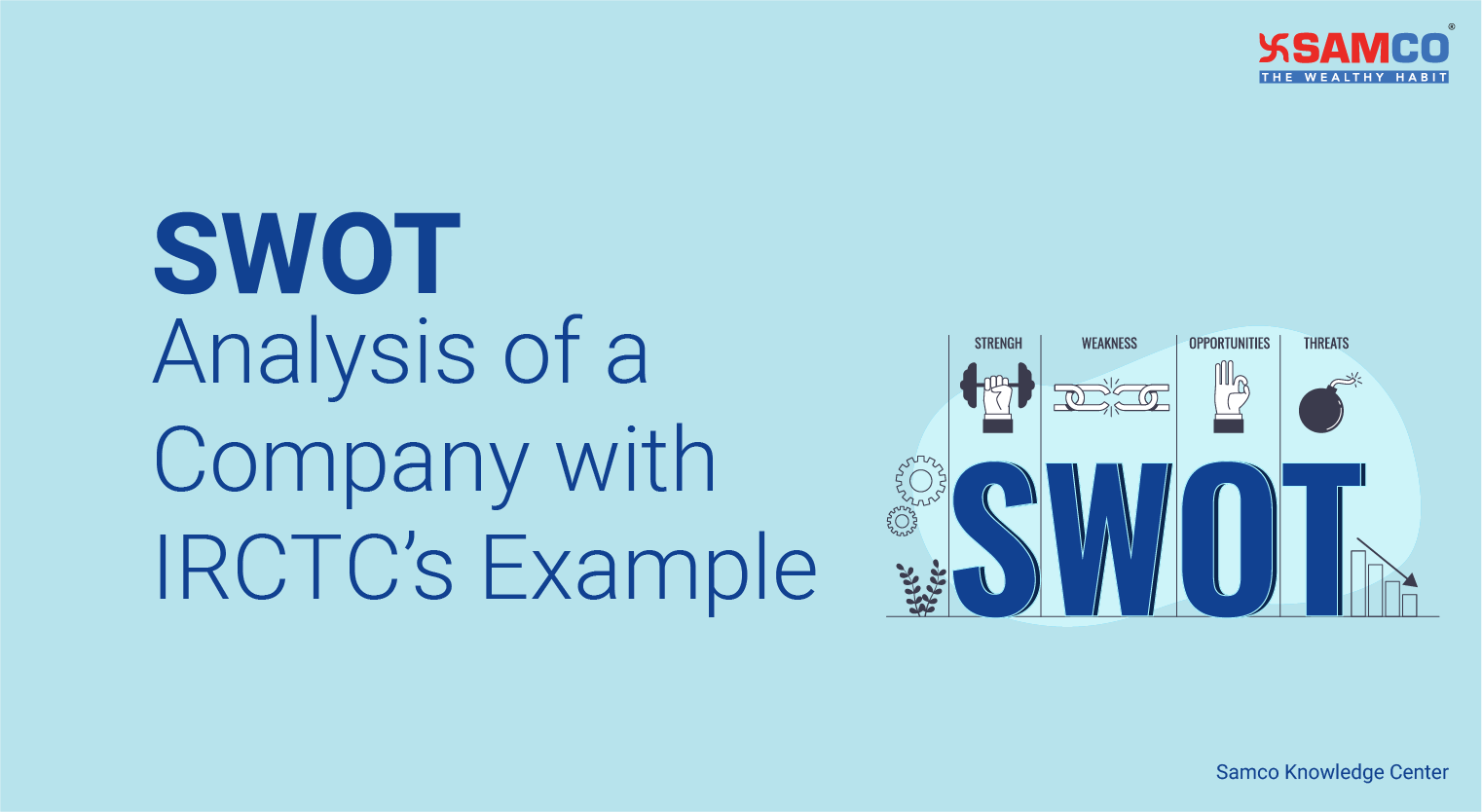 Investing in a company just because they are earning profits is a bad idea. In our previous article, we learned about
Warren Buffett's investment strategy.
We understood that analysing financial statements is not enough. To make a better decision, we need to check qualitative aspects too. There are various tools to do this. One such method is to conduct a SWOT analysis of the company before investing.
SWOT
stands for
s
trengths,
w
eaknesses,
o
pportunities, and
t
hreats. It is also referred to as a SWOT matrix. It is a strategic planning technique. It can be done for an industry, company, place, or person. The best way to begin SWOT analysis is by asking questions. In this article, we will learn how to analyse a company using SWOT analysis. We will be taking the example of the
Indian Railway Catering and Tourism Corporation's (IRCTC)
.
SWOT analysis is divided into two main categories -
Internal factors
External factors
Internal Factors :
Internal factors
are the
strengths
and
weaknesses
of the company. Strengths are the qualities of a company that gives them a competitive advantage. Weaknesses are what the company needs to subdue to improve its performance. These are the characteristics that occur within the company. Example: company's operating efficiency, financial and human resources, brand awareness, etc. It is largely influenced by the company's organizational structure.
External Factors:
External factors
are
opportunities
and
threats
for a company. Opportunities are factors that the company can pursue to generate value. Threats are factors that prevent the company from achieving its goals. Example: Changes in government regulations, monetary policies, market trends etc. It is largely influenced by the outside economic environment. Let's understand these four parameters in detail.
Breaking down SWOT analysis process:
How to analyse the strengths of a company
Strengths describe what a company shines at and what separates it from its peers. This could be a strong brand image, loyal customer base, unique technology, and so on. For example, if all the companies provide high-quality service, then that is not a strength. It is a necessity. Strength Analysis asks the following questions -
What does the company do better than its peers?
What values drive their business?
Which unique resources can they draw upon that others can't?
How efficient are they at managing their cost?
What advantages does the company have that their peers don't?
How loyal is their customer base?
For example, let's have a look at IRCTC's strength -
a. Debt free and cash-rich company
IRCTC
is a debt-free company. As of March 2020, it reported cash and cash equivalent of Rs. 1,296 crores in their
balance sheet
. Such companies are less likely to go bankrupt because they have strong financials. Their shareholders thus carry a lower risk of holding the stock.
b. Monopoly in the railway sector
IRCTC enjoys a ticketing monopoly in the railway sector. So far, there is no privatization in Indian railways.
c. Backed & supported by government
Government support is a strength for any company. It enables them to take bold decisions. For example, IRCTC was able to venture into the hotel business and launch its own payment gateway because it had the government's support. They opened up an additional source of revenue by improving their operations.
d. Goodwill
Despite having no competitors, IRCTC does not exploit its positional power. Their services are provided to the customers at very reasonable prices. This has established good faith among people for the company.
e. Online Booking
IRCTC is becoming the fastest-growing website in Asia-Pacific. They have a user base of over 5.8 crores as of 2020. Being a monopoly, there is no competition in the online railway ticket booking segment.
How to analyse the weaknesses of a company
Weaknesses stop a company from performing at its best level. They are the areas where the business needs to improve to remain competitive. Examples include a weak brand name, high levels of debt, or lack of capital. Examine how and why are their competitors doing better than them. What are they lacking? Let's have a look at IRCTC's weaknesses –
a. Technology related problems
If you have tried to book a ticket online, you might have faced a couple of difficulties. IRCTC faces a high rate of failed transactions. The website often crashes due to high traffic, especially during
tatkal
bookings. This increases the bounce rate. As a result, the customer feels helpless and frustrated. This is one of the biggest weaknesses of IRCTC.
b. Poor customer service
Customers are the king, be it for a monopoly or a competitive firm. IRCTC 's customer service has been criticized for a long time. The attitude of customer service personnel speaks a lot about how they think of their customers. They need to improve their backend service to help customers when they need guidance. A better system needs to be in place to address all the queries.
c. Slow implementation of decisions
The implementation of decisions made by such large companies is often slow. For example, we previously discussed IRCTC's technical issues. Optimizing a website to be user-friendly should not be difficult or time-consuming. Implementing the latest technologies is easier than before with all the resources available. Yet, customers still continue to struggle. This is a major concern in every service industry. In our example, IRCTC has no competitors. Given the same case with the
banking sector
, customers could easily switch to a different service provider. Another reason for the same could be the constant government interference. This prolongs the execution process making decision-making time-consuming.
d. Fully reliable on government
What if the government pulls back its support? Government support is a strength for any given business. But being completely dependent on the government is not a wise idea. Trains are operated by the Ministry of Railway. The inventory thus belongs to the ministry. IRCTC works to sell the tickets where they have the flexibility as well as a monopoly. Any major inventory-related decisions are thus made by the ministry. IRCTC can only suggest the changes, not implement them.
e. Advertisement
Did you know that IRCTC is now venturing into the hotel business too? No? Lack of advertising keeps potential investors and customers unaware of new developments. IRCTC still has a lot of ground to cover. They need to improve their plan to bring brand awareness amongst the next-generation customer.
How to analyse the opportunities of a company
Opportunities refer to events that could give a company a competitive advantage. It requires an eye for what might happen in the future. They might arise due to developments in the market you serve, or in the technology you use. While analysing a company, check if the company is utilizing future opportunities. It makes a huge difference to their ability to compete in the market.
What interesting market trends are you aware of?
Are there any changes in technology that the company can take advantage of?
Is the company being impacted because of the same? Or are they able to improvise using it as an opportunity?
For example, in the wake of the pandemic promoted the work from home culture. This was a great boost for technology companies. . When a country cuts tariffs, manufacturers can export into a new market at relatively less cost. A company needs to be up-to-date with every new policy reform. Any minor or major reforms can throw up interesting opportunities. Let's have a look at IRCTC's opportunities –
a. Expanding travel industry
IRCTC recently took the opportunity and entered the hotel business. The aim is to provide accommodation services to their customers. This will be available on their
website
. Out of the 7 lakh hotels in India, IRCTC has tie-ups with only 7,200 hotels. They are yet to enter the huge untapped market. Given their monopoly and brand name, they can easily scale this to 40,000 hotel tie-ups within a year. For every booking, IRCTC earns a commission ranging from 10% to 15%. The commission percentage depends and varies on individual agreements. This will give them an additional source of revenue.
b. Payment Gateway
IRCTC recently launched its own
payment gateway - iPAY
. This is done to simplify and improvise railway ticket payment transactions. This new gateway also makes the refund procedure easier. Earlier, they earned less than 0.1% commission on each transaction. With iPay, the situation has improved. They are able to make the best of an opportunity in the market. This development helped them improve their commission revenue. IRCTC has the opportunity to use this gateway to tie up with other government websites. Such expansion will add a large number of transaction commissions.
c. Competition free environment
Having no competitors, IRCTC can make the best of every market opportunity. They enjoy unlimited chances to experiment and improve their services in the market. They can strategically tie up with private operators to improve operations. This will help them meet higher customer expectations.
How to analyse the threats of a company
Threats include factors that can negatively affect a company from the outside. They have the potential to harm a company. It is important to anticipate threats to take investment decisions. Do not blindly follow a profit-earning company. Examples include rising raw materials cost, increasing competition, shortage of human resources, etc. A drought is a threat to a wheat-producing company. A large number of human forces traveled back home in 2020 because of the pandemic. This led to a shortage in labor resources. Such health-related hazards are a threat to a labor-intensive company. Evolving technology is an everlasting threat as well as an opportunity. Is the company you are analysing making the best of the technology? Or is it a threat to them? Always evaluate the technology-related threats and opportunities. For example, many jobs were replaced by computers and Artificial Intelligence. Analyse the company's financial statements. Do they have enough liquidity to carry on their operations? Or are they completely dependent on cash? Do they have bad debt or cash-flow problems?
Low liquidity
and high bad debts impose financial threats on a company. They can damage a business and are considered to be red flag for investors. Consider asking these questions to understand a company's threats -
What obstacles does the company face?
What are their competitors doing better than them?
Is a change in technology threatening the position of the company?
Do changes in lifestyle, social patterns, etc., pose a threat to the company?
Can a change in a particular government or economic reform shake their operations?
Let's have a look at IRCTC's threats –
a. Privatization
Privatization would be the biggest threat to IRCTC. So far, private companies have not stepped into rail works. But major metro projects are being developed in various cities by private players. This imposes a threat of substitutions if the private sector enters the market. They are well equipped with human as well as technology resources. There is a huge scope of improvement in the railway sector and private players have the ability to improve the same to a great extent.
b. Covid-Impacted operations
Catering is one of the revenue-generating streams of IRCTC. Because of the pandemic, trains were terminated. This majorly affected revenue from the catering segment. They recently announced that they will stop serving cooked meals. Instead, they will switch to ready-to-eat packets. Though they switched to a cost-efficient option, the threat of Covid-19 remains. Trains are not in operations and the same imposes a threat of further losses.
c. Safety and Attacks
Safety is of prime importance to everybody. There have been many incidents in the past when railway safety was questioned. It is one of the major threats to the industry. They need to have a proper security plan to reduce thefts and control other safety issues.
End Note:
Strengths and weaknesses are current or backward-looking characteristics of a company. Whereas opportunities and threats are forward-looking characteristics.
By performing a SWOT analysis, we will be able to build a bridge between these factors. You can also use it to get a better understanding of how capable a company is. Once you finish a company's SWOT analysis, your next step will be to take the best possible actions.
The key question is –
Can the company use its strengths to open up future opportunities? When carrying out your analysis, be precise and realistic. Check the company's financial as well as qualitative aspects.
Related recommended reads:
How to Read & Analyse a Balance Sheet of a Company – Dabur India Limited
How to Read & Analyse an Income Statement – Dabur India Limited
How to Read & Analyse a Cash Flow Statement of a Company – Dabur India Limited
You will find majority of the financial details in their
annual report
. Read the latest news about the company. Is the economic environment in their favor? Read their concall transcripts to gain additional information on their future plans. These concalls transcripts are available on the company's website.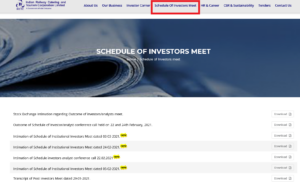 IRCTC's concall transcripts details
Investors ask questions directly to the management on various topics. The manner in which management handles these questions helps us understand how ready are they for the near future. You can also
visit Samco's stock page
. Read the pros and the cons for every listed stock. Check their latest valuations, reviews and rating.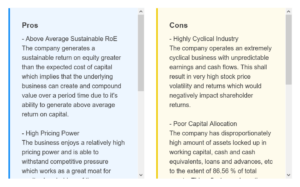 IRCTC's pros and cons on Samco Stock Page
However, SWOT analysis has limitations too. It is one of the several analysing techniques. Hence it must not be used independently for decision-making. A deeper analysis is always suggested. For example, you can use
Porter's Five Forces
along with SWOT analysis. These strategies are a part of
fundamental analysis
. Check our YouTube channel if you want to learn how to select the best companies. Watch our show –
The Right Choices with Oracles of Dalal Street
to learn from market experts. The show focuses on curating insightful strategies from real-world stock market heroes.
Tune in every Saturday at 11 AM on our
YouTube channel
.