There are thousands of companies listed on both the exchanges ,i.e. NSE and BSE, collectively but most of the companies lag behind when the confidence of investors is looked up and one such proxy or indicator is market capitalization. Market capitalization is the valuation of any company in the eyes of investors. This is simply calculated by multiplying the current price of the stock with the no of shares issued. The list below highlights the Top 25 companies listed in stock exchanges in India.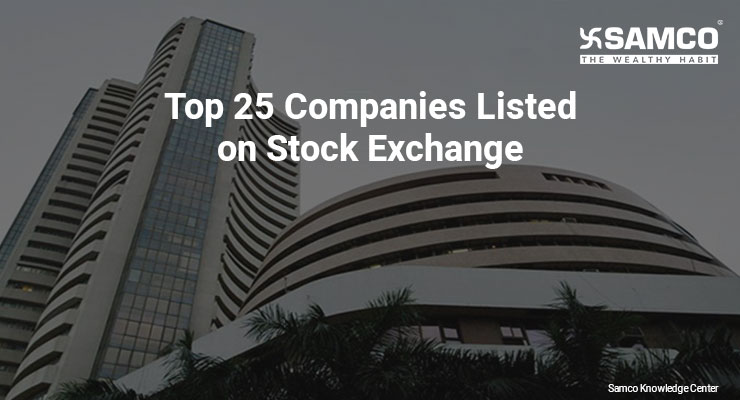 To prepare the list, market capitalization has be considered as the sole criteria and readers must understand that there are many ways in which any company can be judged upon.
The list basically highlights the last recorded share prices,52 week high ,52 week low, EPS, PE, Market capitalization and many other information of stocks.
Top 25 companies listed in Stock Exchanges(Last updated on May 2018)
| | | | | | | | | |
| --- | --- | --- | --- | --- | --- | --- | --- | --- |
| COMPANY NAME | FACE VALUE | Last Recorded Share Price | 52 Week Low | 52 Week High | Market Cap | EPS | PE | Shares Outstanding |
| TCS | 1 | 3517.75 | 2323.1 | 3560 | 6649960854560 | 134.25 | 26.2 | 1890401778 |
| RELIANCE | 10 | 949.15 | 647.6 | 1011 | 6080335271912 | 60.92 | 15.58 | 6406084513 |
| HDFC BANK | 2 | 2022.1 | 1545.25 | 2065 | 5218793005122 | 7.77 | 260.17 | 2580877834 |
| ITC | 1 | 281.8 | 250 | 367.7 | 3469626663114 | #N/A | #N/A | 12312373362 |
| HUL | 1 | 1587.9 | 983 | 1596.4 | 3418246472791 | 7.49 | 212.03 | 2152683683 |
| HDFC | 2 | 1886.8 | 1503.45 | 1986.05 | 3166856609707 | 98.82 | 19.09 | 1678427246 |
| MARUTI | 5 | 8736.5 | 6689.25 | 9996.4 | 2641302795022 | #N/A | #N/A | 302329628 |
| INFOSYS | 5 | 1187.55 | 860 | 1221.05 | 2568192238261 | 71.02 | 16.72 | 2162597055 |
| KOTAK BANK | 5 | 1277.95 | 932.5 | 1304.45 | 2419501708539 | 32.65 | 39.14 | 1893267969 |
| ONGC | 5 | 187.7 | 155.2 | 212.85 | 2394670400376 | #N/A | #N/A | 12757967178 |
| SBI | 1 | 244.8 | 232.35 | 351.3 | 2253716898568 | -0.14 | #N/A | 9206359765 |
| L&T | 2 | 1368.95 | 1107.5 | 1470 | 1930863642572 | 51.22 | 26.73 | 1410470588 |
| ICICI BANK | 2 | 298.05 | 255 | 365.7 | 1930025598960 | 5.47 | 54.46 | 6475509740 |
| COAL INDIA | 10 | 269.75 | 233.7 | 316.95 | 1717780261486 | 13.6 | 19.83 | 6368045455 |
| IOC | 10 | 164.2 | 156.75 | 167.5 | 1606930142016 | 5.28 | 31.11 | 9786420048 |
| BHARTI AIRTEL | 5 | 370.1 | 360.6 | 564.8 | 1484302018757 | 2.75 | 134.58 | 4010543081 |
| NTPC | 10 | 167.75 | 153.15 | 188 | 1402295159015 | #N/A | #N/A | 8359434629 |
| AXIS BANK | 2 | 543.7 | 447.5 | 627.6 | 1407201777601 | 6.11 | 88.99 | 2588195229 |
| HCL TECH | 2 | 916.65 | 824.85 | 1108 | 1281900185193 | 65.93 | 13.9 | 1398461955 |
| WIPRO | 2 | 279.2 | 252 | 334 | 1269846797413 | 16.82 | 16.6 | 4548161683 |
| HINDUSTAN ZINC | 2 | 297.4 | 226.85 | 340.2 | 1262580862853 | 21.83 | 13.62 | 4245396398 |
| ASIAN PAINT | 1 | 1315.5 | 1080.5 | 1332 | 1249442677914 | 20.52 | 64.1 | 949785388 |
| INDUSIND BANK | 10 | 1913.65 | 1375.2 | 1951.5 | 1152175828070 | 40.16 | 47.65 | 602082833 |
| SUN PHARMA | 1 | 482.75 | 432.7 | 656.95 | 1169774559416 | 10.73 | 45.01 | 2423147715 |
| ULTRA CEMENT | 10 | 3997 | 3773.3 | 4599.9 | 1102649296322 | 80.9 | 49.41 | 27586922 |
For more useful articles on trading, investing and market knowledge, visit our Knowledge Center section.
(Note: The above list is for information purpose only. Avoid trading and investing based on the information given above. Before investing in stocks or mutual funds conduct proper due diligence)