In this Samco Investor Education Series, we will cover the topic of (Unit Linked Insurance Plan) ULIP vs Mutual Funds. Investors often find it confusing to choose between ULIP  vs Mutual funds. 
ULIP supporters have always projected ULIPs as a better way of managing risk and investment whereas Mutual Fund proponents have said that the returns generated by Mutual Funds are way more superior to ULIPs.
In this article, we will cover,
What are ULIP & Mutual Funds?

Difference between ULIP vs Mutual Fund

Myths associated with ULIPs and Mutual Funds

Which is better ULIP or Mutual Fund?

Strategies for Investment & Risk Mitigation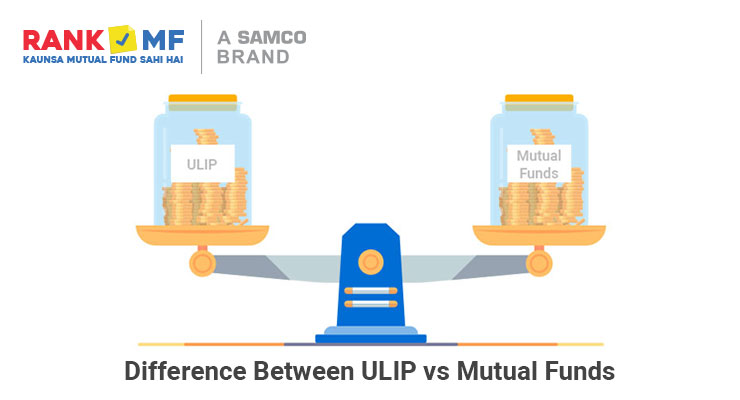 Mutual Funds were first introduced in 1963 by the Government of India in collaboration with RBI. Since then the Indian mutual fund market has seen tremendous growth and change. The UTI formation attracted investors to take their first step towards the mutual fund. To further improve the mutual funds' markets, UTI had introduced ULIP and started ULIP culture in the country.
Let's talk in detail about ULIP & Mutual Funds
ULIP:
ULIP, short for Unit Linked Insurance Plan, was first introduced by UTI in 1971. LIC had introduced the second ULIP in 1989 in the country when only PSUs were allowed to create Mutual Funds. It is a mix of insurance along with investment. Like any other life insurance product, these offer life cover along with investment. A portion of your investment goes towards life insurance and rest into a fund that is based on equity or debt or both and matches with your long-term goals. Though, these policies can be more profitable than a traditional insurance policy; it also has a higher risk.
Salient Features of ULIP
Aims to attract masses who are away from the stock market. By linking Insurance and Investment the Govt. of India tried to ease the fear among investors

ULIP is insurance cum investment products meaning ULIP has the benefit of both Insurance and Investment

ULIP gives Income Tax Benefit to plan holders under section 80C of IT act, 1961

Investment amount doesn't bear service tax and it only entails mortality charges
Mutual Funds:
Mutual Fund is basically an investment corpus generated by pooling money from the retail investor as well as institutional investors. The proportion of retail investor & institutional investors could vary depending on the nature of the fund.
Watch this video to understand what are mutual funds:
Salient features of Mutual Funds
For brevity purposes, we will use the term "MF" to refer "Mutual Funds" in this article.
Aims at portfolio diversification and thereby reducing the associated risk with stock markets.

Have low cost compared to ULIPs, for example- hefty commission of agents is not applicable to MFs.

Depending on the nature of the fund, investors may or may not get the Income Tax benefit.
Difference between ULIP vs Mutual Funds:
| | | |
| --- | --- | --- |
| Basis  | ULIPs  | MFs  |
| Definition | A ULIP is an insurance cum investment plan where policyholders get both Insurance Cover Plus Investment Returns. | A Mutual Fund is a professionally managed investment fund that pools money from many investors to purchase securities. It doesn't offer any Insurance Cover. |
| Investment Instruments | Capital is generally invested in equity, debt and hybrid funds. | Corpus is usually invested in equity, debt & other money market investment vehicles as per investment objective of the fund. |
| Liquidity | There is a lock-in period of 5 years, after which policyholders can withdraw the money. | Most of the MFs don't have a lock-in period therefore investors can liquidate the investment whenever they want  provided it's an open-ended fund or ETFs. |
| Tax Benefits | ULIP holders get tax benefits under section 80C of IT Act, 1961. | Depending on the type of fund, holders may or may not get the benefit. |
| Cost Involved | There are many charges which needs to borne by the policyholder like Policy admin charges, Premium allocation charges, etc. | Unlike ULIPs, there are few costs involved with the fund like exit load and fund management charges. |
| Risk Factors | There is a risk factor involved with it. | Mutual Funds also possess risk with them. |
| Loyalty benefits | Policyholders get some sort of loyalty benefits on long term basis. | There is no loyalty benefit with Mutual Funds. |
Which is better ULIPs or Mutual Funds?
Well, both ULIPs and Mutual Funds have their own benefits. ULIPs offer risk mitigation plus investment returns whereas mutual funds offer a better return on investment. Data suggests that Mutual funds offer better returns than ULIPs. You can refer the table below to understand the returns generated by both the instruments.
HDFC
Fund category
HDFC ULIPs
HDFC Mutual Funds
Fund Name
3-year return
5-year return
Fund Name  
3-year return
5-year return
Large Cap

Large Cap Fund

7.48

12.44

HDFC Top 200 Fund

10.15

15.82

Multi cap

Diversified Equity Fund

14.04

N/A

HDFC Capital Builder Fund

14.21

20.73

Mid cap

Opportunities Fund

16.31

19.82

HDFC Mid-cap Opportunities Fund

16.35

25.82
ICICI
Fund category
ICICI ULIPs
ICICI Prudential Mutual Funds
Fund Name
3-year return
5-year return
Fund Name  
3-year return
5-year return
Large Cap

Bluechip Fund

8.81

13.83

ICICI Prudential Focused Bluechip Equity Fund

11.18

17.34

Multi cap

Multi Cap Growth Fund

11.59

17.01

ICICI Prudential Multicap Fund

12.16

18.48

Mid cap

Not Available

--

--

ICICI Prudential Midcap Fund

13.18

25.31
TATA
Fund category
TATA AIA ULIPs
Tata Mutual Fund
Fund Name
3-year return
5-year return
Fund Name  
3-year return
5-year return
Large Cap

Large Cap Equity Fund

8.80

15.03

Tata Large Cap Fund

9.43

15.06

Multi cap

Equity Fund

8.31

13.70

Tata Equity P/E Fund

16.40

23.05

Mid cap

Whole Life Mid Cap Equity Fund

16.77%

25.91

Tata Midcap Growth Fund

13.27

24.84
Information as on January 31, 2018. Source: PaisaBazaar
Strategies for Investment & Risk:

 
We need to understand that risk mitigation and returns both are important aspects of average Indian lives. If we look out for the risk coverage by ULIPs then we will find that the amount offered for the risk coverage is less, somewhere in between 5 lakh rupees to 10 lakh rupees approximately. We need to understand that 5 lac or 10 lac rupees are a way to less to sustain a family after the policyholder dies and that too the whole family, which might be having spouse and children. Therefore, instead of taking ULIP, you can look out for a term life which provides a cover in X million rupees against a reasonable premium amount and later you can separately invest in good mutual funds. A typical Life term cost around 12000 annual with a coverage of 25 lakh rupees with a claim settlement ratio at 97%. The coverage can be increased to 50 Lakh, 1 Crore or even more depending on the income and overall health of the policyholder. So based on your requirement you can opt for the best term life.
You can refer the following strategy for better risk coverage & investment returns.
First, decide the amount you can spend on insurance and investment. Let's say you're earning 50,000 per month. If there is a saving of 20% after all expenses then the saved amount will be 120,000 annually. So first decide how much money you would like to save for any year.
One can split the saved money into three groups. Safe Investment (60-75%), Risky Investment for better returns (30-10%) & Risk mitigation through insurance (10-15%). First one should buy a term life plan, they should invest in relatively safer instruments for stable long-term returns such as debt mutual funds, bonds and FDs' and remaining amount should be used for market investments this could include direct investment in equities and equity oriented mutual funds.
One should always understand that at first ULIPs may look attractive in the sense that it offers both risk coverage and investment return. But neither return nor risk coverage is sufficient for individuals. It's better than individuals buy both the products separately for better results and outcomes.
That covers an in-depth comparison of ULIP vs Mutual Funds. For more useful articles on mutual funds, trading, investing and market knowledge, visit our Investor Education section.
(Note: This content is for information purpose only. Avoid trading and investing based on the information given above. Before investing in stocks or mutual funds, please conduct proper due diligence).