Income proof is a mandatory document that is required if you want to trade or invest in the derivatives segment. This is mainly to prevent the use of black money in the derivatives market. Every derivative trader needs to submit their income proof every year to their stockbroker to meet the compliance.
The list of eligible Income Proof is as follows-
Bank Statement for the past 6 months
Salary Slip
Demat Holding Statement
Copy of ITR Acknowledgment
Form No.16
Net Worth Certificate
Here are the step to upload income proof from Samco Star Backoffice
Step 1: Log in to Samco Star Backoffice using your BackOffice login credentials. If you are logging in for the first time your password will be your PAN in caps.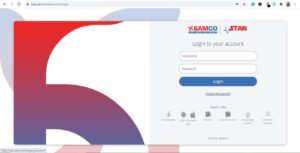 Step 2: Go to the My Profile option available in the drop-down list on the top right.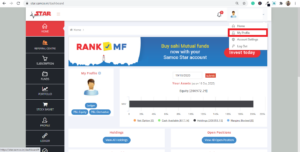 Step 3: Scroll down to the Financial Forms section. Here you have to select your income range and the document you wish to submit.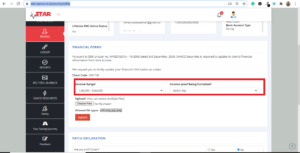 Note: Document can be uploaded in pdf, png, jpg, jpeg only.
Step 4: Click on the choose file option to upload the income proof and click on submit. By which your income proof is submitted successfully.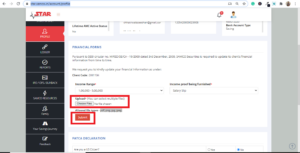 In case you face any difficulty feel free to contact us on 022-22227777 or raise a ticket by clicking here.
Was this article helpful?
Share