Samco Star BackOffice has several reports which will give you an accurate overview of your investments.
These reports are freely available and are very useful to traders and investors to analyze their trades and investments.
Now let's see the types of reports one by one.
Profit and Loss Report
Profit and Loss Report is also popularly known as P&L Statment. This statement helps you analyze the total profit or loss you made within a particular financial year. It gives an overview of all your trades, open positions, buy and sell avg price, avg quantity, realized and unrealized profit or loss, etc. It is very essential to check your P&L statement regularly which will help you analyze and improve your trading style. Apart from this P&L Report helps you identify how much transaction cost you incurred within a particular financial year. This report is separated for equity and derivative segments which will help you analyze more accurately. You can refer to the below illustration for a better understanding.
If you wish to check your Profit and Loss Report you can follow the steps shown in this Article –  How to View and Download My Profit and Loss Statement from Samco Star Back office?
2. Trade Book 
A trade book I a consolidated statement in which you can see all your trades within the selected period. It is also known as Trading Ledger. Trade Book contains details like Trade Date, Exchange, Symbol (Stock Name/Contract), Series  (EQ/FUT/OPT/CUR), Action, QTY, Price, and order number. You can access your Trade Book in Samco Star Back Office-> Reports-> TradeBook.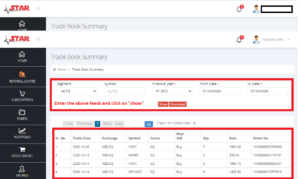 3. Ledger
Ledger is similar to your bank account statement. In a bank statement, all your banking transactions are credited and debited similarly in a ledger all your transaction related to your trading account are recorded. You can access your ledger by following the steps shown this article – How can I check my SAMCO Ledger Account?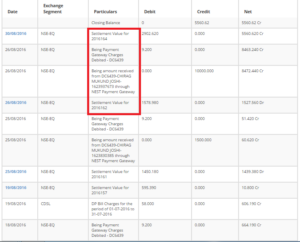 In case you face any difficulty to access any of these reports feel free to write us on support@samco.in or raise a ticket on our support helpdesk.
Was this article helpful?
Share