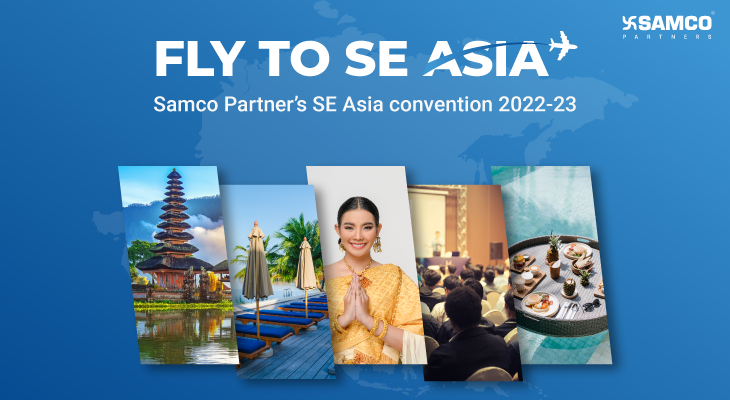 Meet your targets to win an all expense paid trip to Samco Partner's Exclusive SE convention
About Samco Partner's Fly to SE Asia Convention:
This Convention is an initiative to reward dedicated and most deserving partners with an all expense paid trip to Samco Partner's Exclusive Convention 2022-2023 to South East Asia. The convention will be a closed door exclusive knowledge session from the stock market and marketing experts.
All our valued Samco partners will be rewarded with 1 all expense paid trip to the SE Asia Exclusive Partner Convention for every ₹1,00,000* of overall brokerage they generate from their clients.
All client accounts opened and brokerage generated must be between 15th July 2022 and 31st March 2023.
What to expect in the Convention?
A Fun filled learning offsite to SE Asia
Deep Dive Session – Indian Stock Markets
Master Class – Technical Analysis
Master Class – How to grow your business
Convention participation duration:
15th July 2022 – 31st March 2023
Terms and conditions:
All active Samco partners will be eligible to participate in the Convention.
Brokerage generated from demat & trading accounts opened between 15th July 2022 and 31st March 2023 will only be eligible for the reward calculations.
Partners are required to open a 3 in 1 trading and demat account. (Only MF account is not eligible for Convention)
All MF only accounts that are converted to 3 In 1 via segment addition post 15th July will be considered for rewards calculation.
Brokerage generated from clients referred before 15th July 2022 will not be considered.
Encashment of eligible rewards earned in the Convention in any form cash or kind is not possible.
Samco reserves the right to deny participation in this rewards program to any partners if there is any fraudulent activity.
The international convention trip will only include flight, stay and meals. No personal entertainment and other expenses of any sort will be covered whatsoever.
Maximum 7 trips / partner can be availed.
In case of Master Franchise, brokerage generated from direct clients will only be considered to be eligible for the Convention.
Samco reserves the right to change, reschedule the international convention dates, training topics covered in convention.
Qualifiers & Dates for the Samco Partners Convention will be announced by April 2023
And if you haven't completed your Samco partner registration, there is no better time than now to do so. Grab this offer by signing up to be a Samco Partner now. Become a Samco Partner Now →
Book an appointment with our relationship managers if you need any further assistance. Book Appointment Now
Was this article helpful?
Share