Last Updated – Sept 2022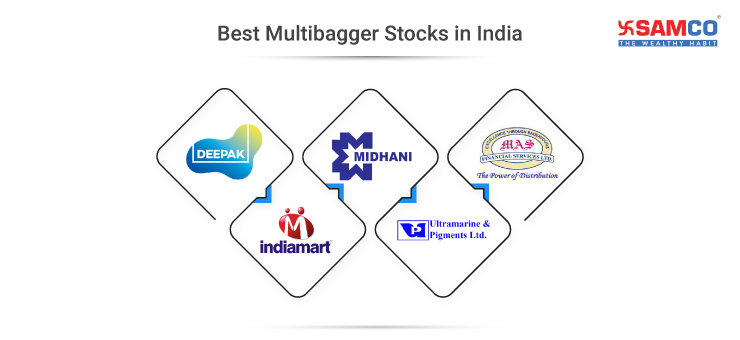 Best Multibagger Stocks to Buy – Summary Table
| | | | | | | |
| --- | --- | --- | --- | --- | --- | --- |
| Sr. No | Company Name | BSE Scrip Code | NSE Symbol | CMP (Sept 2022) | Rating | Industry |
| 1 | Mishra Dhatu Nigam | 541195 | MIDHANI | 225.5 | 2 | Iron & Steel Products |
| 2 | MAS Financial | 540749 | MASFIN | 766.25 | 4.5 | Finance-NBFC |
| 3 | Ultramarine & Pigments | 506685 | Not in NSE | 370.05 | 1 | Specialty Chemicals |
| 4 | Deepak Nitrite | 506401 | DEEPAKNTR | 2,153.30 | 1 | Commodity Chemicals |
| 5 | Alkyl Amines Chemicals | 506767 | ALKYLAMINE | 2,788.05 | 2 | Specialty Chemicals |
| 6 | Adani Gas | 542066 | ADANIGAS | 3,683.10 | 2 | Oil & Gas |
| 7 | Caplin Point Labs | 524742 | CAPLIPOINT | 727 | 1 | Pharmaceuticals |
| 8 | Trent | 500251 | TRENT | 1,484.00 | 0.5 | Specialty Retail |
| 9 | IndiaMart | 542726 | INDIAMART | 4,418.30 | 4.5 | Publishing |
| 10 | IRCTC | 542830 | IRCTC | 705.05 | 1 | Travel Support Services |
Multibagger stocks are equity shares of a company which generate returns multiple times higher than its associated cost of acquisition. These stocks were first invented by Peter Lynch, published in his book 'One Up on Wall Street'. These are essentially stocks that are undervalued and have strong fundamentals, thus presenting themselves as great investment options. A stock that doubles its price is called two-bagger while if the price grows 10-times, it would be called a 10-bagger. Thus, multibaggers are stocks whose prices have risen multiple times their initial investment values. Investors looking to build capital with decent risk appetite aim to get their hands on multibaggers. But the catch is- a multibagger is a multibagger only in hindsight. At first, it may look like a risky undertaking in an overstimulated market environment.
We are referring to multibaggers as stocks which multiply or provide avenues for phenomenal wealth creation. The wealth creation could happen over a long horizon of time through compounding gradually and necessitates a patient investor's mindset. The reward for an investor from a multibagger bet is by putting serious capital at work. However, serious investing happens only when the investor has understood a company' business model, risks to growth, market potential thoroughly and has invested at sane entry valuations, willing to wait for a business to grow its earnings in the future years.
A great example of a multibagger is HDFC Bank, which has completed 26 years in 2021 since its IPO in 1995. Without dividends reinvested, the stock has delivered a return of 25% CAGR, whereas with dividends reinvested it is 30% CAGR. An investment of 1 lac in that IPO is worth Rs 8 crore today, which means the price has grown 800 times, making it an 800-bagger. Some popular multibaggers in Indian stock markets in 2020 were Caplin Point Laboratories which returned 22,300 percent in ten years; La Opala RG rising 4500 percent in the previous decade; or Garware Technical Fibres that has returned 2600 percent in the last ten years.
Watch our video on best Multibagger Stocks
Multibagger Stocks – What should an investor look at while picking in this collection
Size of the company: The size of a company has a great deal to do with what you can expect to get out of the stock. How big is this company in which you have taken interest? Specific products aside, big companies don't have big stock moves as they are already quite stable. In certain markets they perform well, but you can expect the biggest moves in smaller companies who are growing at a faster pace than their larger counterparts. You don't buy a stock in a giant such as MRF to quadruple your money in two years. For a TCS to double or triple its size is a mammoth task in the foreseeable future.
Healthy Earnings Growth: A shareholder earns when the company makes profits. When you look at the earnings of a multibagger stock, you will typically find high growth in the earnings of the company due to its revenue growth model, profitability model and also capital allocation model.
High Margin Businesses: Another simple answer to the question – how to identify multibagger stocks is to look for businesses that have high margins. Usually, multibaggers command high margins either due to a lack of competition or some moat, some operational efficiency or because they command a leading position in the industry. Moreover, these stocks tend to have a sustained margin over time that doesn't fluctuate every quarter or year.
Future Growth Potential: A company may not be able to make money if it doesn't have a comprehensive range of products or services as the markets are very dynamic in the current scenario the world over. One of the characteristics of a multi-bagger stock is that the management is very vocal about its vision and is able to explain the steps being taken to achieve the same.
Competitive Advantage: This is one of the best ways to identify multibagger stocks in India. A company can stay in competition by offering better services and products as it grows. For example, Madras Rubber Factory (MRF Ltd as it is now known as) was started by a small town balloon toy manufacturer, and the company has been improvising its products and services as per the demand of the customers. This zeal to keep innovating and tweaking or diversifying their offering as per demand has given them a competitive edge over contemporaries and kept them going strong over the years. To spot whether a company possesses a competitive advantage, see how innovative they have been. You can do so by taking a look at the patents they have, how active their R&D wing is, and how frequently they launch innovative products and services.
Capability to expand free cash generation: Most important feature of sustainable multi-bagger stocks has been the ability to generate free cash flows consistently and the ability to grow them. Multi-bagger companies usually use their internal funds to expand or launch new products. These companies also tend to have lower debt levels against equity. These companies tend to generate free cash flow (which is computed as cash flow from operations minus purchase of fixed assets). This cash flow is to be used to fund future expansions or pay dividends.
Return ratios such as ROE and ROCE. Both these ratios are used to measure the efficiency with which a company can generate profits. These are important measures which should be compared with industry peers as well, to pick the best player. the trend of these ratios should be looked at to see if  they are improving or not. 
Mispriced opportunities: Business is grossly undervalued due to investor ignorance or being out of flavour. Ex. Some of the consumer stocks in 2007
Now let's look at the potential multibagger stocks in our model portfolio.
Multibagger stocks – Detailed profile, pros and cons
MAS Financials
MAS Financial is a Non-Banking Financial Company specialized in retail financing services with a very strong track record of over 25 years. The company currently focuses on serving the underserved credit needs of lower- and middle-income people, with a variety of financing solutions.
The country's demographics and stage of growth suggest that there is a huge unfulfilled demand in the housing finance, vehicle finance and MSME finance spaces. Companies like MAS that have garnered expertise through years of experience are expected to continue enjoying a competitive advantage in this space. As of March 2020, the company had over 700,000+ active customers across 4438 locations in rural, semi urban and urban locations. MAS follows a revenue sharing model, for which it partners with regional NBFCs and NBFC-MFIs for distribution of various products and provides them with a line of credit. This model ensures scalability of the relationships where operational costs and credit costs are borne by the partner NBFCs. This helps the company widen its network while maintaining a relatively lower risk profile.
Irrespective of economic cycles and other external factors, MAS has delivered consistent growth in profitability (23% CAGR since past 10 years) and hefty returns over the years. Alongside stellar growth in its AUM (+24.58% CAGR since past 15 years). The company is adequately capitalized with a CAR of 26.35% and a healthy interest coverage ratio of 1.63 at the end of March 2022. About 52% of MAS' AUM are to micro enterprises and hence there is a risk of default. Also the retail lending is high yielding but is relatively riskier in nature. It can be a multibagger in the future if all cards fall in place and growth sustains.
Ultramarine & Pigments LTD
Ultramarine & pigments Ltd is is a manufacturer of pigments and surfactants. These pigments are supplied to paints, plastics, rubber and building materials companies while surfactants are supplied to FMCG companies for making detergents, dish washing liquids etc. It also has industrial and agricultural applications.
The company has also launched its own brand of detergents and dishwashing liquids in South India which has received a positive response. On its course for higher growth, Ultramarine pigments produces a range of inorganic pigments, detergents and cosmetic grade surfactants and has an ITES division.
The company has minimal debt with debt to equity ratio standing at 0.05, with compounded profit growth of 12% over 5 years and a healthy dividend payout ratio of 25%. Given the high competitive intensity in the surfactant segment, managing volatility in raw material prices is a key challenge for the company. However, Ultramine is expected to do justice and continue on its growth path going forward.
Mishra Dhatu Nigam
Mishra Dhatu Nigam (MIDHANI) was established in 1973, under the Ministry of Defence primarily operating in Defence, Space, Energy and Commercial sectors. The company manufactures a variety of super alloys, special steels, materials to Defence, other Strategic Sectors for Nuclear, aeronautical and Space applications in its one of its kind metallurgical plant worldwide. It has the technological ability to manufacture a wide range of advanced metals and alloys under one roof. MIDHANI is trying to venture into newer categories and sub segments that are synergic with its institutional capabilities. Also, MIDHANI is trying to enter new sectors such as Oil and Gas, Mining, Power, Railways, Chemical and Fertilizers to create new levers of growth.
The Company enjoys a virtual monopoly in its field and is the only manufacturer of Titanium alloys in India. MIDHANI, with a track record of more than four decades, has an established position as a leading supplier. It enjoys good operating and net profit margins. Financial Risk profile remains strong with Low gearing and comfortable debt protection metrics making it a strong multibagger contender. Although the company has a large working capital requirement; it has ample liquidity.
Major imported raw materials procured by MIDHANI are Cobalt, Nickel, Molybdenum, Chromium etc, which are volatile in nature which is a risk to the company's operating performance. Also most of MIDHANI's revenue is derived from the work performed under Government contracts and a change in Government priorities may affect decisions to fund or the amount required to fund available to existing or proposed strategic programs.
The Indian specialty chemicals is now one of the fastest growing industries globally (next only to China), delivering 13 per cent annual average growth over the last five years reaching $25 billion.
Deepak Nitrite
Deepak Nitrite (DNL) is expected to benefit from both macro and micro factors in future. Deepak Nitrite established in 1970s is well diversified with presence across three segments viz. Basic Chemicals (BC), Fine and Specialty Chemicals (FSC), and Performance Products (PP).  It is one of the leading global players for several niche chemical products such as Xylidines, Cumidines, Oximes &Colour intermediates and caters to several industries- Colorants, petrochemicals, Agrochemicals, rubber, pharma, paper, etc. DNL enjoys strong competitive positioning in most of its product categories and has a strong client base catering to over 900+ clients in over 40+ countries.
DNL has manufacturing facilities located at Nandesari, Dahej (Gujarat), Roha, Taloja (Maharashtra) & Hyderabad (Telangana) & R & D facility at Vadodara. Also one-third of its revenue is from exports, providing geographical diversity. Further no customer contributes more than 7% to total revenues. DNL maintained a strong healthy growth rate in topline (CAGR of 38% over the past 5 years).
It will sustain its healthy market share, given its leadership position, established track record, and large R&D capabilities leading to technical expertise. The company's new greenfield expansion plan at Dahej, Gujarat for manufacturing phenol and acetone has achieved operating levels of over 118% utilization. The company is also incurring capex on development of downstream products for Acetone which will result inmore sustained and profitable growth for the company.
Deepak Nitrite's solid financial performance demonstrates the strength of its efficient manufacturing model with adequate backward integration and depth of multi-year relationships with key customers. Coming to Phenolics segment, all the key products in the segment, viz. Phenol, Acetone and IPA experienced attractive realisation rates though FY22.
IndiaMart
IndiaMART is India's largest online B2B marketplace with a market share of 60% in online B2B classifieds. The company operates a product and price discovery platform, facilitating interactions between suppliers and buyers. The platform is unique as it enables two-way interactions-suppliers can post their listings and buyers too their request for quotations.
A clear market leader, IndiaMART caters to about 60mn monthly visitors on its portal, which is more than 10x visitors of its closest competitor. Over the years, it has widened listings to 60 product categories spanning 7.1 mn supplier storefronts and currently has delivered 72 mn business enquiries in the from 149 mn registered buyers. With the domestic economy getting digitalised, IndiaMART is poised to benefit from exploding digital transactions. Its unique two-way marketplace model offers insights into seller behaviour and yields relevant listings.
Additionally, the presence of marquee brands not only lures buyers, but also other sellers, which helps build up comprehensive catalogues across product categories. IndiaMART, we believe, is at an early stage of monetisation and poised for accelerated revenue growth. Revenue profile is significantly diversified with products and services from 56 industries and 97,000+ categories being available on the platform.The usage of the internet and 'AtmaNirbhar Bharat' scheme may pave the path for various opportunities for the company going forward. A gloomy outlook for MSMEs due to covid-19 disruptions will remain a key challenge in the near term as a major portion of the company's business comes from small business enterprises.
To conclude Multibagger stocks are great options for the traders/investors to invest their money. However, before investing, you should gain adequate background knowledge about the companies offering multibagger stock since they can be risky bets and will vary from situation to situation. Sustaining these challenging Covid times can be a good litmus test for high risk bets and if they survive, returns could grow multifold. Above all, you should be capable enough to identify the appropriate multibagger stocks where you can invest and invest at appropriate valuations. Also, don't invest with an expectation that multibagger stocks will generate unrealistic returns in a short span of time. Patience would be key. While investing in these stocks it would be prudent to allocate a portion of your capital to these risky bets and the rest to stable large cap stocks in order to diversify your risk.
Model Portfolio
In order to get an exposure to best Multibagger stocks, you need a total of Rs 20270 for the below curated portfolio as on Sept 2022.
A detailed table with various parameters for Best Multibagger Stocks to buy
| | | | | | | | | | | | | | | | | | | |
| --- | --- | --- | --- | --- | --- | --- | --- | --- | --- | --- | --- | --- | --- | --- | --- | --- | --- | --- |
| Sr. No | Company Name | BSE Scrip Code | NSE Symbol | CMP (Sept 2022) | Rating | Industry | Market Capitilization (Rs crore) | Net Worth (Rs crore) | Price/Earnings | Dividend Yield (%) | Debt/Equity | Return on Equity (%) | Return on Capital Employed (%) | Operating Profit Margin (%) | Sales Growth- 3 years (%) | Profit Growth- 3 years (%) | Working Capital Cycle (No. of days) | Inventory Turnover Ratio |
| 1 | Mishra Dhatu Nigam | 541195 | MIDHANI | 225.5 | 2 | Iron & Steel Products | 3234 | 1125.0 | 19 | 1.61 | 0.14 | 16.4 | 20.5 | 27.6 | 7.12 | 9.39 | 393 | 0.3 |
| 2 | MAS Financial | 540749 | MASFIN | 766.25 | 4.5 | Finance-NBFC | 3185 | 1237.0 | 21 | 0.26 | 3.05 | 13.6 | 11.5 | 80.6 | 9.61 | 11.8 | -402 | |
| 3 | Ultramarine & Pigments | 506685 | Not in NSE | 370.05 | 1 | Specialty Chemicals | 921 | 925.0 | 16.3 | 1.58 | 0.04 | 14.5 | 18.3 | 17.8 | 3.58 | 9.51 | 95.7 | 4.45 |
| 4 | Deepak Nitrite | 506401 | DEEPAKNTR | 2153.3 | 1 | Commodity Chemicals | 27969 | 2828.0 | 25.7 | 0.22 | 0.14 | 39.6 | 39.9 | 25.7 | 38.2 | 111 | 61.4 | 6.3 |
| 5 | Alkyl Amines Chemicals | 506767 | ALKYLAMINE | 2788.05 | 2 | Specialty Chemicals | 15372 | 895.0 | 56.7 | 0.33 | 0.04 | 44.6 | 55.8 | 25.8 | 26.3 | 65.9 | 33.8 | 5.67 |
| 6 | Adani Gas |  542066 | ADANIGAS | 3683.1 | 2 | Oil & Gas | 182772 | 2222.0 | 317 | 0.02 | 0.30 | 28.1 | 31.2 | 32.4 | 7.27 | 44.1 | -88.7 | 17.1 |
| 7 | Caplin Point Labs | 524742 | CAPLIPOINT | 727 | 1 | Pharmaceuticals | 5583 | 1327.0 | 19.4 | 0.41 | 0.01 | 25.7 | 32.5 | 31.5 | 25.3 | 18.0 | 152 | 2.34 |
| 8 | Trent |  500251 | TRENT | 1484 | 0.5 | Specialty Retail | 40851 | 2249.0 | 285 | 0.05 | 1.57 | -6.30 | 2.02 | 12.8 | 6.32 | – | 28.1 | 3.06 |
| 9 | IndiaMart | 542726 | INDIAMART | 4418.3 | 4.5 | Publishing | 13685 | 1750.0 | 45 | 0.34 | 0.03 | 30.2 | 39.50 | 46.7 | 18.1 | 81.1 | -242 | |
| 10 | IRCTC | 542830 | IRCTC | 705.05 | 1 | Travel Support Services | 60620 | 1631.0 | 109 | 0.26 | 0.07 | 11.6 | 16.5 | 48.9 | -18.9 | -9.86 | -127 | 6.56 |
Related articles
Our Collection of Best Stocks to Buy
You can check the live prices and trade India's best large cap stocks at the lowest brokerage with SAMCO, India's leading discount brokerage. Open a Free Demat and Trading Account today!