Digitalisation is one of the most important trends over the past few years as it is shaping India's present and future. Forget about standing in those long queues to pay bills or deposit cheques. Everything can now be done online within seconds and minutes. 
The Prime Minister, Mr. Narendra Modi launched the Digital India movement on July 1, 2015. It's been six years since then, but the momentum of Digital India fails to die down. 
The Government came up with this campaign with an objective to improve digital infrastructure, digital literacy and deliver services digitally to grass root levels and across the globe. But this is not as easy as it seems. You see, India is an agriculture-rich country. Majority of citizens reside in rural areas. Not everyone has access to the internet. Did you know that only 19% of the population had access to the internet in 2015 and only 15% had access to mobiles phones. 
But all this changed during the Covid-19 pandemic. As citizens were forced to stay at home, the demand and acceptance of digital connectivity went through the roof. 
So, what is the digital India campaign and how did the country benefit from it? Let's understand it from this article. Let's begin.
In this article
: 
What is the Digital India Campaign?
The objective of the digital India campaign is to empower the country in the field of technology. As a part of this initiative, the government plans to improve internet connectivity in rural areas. So basically, citizens from all around the country will get access to high speed internet at all times.
There are three core pillars of the digital India campaign - 
Development of a secure, stable and efficient digital infrastructure in the form of digital platforms.

Delivering government services online through the digital platforms. 

Digital literacy among citizens.
Initiatives Taken by the Government Towards Digital India Campaign
A. Platforms and Infrastructure for Digital India Campaign 
1. Aadhaar card enabled payment system (AEPS)
Aadhaar card is a crucial prerequisite for the success of the digital India campaign. It offered every citizen a unique identification number which holds all the important details of the resident. Under the digital India campaign, AEPS was launched. So, your aadhar card could now be a substitute for your debit or credit card. This facility was developed by the National Payments Corporation of India (NCPI) in 2016. Using your aadhar card you can make financial transactions such as transfer funds, make payments and deposit cash using biometric or e-sign facility. 
2. Center for Excellence for Internet of Things (CoE-IT)
The
CoE-IT
is an initiative taken by the government along with The National Association of Software and Service Companies (NASSCOM). It is set up to encourage the use of internet of things (IoT) in the country. 
But, what is IoT? 
IoT refers to billions of physical devices that are connected to the internet. These devices collect and transfer useful data among themselves with no human intervention. So, with the help IoT, a manufacturer can easily understand the defects in your product within minutes and contact you for the same. As unreal as it seems, the introduction of IoT can take the country to new heights in terms of technology. 
3. Indian Computer Emergency Response Team (CERT-In)
CERT-In
is an initiative taken along with the Ministry of Electronics and Information Technology (MEITY). It aims to secure the Indian cyberspace and reduce cybercrimes. This is done by creating awareness among citizens about cybercrimes. They also release research papers and other guidelines for public awareness.  
4. Common Services Centers (CSCS)
Common service centers
are set up by the government as an access point for citizens from rural areas. At these access points they can get delivery of essential public utility services. This includes receiving subsidies, applying for social welfare schemes and performing banking transactions. 
5. Digi Locker
Digi Locker
is a cloud based platform just like Google drive. Here you can store all your important documents without worrying about it getting misplaced. This is one of the key initiatives taken by the government as part of the digital India campaign. 
6. Digitize India Platform
Through this platform you can get a scanned copy of your physical documents within minutes. The motive of this initiative was to make things paperless and encourage the use of cloud based platforms.
B. Services offered Under the Digital India Campaign
1. Farmer Portal
We all know the problems faced by our farmers. Hence, the Government of India has developed the farmer portal. Here a farmer can gain all the information related to agriculture. This includes crop details, weather details, prices of grains, etc. This will help every farmer make smarter decisions and cultivate better quality crops. 
Moreover, the Government is also promoting the use of artificial intelligence in the field of farming with the help of
drones
. 
So, what are drones? 
Drones are small robot-like structures which are used to monitor crops, analyse soil quality and spray insecticides. In the Budget 2022, the Finance Minister Nirmala Sitharaman had announced the use of Kisan Drones which will help the farmers in the cultivation process.  
Recommended reading:
Drone stocks listed on the Indian Stock Exchanges.
2. Bharat Interface for Money (BHIM)
BHIM
is a platform just like Google pay or
Paytm
. It is a mobile payment app developed by the
National Payments Corporation of India
. Through this application you can transfer payment in less than two minutes. This application was launched to facilitate e-payments directly through banks and encourage cashless transactions.
3. E-Pathshala, E-Granthalaya and E hospital 
All of these portals are a digital alternative to schools, hospitals and libraries. 
The e-Pathshala platform offers educational resources to students. It also has a text-to-speech and translation system. This enables translation across diverse Indian languages to facilitate a better learning experience.

E- Granthalaya is a digital library which offers learning materials for students. 

E-Hospital is set up with the objective of providing simplified healthcare services. So, with this portal, you can register and book hospital services online. 
4. SMART Cities
The idea of the
SMART cities
mission is to drive economic growth and offer better housing facilities to the citizens. So, under the smart city mission, the government has selected 99 cities.  It aims to convert these cities into intelligent cities with the help of artificial intelligence (AI) and IoT.
Smart Parks are set up where lights are controlled with the help of a remote. 

Smart homes are set up where water saving applications are used to control water wastage.  

CCTVs are placed everywhere for minimising crime rates. Surat has reported a 27% drop in criminal rates after such measures are taken. 

Chatbot based grievance redressal facility are set up…and a lot more. 
Benefits of Digital India Initiative to Companies. 
During the digital India week in 2015, top CEOs from India and abroad committed themselves towards investing for this campaign. A total of US $3 trillion was raised towards this digital India initiative. Hence, the revenues of some companies grew as the government was prioritizing their development and valuing their services. The two sectors under the spotlight were 

information technology

and

telecomm

unication sector

.  

Providing internet facilities to rural areas was one of the most challenging tasks of the digital India campaign. The government launched a Bharat Net programme for the same. .Companies like

Himachal Futuristic

were working towards the bharat net programme. They had manufactured and supplied over one lakh Wi-Fi systems in a record time. The bharat net programme reached more than 1.15 lakh Gram Panchayats in the country. 

The smart city initiative was another focus project of the Government. To make this project successful, they had employed smart city conglomerates-companies to handle engineering, technology and other work. 
One such company was
Larson & Toubro
. It was assigned to make Jaipur a smart city followed by Nagpur. The share price of L&T Ltd.  steadily grew from Rs. 980.23 as on March 03, 2017 to Rs. 1,881.90 on February 18, 2022. 
To encourage the use of drones in the field of agriculture, the government is also constantly working towards financing drone projects. The recent example is the announcement made by Finance Minister, Nirmala Sitharaman to encourage the use of Kisan drones. It will be used for crop assessments, spraying insecticides etc. So,

drone

stocks are expected to be in demand. 
After considering all of these factors, it is safe to say that IT is the sector which can take the country to new heights. In 2020, the Indian IT industry accounted for 8% of India's GDP. And this is not all.  There is so much more to come. Dr. Neh Srivastava, the president of Central Secretariat Services Officers Society (CSSOS) said in an interview, 'The Digital India initiative could raise GDP to $1 trillion by 2025'.
How can you take advantage of the digital India campaign?
Now, the question is… how can you take advantage of this growth story? Simply, by investing in companies that will potentially benefit in the long-term from the Digital India campaign. But, there are so many
IT companies
. Out of it, the right stock will only have the ability to create wealth for you. Now, if you are not a financial expert then researching the best stock is like finding a needle in a haystack. 
To save you from the trouble, we have introduced
StockBasket
's Digital India Basket
. 
The Digital India Basket is an expertly curated basket of nine stocks which can pave the way in the digital India campaign. 
*Data as on 17th February 2022.
Here is how the basket has performed since inception as compared to the
Nifty 50 index
.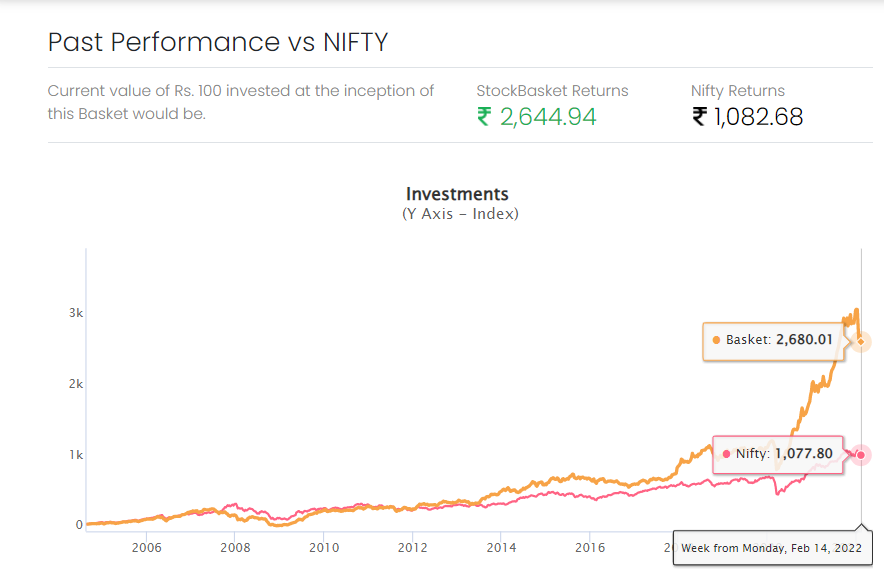 As you can see, the basket has outperformed the Index almost twice since inception.
Click here to explore the basket now.
Here are the returns generated by the Digital India basket in the last 5 years.
| | |
| --- | --- |
| Duration  | Returns |
| 1 year | 33.51% |
| 3 years | 158.03% |
| 5 years | 281.55% |
*Data as on 17th February 2022.
To invest in StockBasket all you need to do is
Open a free demat account with Samco
. It's time to make the most out of the digital India campaign. 
Happy Investing