In this article, we will discuss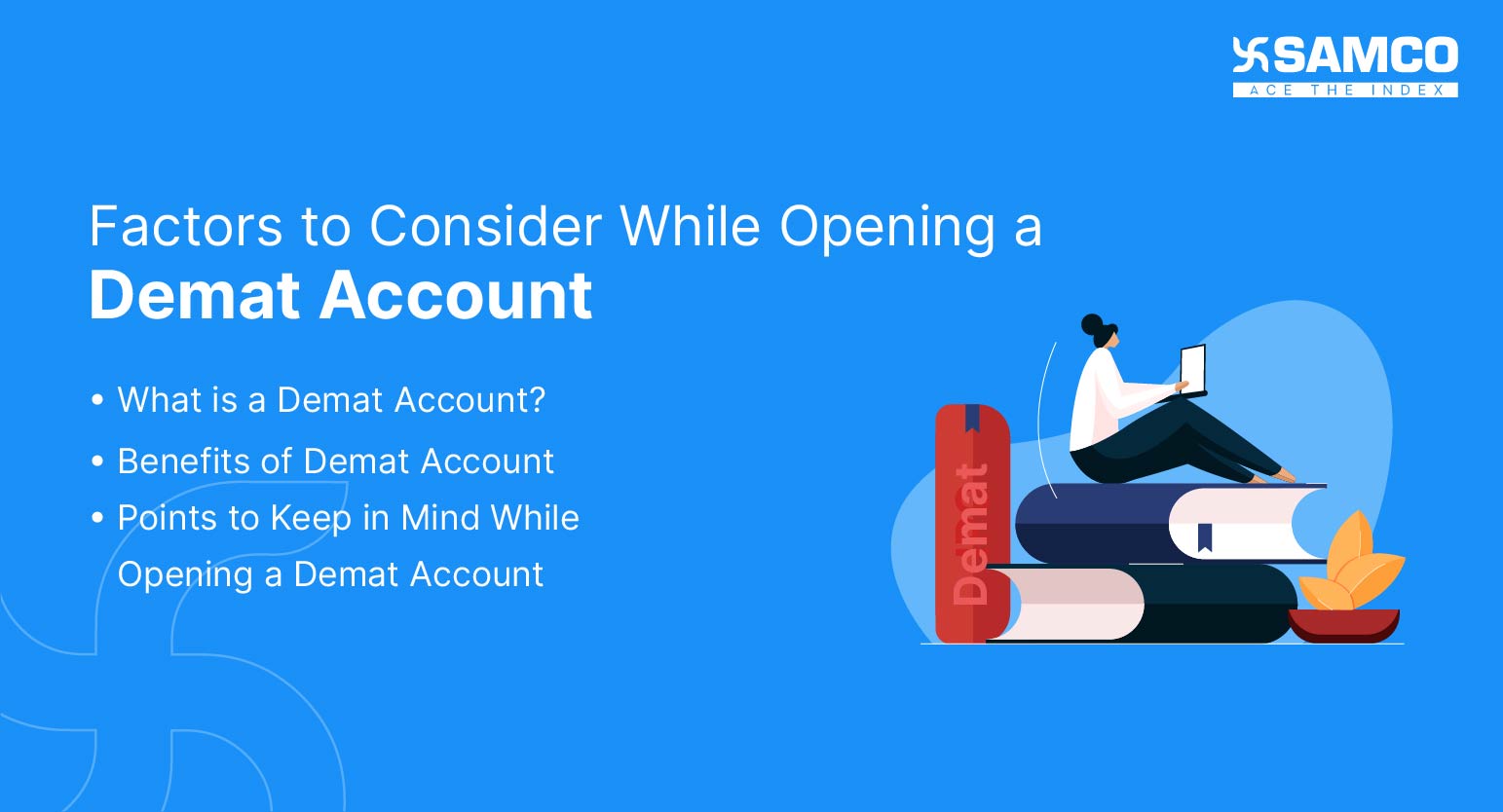 When planning to invest in the financial market, the first step is to acquire the best demat account, which serves as a gateway to the stock markets. With the outbreak of the pandemic and subsequent lockdown, people have turned to alternative income sources, and the stock market has emerged as a lucrative option. The Indian markets switched to electronic trading in the 90s, giving rise to the concept of dematerialization, where securities are stored in an online demat account rather than physical paper certificates. While opening a free demat account online is a straightforward process, selecting a service provider requires careful consideration of several factors. In this article, we will explore the pointers to keep in mind before finalizing a demat service provider.
What is a Demat Account?
A Demat account, short for a dematerialized account, is a digital account used to hold financial securities like shares, bonds, mutual funds, and other investment instruments. It is an essential tool for investors who want to trade in the Indian stock market as it helps to eliminate the need for physical certificates.
Before the introduction of demat accounts, securities were held in physical form, which posed several challenges, like the risk of damage or theft, difficulty in storage and transportation, and a lengthy transfer process. Dematerialization, introduced in India in the 1990s, revolutionized the securities market by allowing electronic holding and transfer of securities, making the process quick and efficient.
The best demat account acts as a repository of all the securities held by an investor in a digital format. It is linked to the investor's trading account, enabling the buying and selling of securities seamlessly. Additionally, a Demat account enables investors to participate in initial public offerings (IPOs) and apply for shares online, thereby saving time and effort.
Watch the video to know more Demat Account 
Benefits of Demat Account
Here are some of the benefits of having a free demat account:
Easy and Convenient Trading
The best demat accounts allow investors to buy and sell shares and securities online, making the process much faster and more convenient than physical trading. Investors can access their demat accounts from anywhere, at any time, and can monitor their investments in real-time.
One of the most significant advantages of the best demat account is that it provides a safe and secure way to hold securities. In the past, physical shares were vulnerable to theft, loss, and damage. With a free demat account, investors no longer have to worry about these risks. The securities held in a demat account are electronically stored and protected by password-protected access.
With the best demat account, investors no longer have to worry about physical certificates or filling out paperwork. All transactions are done electronically, and investors can view and download their transaction statements online.
Demat accounts have significantly lower transaction costs compared to physical trading. Investors no longer have to pay stamp duty, handling charges, or transfer fees, making trading more cost-effective.
Easy Transfer of Securities
With a free demat account, investors can transfer securities from one account to another easily. The process is straightforward and can be done online, which eliminates the need for physical paperwork and reduces the time taken to transfer securities.
Bonus Shares and Dividends
With the best demat account, investors can receive bonus shares and dividends directly into their accounts. The process is seamless and eliminates the need for investors to collect these benefits physically.
Demat accounts enable investors to engage in margin trading, which allows them to trade with borrowed funds. Margin trading can help investors maximize their profits, but it also carries risks, and investors should be careful when engaging in margin trading.
Pointers to Keep in Mind While Opening a Demat Account
1. Type of Demat Account
The type of Demat account is the first thing to take into account while opening the best demat account. Regular Demat Accounts and Basic Services Demat Accounts are the two different sorts of Demat Accounts (BSDA). A BSDA is appropriate for investors who maintain a modest number of securities, whereas a Standard Demat Account is appropriate for clients who hold more than a certain amount of assets. A BSDA is advantageous for small investors who cannot afford hefty maintenance fees because it has a cheaper maintenance fee. Understanding the demat account type that best meets your investing requirements is crucial. 
2. Brokerage Fees
Brokerage fees are the costs associated with purchasing and selling securities. Before opening the best demat account, it is crucial to evaluate the brokerage fees of several brokers. The brokerage fees differ from broker to broker and can significantly affect the returns on your investments. It is best to choose a broker who has fair brokerage fees and offers top-notch services. A fixed brokerage fee may be charged by some brokers, while a percentage of the transaction value may be charged by others. Understanding brokerage fees and how they affect your investment results is crucial. 
3. Account Opening Fees
Account opening fees are what the broker charges to open the best demat account. While some brokers offer free account opening, others impose a small account opening cost. It is crucial to contrast the account opening fees charged by different brokers and choose the one that best meets your investment requirements. Also, some brokers provide various discounts and exclusions from account opening fees, which can lower the cost of the initial deposit. 
4. Annual Maintenance Fees 
The broker fees for keeping the best demat account are called annual maintenance fees. Understanding annual maintenance fees and how they affect your investment returns is crucial. Some charge a proportion of the value of the securities housed in the demat account, while some brokers impose a set annual maintenance cost. It is best to choose a broker who offers top-notch services and a fair annual maintenance fee. A reduction in the annual maintenance fee can be achieved by taking advantage of all of the discounts and waivers that some brokers provide. 
5. Trading Platform
The broker's software tool for making purchases and sales of securities is known as the trading platform. It's important to choose a provider who can offer you a wide range of services, including a variety of products for your business. The trading platform needs to be trustworthy, safe, and simple to use. Real-time quotes, charts, and other information should be available to help investors make wise investment choices. Several brokers also provide mobile trading apps, allowing traders to conduct business while on the go.
6. Customer Support
Customer service is one of the most important things to think about when opening the best demat account. It is important to choose a broker who has great customer service. The customer service team should be knowledgeable, quick to respond, and ready to help investors with their questions and worries. Before opening the best demat account, it is a good idea to read customer reviews and ratings of the broker.
7. Security Features
To protect the securities in a demat account, it is important that the account has security features. To make sure your investments are safe, you need to choose a broker with strong security features. Your broker should offer two-factor authentication, encryption, and other security measures to keep people from getting into your account without your permission. To make sure your investments are safe and secure, it is best to choose a broker who is registered with the Securities and Exchange Board of India (SEBI) and follows the rules and guidelines set by the regulatory body. 
8. Investment Options 
When opening the best demat account, investment options are another important thing to think about. To meet your investment needs, you should choose a broker who offers a wide range of investment options. The broker should let you invest in stocks, bonds, mutual funds, exchange-traded funds (ETFs), and other things so that you can spread out your investments. Choose a broker who gives you research reports, market analysis, and other tools to help you make smart investment choices. 
9. Margin Trading Facility
Brokers offer margin trading facilities so that investors can buy stocks by borrowing money from the broker. It is important to understand what margin trading is and how it affects the returns on your investments. Margin trading is risky and should only be done by experienced investors who know how to handle their risks well. It's best to choose a broker who only lets experienced investors who meet certain requirements use margin trading.
10. Ease of Account Opening
Ease of account opening is another essential factor to consider while opening the best demat account. It is advisable to opt for a broker who provides a seamless account opening process. The broker should provide online account opening facilities, where you can complete the account opening process from the comfort of your home. The broker should also provide a hassle-free and quick account opening process to help you start investing in the stock market at the earliest.
Some Steps To Open A Demat Account
Here are some of the steps to open the best demat account:
Choose a Depository Participant (DP)
The first step to open the best Demat account is to select a DP. A DP is a registered intermediary between you and the depository where the account will be maintained. You can choose a DP that suits your requirements by researching online or asking for recommendations from friends or family.
Fill out an account opening form
After selecting a DP, you need to fill out an account opening form. This form can be obtained either from the DP's office or online. You will need to provide personal details such as name, address, contact number, PAN card details, bank account details, and other relevant information.
You will need to submit the following documents along with your account opening form.
Proof of identity:

PAN card, Aadhaar card, voter ID, passport, or driving license

Proof of address:

Aadhaar card, voter ID, passport, driving license, or utility bills

Income proof:

Salary slip or bank statement
After submitting the account opening form and documents, you will need to undergo an in-person verification process. This can be done either at the DP's office or through a video call.
After completing the verification process, you will need to sign a Demat account agreement with the DP. This agreement will outline the terms and conditions of the account, including the charges and fees.
Receive your account details
After signing the agreement, you will receive your Demat account details, including the DP ID and client ID.
Once you receive your account details, you need to activate your account. You can do this by linking your Demat account to your trading account or by transferring securities to your Demat account.
It is important to note that the account opening process may vary slightly depending on the DP you choose. Some DPs offer online account opening, which can be more convenient and faster. Additionally, you may need to pay account opening fees, annual maintenance charges, and other transaction fees associated with your Demat account. It is advisable to research and compare the charges and fees of different DPs before choosing one.
Conclusion
Opening the best demat account is an essential step for investors who want to invest in the stock market. It is essential to consider various factors before opening a free demat account. Opting for a broker who provides excellent services, robust security features, and a wide range of investment options can help you achieve your investment goals and maximize your investment returns. One such broker is the Samco app, which offers a hassle-free and user-friendly platform for trading in stocks, commodities, and currencies. Choosing a reputable broker like the Samco app can help ensure that you have a smooth and successful trading experience. Open your best demat account today!