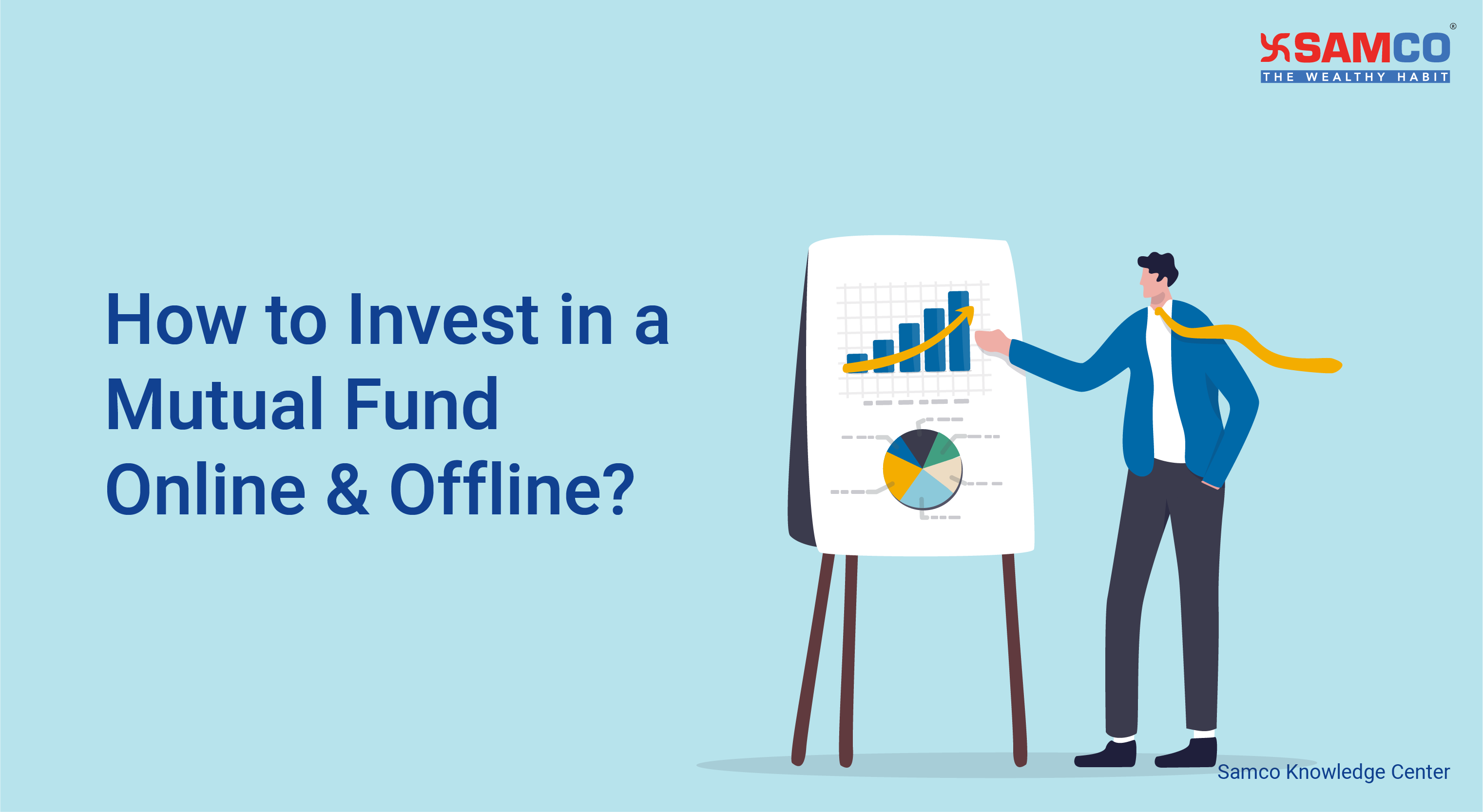 You must have seen the advertisement by AMFI and the Tag Line – "Mutual Funds Sahi Hai", and you're excited to earn some good money over a period of time with minimal risk and efforts. So, how do you make money work for you while you are asleep? Let's journey into the market scene which is full of big possibilities. But, before you jump into the technicalities of the mutual funds, let's go through the means of applying to a mutual fund.
Offline Method

                                                        

          

2.Online Method
I. Offline Process:
This is the traditional approach to investing in a mutual fund. This mainly relies on sub-brokers, agents, advisors to help out the investor make the right decision while choosing a scheme that's best suited for him/ her.
1. IFA's
IFA's or Independent Financial Advisers are professionals who offer their advice and views on the on financial matters to their clients, extending to mutual fund investments, too. They help you fill the application form and other formalities of the same. Thus, by involving them in the process, the IFA's could be considered a part of the expense ratio(Expense ratio: It is the percentage of assets deducted or the annual fee that all funds/ETF's charge their shareholders each fiscal year for fund expenses.)But this approach is slowly becoming obsolete as many distributors are implementing the new
Robo-advisors
, which would recommend the appropriate solution to their investment quandary.
Ok, now that you've covered that portion, let's move on to another topic.
A)
The Initial Setup:
Here are a couple of things you need to go through before you get started.
To start investing in a mutual fund scheme, you need a few things in check:
PAN Card, bank account and be KYC (know your client) compliant
. The bank account should be in your name with the MICR and IFSC details. These details are mentioned on your cheque page and it is common for a distributor/agent to ask for a cancelled bank cheque for verification.
These two processes were quite simple, right? But what about the third one?
B)
How do you get your KYC done?
It's by the regulations of SEBI, in accordance with the 'Prevention of Money-laundering Act of 2002', that you need to be KYC compliant.
KYC process is uniform across various SEBI regulated sectors in the securities market. Getting your KYC done weeds out duplication across these sectors and makes investing more friendly.
C)
What are the documents required to be submitted for Offline KYC application?
Passport size photograph

As a Proof of identity, you can submit documents like a copy of

PAN Card or Aadhaar or passport or voter ID or driving license

.

And as a Proof of address,

passport or driving license or ration card or registered agreement of residence or latest bank statement or passbook or latest telephone bill or latest electricity bill or latest gas bill

, not older than three months, will suffice.
You  may be needed to provide self-attested copies of the aforementioned documents and  need to carry originals for In-person verification.
D)
Mutual fund Offline application form:
You must have seen this phrase a couple of times on your TV screens, 'Please read all scheme related documents carefully before investing' So, what are these documents they talk about?
Each mutual fund scheme has a form that investors need to fill. If  you start investing in the SIP (systematic investment plan), you need to fill in two forms: one to open an account with the fund and the other to specify the SIP details such as

Scheme Plan, Scheme option (growth, Dividend payout, dividend reinvest), frequency of the investing amount (monthly, quarterly, annually),

and a separate row which specifies the

Date

on which the SIP sum is to be invested/ debited from the linked bank, along with the

Total SIP Period

.

You need to submit your bank details with the

Bank Name, IFSC Code, Account Number, Account type,

etc.

For the 1st payment, you may be asked to enter the Cheque Number, too.

And for all future payments in installments, you may choose

auto debit & bill-pay option

. The amount gets deducted at the particular period and planted into the investment scheme. This is initiated by filling out the OTM form. You'll get to that part in a bit.

Nowadays, you even find the option to

Top-up

the SIP amount gradually as time passes, either annually or quarterly. This may be percentage increment or actual value in rupees (usually in multiples of Rs.500 or Rs.1000). This too would be available on forms.

And at the very end of the same form, you may find an

OTM

(One Time Debit Mandate Form). This is Applicable for SIP Registrations through NACH/DIRECT DEBIT. You need to mention the

Folio Number, Application Number, Phone number, Email ID, Amount in Rupees, Period

. There are rows available for the

Signature

requirements of the 1st Holder of Bank Account, 2nd Holder & 3rd Holder (only if you hold a joint account).
That about covers the entire section of the Offline Process. Now, let's bounce on the Online Methodology of Investing in these Funds.
II. Online Process
AMC'sWe live in an age where technology has a stronghold on every individual. It's quite natural for any individual to use the means of the internet to connect to different fund houses and start on their investments.
Here are some ways to go about it via the online platform.
AMFI website
Applying through a Demat Account
Web Portals/ sites
Banks
Though these process could be done offline as well, today's focus is going to be on the Online ways of
seeding the right scheme into your portfolio.
1. AMC's
You can invest in a mutual fund scheme by investing directly through the AMC. You might have to visit AMC's office to make your investment (for the first time). Some AMC's may even succour you by sending an agent to help fill the application form, collect the cheque, etc. And then subsequently, you can choose to run investments in different fund schemes of the same AMC by the online way (of course, that is, if they do offer this service), or you can always opt for the offline way, which isn't the norm in this digital age.
2. AMFI website
The Association of Mutual Funds in India (AMFI) is a non-profit organization which monitors all the registered AMC's status. As of now, all the 42 AMC's that are registered with SEBI.
All AMC's and intermediaries who assist in the investments have to be registered with the Association of Mutual Fund in India (AMFI), which also maintains an online directory on their website.
You can avail tonnes of mutual funds related information here, ranging from mutual funds basics to the various products under the schemes. You can even locate the AMC's Branches, invest online in schemes, locate an agent in your area by just placing in the PIN code and the name of your city.
If you already own a dematerialized account (demat), you can buy and sell mutual funds schemes through this. But remember this, you might fall into commission here.
4.
Web Portals/ sites
There are many online intermediaries portals available which allow you to invest in Mutual funds. These include web portals of distribution companies, some stockbrokers, and a large number of small financial advisory companies.
You can open an account with them, for which they might charge an initial fee, used mainly for seamless online operations and redemption of your investments. They might also send the necessary documents to your residence for it to be signed and formalized. Sites like rankmf.com are some of the portals like that.
5.
Banks
Banks are also intermediaries who deal in schemes of different AMC's. You can invest directly in the schemes at your bank branch. You could log-in to your bank page and fill out the required forms online to direct your funds to a suitable scheme, provided the bank facilitates such a process. You may even visit your nearest bank branch and confirm your tie-up with the fund houses that you want to invest in.
Now that you've circled around the ways to invest in the funds. It's time to take a glance at the ways of setting up the account. So here is the set-up process.
A)
The Initial Setup:
In the Online Process as well, you need to follow the same steps as in an offline way. You need
PAN Card, bank account and be KYC compliant
. Of course, you might have to upload these mandatory documents online via their web terminal.
B)
So what are the requirements for  Online KYC application?
Naturally, the online process also mandates KYC compliance. The online '
eKYC
' process is, quite frankly, the path of least hassle. Here's a look at the modern way to complete KYC registration.
C)
The eKYC Process:
The eKYC is a process done through your Aadhaar number, which is then further matched with your PAN for further verification. If any of the documents are missing, the AMC may ask you to produce more documents. But here's the catch;
through the eKYC process, your investment gets restricted to Rs 50,000 per year per Mutual Fund for OTP-based eKYC.
However, if you want to increase the value of your investment amount,  you need to go through proper KYC channels as discussed above, where, you have to submit the physical copy of the form with your signature on it. You might be called upon for an In-person verification or Biometric-based authentication by the AMC's. So, in a way, the process resembles the offline way, in terms of verification.
Now that you've successfully managed to complete the KYC process, it's time to check if all procedures went by smoothly without any hiccups and the process is finalized.
D)
How to check your KYC status?
You can check their KYC status with your PAN number at any of the KYC Registration agency, irrespective of your mode of investment. For example, here are some site links to check 'em out.
https://www.cvlkra.com/
https://camskra.com/
https://kra.ndml.in/
https://www.nsekra.com/
https://www.karvykra.com/
E)
Mutual fund Online application form:
It goes without saying that the online application form is the exact copy of the offline ones. Some distributors may allow the forms to filled online but the investor may need to print out the physical forms and deliver it to the service provider, either by courier or similar means.
Some funds make it mandatory for the new clients to
create login credentials
to monitor and operate their investments. This involves setting-up of
Usernames and login passwords
. This enables the funds to offer their entire suite of services online. The next stages go something like this, but not necessarily in this manner.
 You may need to fill out the

Investor Details

. Then you may be asked to choose the

Mode of holdings

- 'Single' or 'Joint/Survivor'. If you go about choosing the 'Single' option, you need to fill out the individual details. This includes

Holder Name, date of Birth, PAN number, Email, Aadhar Number, Country of Birth, Mobile number, Place of Birth

. You may even find boxes to fill out Tax related details, ranging from 'Tax Resident Country', 'Tax Identification Number', etc.

At the end of the page, you may find

Nominee

related inquiry, where you may place a nominee and allocate Nominee Percentage. You may even leave the option blank, in case you do not wish to nominate anyone in your stead.

You may even have the checkboxes for

'Investment Preference

' with the options for 'Financial Distributor' & 'Direct'

Now comes the crucial part of selecting the scheme from the massive list available with the AMC or distributor. Once you have your mind set about a scheme, you need the check it and proceed to the next stage.

In this stage, you'll fill out the details for the investment. It may include

SIP Amount, SIP first installment date, SIP installment number, SIP end date, Frequency

. You may even

Step-up

the SIP amount annually by a certain percentage amount or may enter the actual incremental value in rupees(in multiples of Rs.500 or Rs.1000)

Once you finish this, you'll be directed to the confirmation page, where you may check & verify the details of your invested amount.

Next comes the bank details, where you may provide a bank of your choice. This section may involve

Bank name, Account number, Account type, IFSC Code

, etc. Some AMC's/ Distributors may allow multiple modes of Payment for investors.

For your current investments, you may choose

Net banking, debit card, NEFT

. And for future installments, you may choose,

auto debit & bill-pay

option.

Now you've reached the final steps of the process, that is review & confirmation. You may edit the information that you wish to change before submitting.

You'll finally be redirected to the

payment gateway

or banking website, depending on your payment mode. And once you complete the payment, you'll be directed back to the web portal where you'll see the confirmation of the transactions. This would be reflected in email or SMS; you may even print out the transaction statement from the page.
AND YOU'RE DONE!
That covers the major hurdles in the path of great returns. All one needs to do is research thoroughly about the scheme that best suits his/her interest for long-term gains.
Apart from Equity, what are the
Different Types of Mutual Funds in India
?
For more useful articles on Mutual Funds, trading, investing and market knowledge, visit our
Knowledge Center
section.
(Note: This content is for information purpose only. Avoid trading and investing based on the information given above. Before investing in stocks or mutual funds, please conduct proper due diligence)