What is the Full Form of INR? – INR Full Form
The INR full form is 
Indian Rupee
. It is the official currency of India. It is denoted as  
₹
. It is issued and regulated by the 
Reserve Bank of India (RBI)
. Over the years the rupee has undergone various changes such as new currency notes, demonetisation and a lot more.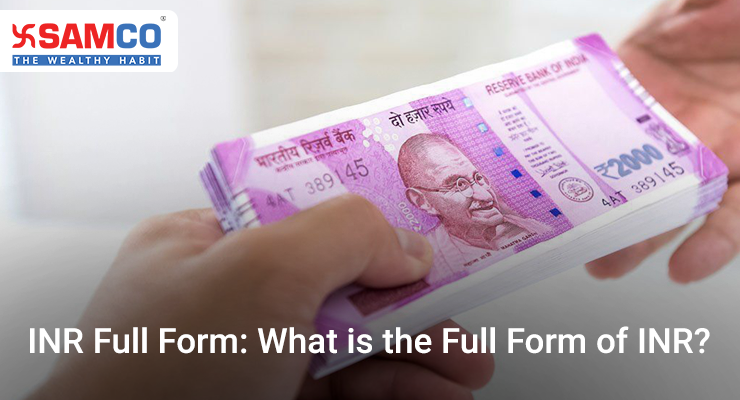 History of Rupee
The term Rupiya was first introduced in the 16th century by Sher Shah Suri. During those days Indian coins were made of silver. Each coin weighed 11.66 grams.Rupiya is a Sanskrit term which means 
produced silver or shaped silver. 
The smaller denomination of rupiya was termed paisa. Both of these terms have stuck through the centuries. Even today we refer to it as rupee and paise.During the first decade of independence, the Anna sequence was introduced. Each Anna had the Ashoka Lion (India's National Emblem) on it since 1950. One rupee was equal to  16 annas. Each 
anna 
was further split into four paisas or twelve pies. As a result, one rupee was worth 16 annas or 64 paisas or 192 pies. As the years passed, India kept issuing many series of annas. They kept experimenting with different denominations and metals. Today one Rupee is made up of hundred paise.Later, two continuous wars took place. One with China in 1962. Another with Pakistan in 1965. Both of these caused havoc on India's financial stability. Hence the value of the rupee fell to Rs. 7.57 per US dollar.The rupee which was previously linked to the British Pound was devalued in 1971 and became directly linked to the US dollar. It was further devalued to Rs. 12 per dollar in 1985. As a result, India was experiencing a currency shortage.To overcome this shortage, the Indian government issued securities through the RBI which increased the cash supply and prompted expansion. Furthermore, the weight of the Indo-Pak war, combined with the intense dry season resulted in soaring prices. This caused the rupee to plunge to new lows.There were no outside borrowings on India's balance sheet until 1947 when the country gained independence, so the Indian rupee was valued equally with the US dollar.  But over the period of time, the Indian rupee has undergone two rounds of depreciation and reached its lowest point of Rs 68.75 in August 2013.Later, the Indian government took the initiative to curb black money and promote cashless transactions.  In 2016 demonetization of Rs. 500 and Rs. 1,000 notes took place and the RBI announced the circulation of new Rs 500 and Rs 2,000 notes.Today, according to the Reserve Bank of India Act of 1934 the RBI manages and performs all functions with respect to currency issuance in India. The RBI circulates coins which are issued by the government of India in different denominations like 1 rupee, 2 rupees, 5 rupees, and 10 rupee coins. Recently, Rs 125 coin was introduced by the prime minister on the occasion of the 125th birth anniversary of Srila Bhaktivedanta Swami Prabhupada, founder of 
ISKCON
.In the year 2010, the symbol for the INR was shifted from Rs. to 
₹. 
The new symbol was configured by Udaya Kumar.
Various Denominations of INR:
Coins:
 ₹ 1
₹ 2
₹ 5
₹ 10
₹ 125 (Recently introduced)
2.
Notes:
₹ 10
₹ 20
₹ 50
₹ 100
₹ 200
₹ 500
₹ 2000
Issuing of the INR:
Across India, RBI has 20 offices which perform various functions including managing currency notes. As of today, we have over 4,422 currency chests and 3,784 small coin depots authorized by RBI for handling currency notes and coins.Currency notes are issued by the RBI. But coins are issued by the Government of India and are circulated by RBI.All the currency notes are issued under the 
Minimum Reserve System. 
This system was introduced by the RBI in 1956. As per this, RBI must maintain a minimum Gold and Foreign Exchange Reserves of Rs 200 Crores. Out of which, Rs 115 crores must be in the form of gold bullion.
How to Analyse if the Currency Note is Original?
The security features that are implemented for issuing currency notes are of great importance. Hence each currency note is crafted with uniqueness.Following features have been included to avoid duplication of the currency notes in the country1. 
Insert security thread:
 The security thread is the greenish line which appears on the left of Mahatma Gandhi's portrait.2. 
Watermarking: 
It is a light shaded region which contains the shadow of Mahatma Gandhi.
Micro lettering: It appears between the security thread and Mahatma Gandhi's portrait. It contains the word RBI in Rs. 10 and Rs. 20 notes and they also contain the denominational value of the notes in micro-letters. This feature can be seen with the help of a magnifying glass.
Intaglio Printing: This feature is added in the bank notes for the convenience of visually impaired individuals. It has a raised print which can be sensed with a soft touch.

The Ashoka Pillar Emblem on the left
Portrait of Mahatma Gandhi
The Reserve Bank of India seal
RBI governor's signature
All of these are printed in intaglio.
Interesting Facts About Currency Notes: 
Between 1954 and 1978 Rs. 5,000 and Rs. 10,000 notes were in circulation.
After 1947, Pakistan used Indian notes stamped with 'Pakistan' until they could print their official notes.
The cost of making a Rs 10 coin is Rs 6.10
Did you know if a coin is minted in Mumbai it has a diamond symbol on it? If the coin is minted in Hyderabad, it has a star printed on it.
If you have a torn note, you can simply exchange it at the nearest bank branch.
In 1917, the Indian Rupee was mightier than the US Dollar. It was precisely 1 rupee = 13 USD.
Zero rupee notes were issued by the Non-Government Organisation (NGO) 5th Pillar to fight corruption.
You can also trade in different currency pairs.Recommended reading:
 Basics of currency trading in India
To trade in currency pairs all you need to do is
 open a Demat account.
 Samco provides the best 
Demat account 
in India with a robust trading platform –
Samco App
. Start your wealth creation journey with
 Samco
 through the Indian Currency markets today.