In this article, we will cover
With the bullish trend spread all over the Indian stock markets, IPOs are in the spotlight once again. 
With companies lining up with IPOs, it is common for investors to think whether investing in IPOs is worth their time and money?"
Therefore, today we will help you decide whether you should invest in IPOs or not.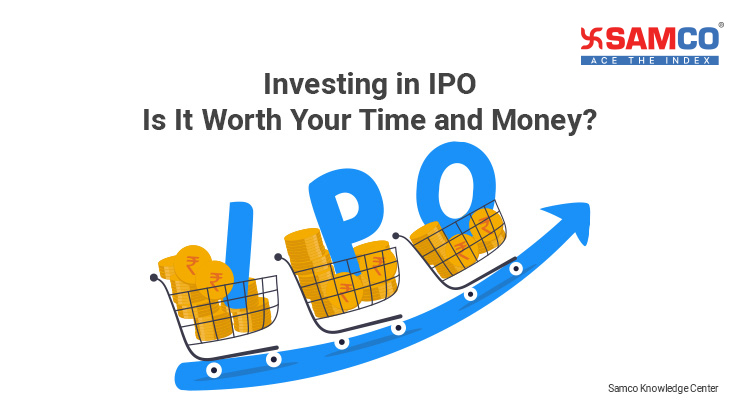 What is an IPO and How Does it Work?
Before we reveal if
investing in an IPO
is worth it or not, let us understand the meaning of an IPO. 
The term IPO stands for
Initial Public Offering
. IPO is when companies raise equity capital by selling shares to the general public for the very first time. These shares are later listed on the stock exchange where they are freely traded. By investing in an IPO, you become a shareholder of the company.
Read our detailed article to know more about
IPOs and how they work
. 
Watch this video to understand, What is IPO, and How to Invest in it,
Risks and Rewards of Investing in an IPO
In investing, risk and reward go hand in hand. Higher the risk, higher will be the reward and vice versa. Let us understand the risk-reward relationship while
investing in an IPO.
1. The biggest risk faced by investors while investing in IPOs is a lack of information. IPOs are raised by private companies. These companies do not have strict disclosure norms. 
2. Investors have to rely on third party views and the red herring prospectus, both of which can be easily manipulated. These private companies can easily manipulate and hide critical information, which can be detrimental to the investor. 
3. Another major risk in investing in IPOs is that IPOs are often an exit window for promoters. Promoters dump the fundamentally weak company's shares on innocent investors and book their profits. So, before you invest in an IPO, do thorough research on the company's promoters and growth prospects. 
4. Companies often issue IPOs to reduce their debt instead of utilising the capital for research and development. Such IPOs become risky for investors as their hard earned money is used to pay off debts rather than for growth. Therefore, investors should study the red herring prospectus and ascertain the real reason for IPO. 
1. IPO investment
helps you participate in the early growth years of a company. 
2. You can invest in IPOs to achieve long term goals like retirement or buying a house.
3. IPOs are usually offered at a discounted price and if you miss the opportunity you might not get to enter the stock at such a low price.
Most Important Points to Consider Before Investing in an IPO
1. Detailed analysis is compulsory
Investors must do a detailed study of the major listed companies in the sector of the upcoming IPO and compare their growth, and their PE ratio. 
If the company has a high PE ratio, then investors can skip the issue.
2. Check the company's Promoters
IPOs are often an opportunity for promoters to dump their stocks. Hence you must do a thorough background check on the company and its promoters. 
3. Determine your investment priorities
Before
investing in any IPO
, it is important to have a clear idea of what your risk appetite and financial goals are and then select the appropriate IPO. 
4. Invest smartly
Avoid getting swept away in the initial hype surrounding an IPO listing.
Instead, do your homework and make a point of investing in businesses that you understand or have expertise in. 
How Have IPOs Performed Previously?
Most of the IPOs listed in 2020 have performed well. Here's a look at their performance. 
Rossari Biotech

(issue price Rs 425) has gained 58% and got listed at Rs 670 on July 23.

Gland Pharma

(issue price Rs 1500) has soared 13.4% to Rs

1,701

in less than a months span.

Route Mobile

(issue price Rs 350) gained 75% and got listed at Rs 651 on September 21. 

Happiest Minds

(issue price Rs 166) gained 111% and got listed at Rs. 351 on September 7

Mrs Bectors

(issue price Rs 288) gained 74% at got listed at Rs. 501

Burger King

(issue price Rs 60) gained 92% at got listed at Rs 115
[Suggested Reading:
IPO Investment Guide For Beginners
]
Should You Invest in an IPO?
Investing or not investing in an IPO depends on your own financial goals and risk appetite. Even if an IPO is overhyped, you must keep a check on your emotions before taking any investment decision. 
If you believe that the fundamentals of the company are healthy and the company has attractive future growth prospects, then you should invest in the IPO. 
You must be able to differentiate between hype and the real strength of the company before investing in an IPO. 
Samco
provides you with an unbiased review on all IPOs which will help you make the right decision.
To invest in profitable IPOs in 2021,
open a 3-in-1 account with Samco
& get
a Demat account
,
online trading account
, and a
mutual fund investment account
and get started with the wealth creation journey!
[Recommended reading: 
10 Tips and Strategies of investing in IPO
]
Happy Investing