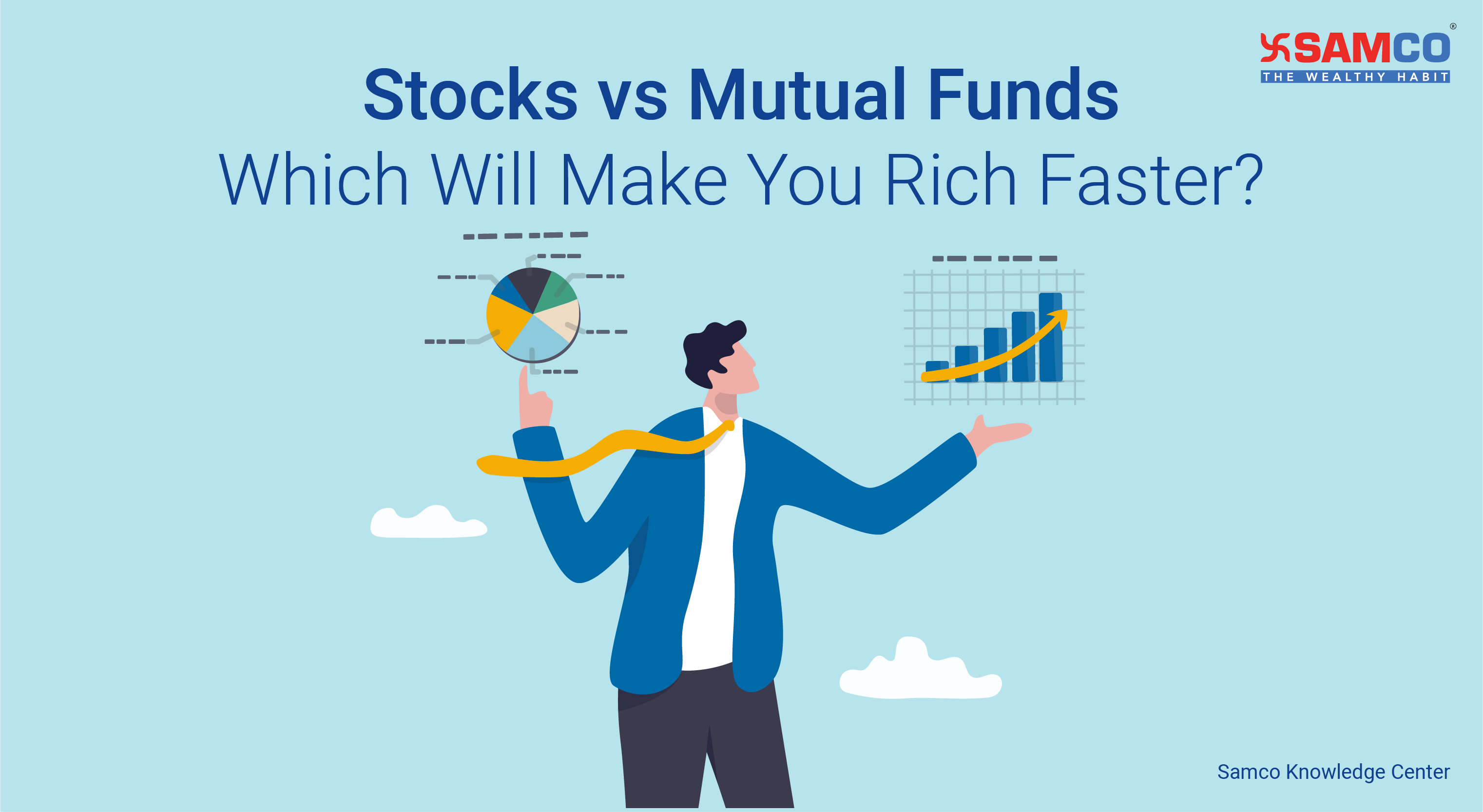 The stocks vs mutual funds
fight has been going on since ages. Both
stocks and mutual funds
are two of the best investment options available in India today. 
But mutual funds and stocks serve two different groups of investors. Stocks are suitable for high risk investors. 
Mutual funds offer diversification and are suitable for all types of risk profiles - low, medium, high. 
Before you invest in stocks or mutual funds, it is important to understand the main difference between these two asset classes. 
In this article, we will look at the 17 differences between stocks and mutual funds. We will also reveal the winner of the
stocks vs mutual fund
fight. 
Let's start with the meaning of stocks and mutual funds. 
Stocks
represent ownership in a company. When you own a stock, you get to participate in the future growth of the company.  
Mutual Funds
pool money from lakhs of investors and collectively invests in a group of stocks. 
While stocks are a direct way of investing in the share market, mutual funds are an indirect and more diversified way of investing in the stock market. 
1. Stocks vs Mutual Funds - Returns 
In the stock market, return and risk have a direct relationship i.e. 
High Risk = High Returns 
Low Risk = Low Returns
So, while both stocks and mutual funds provide high returns, since stocks are more risky, they have historically generated higher returns than mutual funds. 
2. Stocks vs Mutual Funds - Risk Level
Mutual Funds are comparatively less risky than direct stocks. When you invest in single stocks, there is no cushion to protect you from market volatility. 
But when you invest in mutual funds, you invest in 50 to 100 different stocks which helps in diversifying and reducing the effect of market fluctuations. 
3. Stocks vs Mutual Funds - Time & Commitment
Investing in the stock market requires dedicated time and commitment. You need to research and identify stocks to buy and while you can take the help of online research tools, at the end of the day, the final decision is solely yours. 
Whereas, in a mutual fund, an experienced fund manager and his team of research analysts, study and constantly monitor the markets to decide which stocks to buy and determine correct entry and exit levels. The investor is spared all the hard work as the fund manager takes the investment decisions. 
4. Stocks vs Mutual Funds - Decision Making 
In stocks, the investor is solely responsible for all profits and losses and cannot pass on the blame to anyone else, whereas in mutual funds, fund managers are responsible for the overall performance of the fund and can be easily replaced incase of underperformance or poor management. 
5. Stocks vs Mutual Funds - Investment Costs
Unlike mutual funds, investing in stocks does entail huge portfolio management fees in the form of expense ratios. Mutual fund houses charge 2%-3% every year as fund management fees, which might seem small at first but over the years is a hefty amount. 
But investing in stocks is not free either. Investing in stocks does have charges in the form of demat and trading account opening and annual maintenance charges. 
6. Stocks vs Mutual Funds - Restrictions on Exit
Stocks can be liquidated anytime without any exit loads whereas equity mutual funds have an exit load of upto 1 year. So if you redeem prior to 1 year, in addition to the short term capital gains tax, you also end up paying a 1-1.5% exit load. 
7. Stocks vs Mutual Funds - Market-linked Redemptions
Since stocks are actively traded in the market, they can be liquidated anytime throughout the day at different prices. So, different individuals can make different profits and losses by redeeming at profitable points throughout the day. 
Mutual Funds on the other hand are redeemed as per the closing NAV of the day. So, all mutual fund investors get the same redemption NAV. 
8. Stocks vs Mutual Funds - Trading Options
When you trade in stocks, you have various trading options like Intraday, short-selling, swing trading, scalping, arbitraging etc. These options are not available for mutual fund investors. 
Similarly, in hybrid funds, you have the option of investing in both equity stocks and bonds in the same scheme. This facility is not available in stocks. 
9. Stocks vs Mutual Funds - Limit on Purchase
There is no limit on the amount of investment that you can make in the stock market. While the same principle applies to mutual funds, if your investment amount is more than Rs 2 Lakhs, then instead of getting the same day NAV, you get the NAV of the day of realisation of the funds. So, you cannot time your mutual fund investments when your investment amount is greater than 2 Lakhs. 
10. Stocks vs Mutual Funds - Closing Time
While both stocks and mutual funds close at 3.30 pm, in stocks, you can trade up till 3.30 pm whereas mutual funds have a cut-off time of 3 pm for equity and 1pm for liquid/debt funds. 
11. Stocks vs Mutual Funds - Taking Advantage of market fall
Since the stock market is volatile, you can trade at advantageous prices and make profits. This is not possible in mutual funds as irrespective of the time that you trade, you will get the units at the closing NAV only. So, you cannot take advantage of a market fall. 
For example, in case the markets are down and you invest before 3 pm and the markets rise between 3 pm to 3.30 pm, you will end up buying on market highs instead of the planned buying on market lows. 
12. Stocks vs Mutual Funds - Option to Save Tax
Mutual Funds have a dedicated scheme,
Equity Linked Savings Scheme
, which helps investors save tax under section 80C. This facility does not exist in the stock market. You cannot buy stocks of ABC Ltd to save tax, but you can buy ABC Tax Saver Fund to save taxes! 
13. Stocks vs Mutual Funds - Special curated solutions
Mutual funds have special schemes such as retirement funds, pension plans, child education plans etc all catering to the special investment objective of the investors. This facility is not available in stocks. In stocks, you need to build your own goal specific portfolio.
14. Stocks vs Mutual Funds - Liquidating your position 
When you own individual stocks, it is easier to liquidate your positions in the market at a good price. But when mutual funds have to sell large quantities of shares and a huge chunk of the AUM needs to be liquidated, then liquidating without affecting the share price is impossible. This is why funds with huge AUM find it very difficult to exit or liquidate their position at desired time and price. 
15. Stocks vs Mutual Funds - Systematic Transfer Plans 
In mutual funds, cost averaging is pretty simple as you can set up a weekly/fortnightly/monthly SIPs and STPs and then automatically your investments will be deducted. This is not possible in stocks. In stocks, if you want to do cost averaging, you need to constantly track the market and invest on dips. 
16. Stocks vs Mutual Funds - Minimum Investment Size 
You can start investing in mutual funds with as little as Rs 500. While you can also buy shares with small amounts, to buy quality shares, you need to invest a sizable amount. 
In mutual funds, investors can buy large quantities of stocks as they pool money from various investors.  This is not possible in direct shares. In direct shares, individual investors need to invest a sizable amount to buy large quantities.
17. Stocks vs Mutual Funds - Taxation 
An important benefit of investing in mutual funds is that you do not have to pay tax if the fund sells any stock from its portfolio. On the other hand, when you sell stocks you have to pay a tax - short term or long term. 
| | | |
| --- | --- | --- |
| Asset Class | Short-term capital gains | Long-term capital gains |
| Stocks & Equity/Hybrid Mutual Funds | 15% | 10% (If capital gains exceed Rs 1 Lakhs) |
| Debt/Gold Mutual Funds | As per tax slab | 20% with indexation |
Final Thoughts
As we mentioned earlier, stocks and mutual funds cater to separate risk profiles and investment objectives. If you are an aggressive investor with a long-term investment horizon, then stocks are the best investment option for you. But if you are a moderate risk investor, with various time frames, then mutual funds are apt for you. 
But selecting the
best stocks for investment
or the
best mutual fund for your financial goals
, can be a daunting task with more than 6000+shares and 2500+mutual funds. 
Luckily, Samco's investing platforms
StockBasket
and
RankMF
help you in discovering and investing in the best stocks and mutual funds in India respectively. 
To access India's best mutual fund research and investment platform,
open a FREE RankMF account
today. 
To invest in the best stocks in India,
open a FREE StockBasket account
today and start creating long-term wealth.
So, whether you are investing in stocks or mutual funds, Samco is the ideal partner for your wealth creation needs.