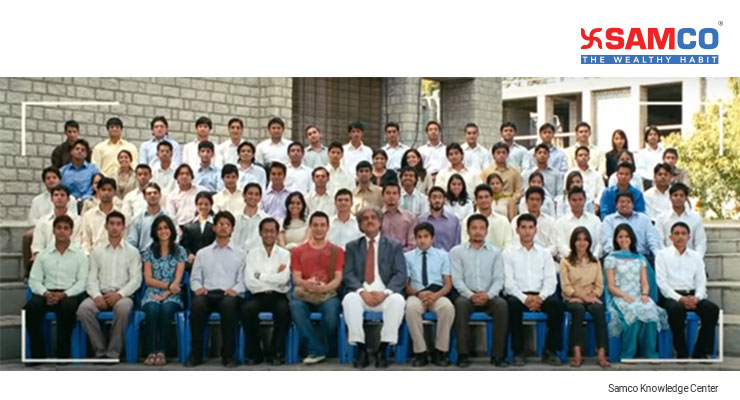 Do you remember this picture from the movie 3 idiots?Rancho stood first in class and got an opportunity to sit besides the Dean. Whereas his friends Raju and Farhan, ranking 199th and 200th respectively had to stand in the last row.The students sitting in the front row are like large cap stocks. They are market leaders with high market capitalisation. The students behind them are average students but with a potential to be future rank holders. These are your midcap and small cap stocks.Mid cap stocks are those companies who have the potential to scale up and become future
large cap stocks
. These stocks carry high risk but have the potential to provide higher returns.
So, What are Mid Cap Stocks?
Mid cap stocks fall between
large cap
and small cap stocks. These companies have market capitalisation between Rs 5,000 to Rs 20,000 crore.
Securities and Exchange Board of India
(SEBI) defines mid cap stocks as the companies ranking between 101st and 250th as per market capitalisation.Nifty has a benchmark index for mid cap stocks in India called the
Nifty Mid cap 50
which represents the top 50 most traded mid cap stocks in the market.This index includes companies like
AU Small Finance Bank
,
Apollo Tyres
,
Ashok Leyland
, etc.These companies show more stability than small cap companies. They have the ability to scale up and become large caps in the long run.Investors prefer mid cap stocks as they have higher growth potential than large cap stocks and are less risky than small cap stocks.
List of Best Mid Cap Stocks
| | | | | | |
| --- | --- | --- | --- | --- | --- |
| Sr. No | Company Name | BSE Scrip Code | NSE Symbol | Industry | Market Capitalization (Rs crore) |
| 1 | Crompton Greaves Consumer Electricals | 539876 | CROMPTON | Household Appliances | Rs 24,893 |
| 2 | Escorts | 500495 | ESCORTS | Commercial Vehicles | Rs 18,013 |
| 3 | Relaxo Footwears | 530517 | RELAXO | Footwear | Rs 21,715 |
| 4 | Polycab India | 542652 | POLYCAB | Other Elect.Equip./ Prod. | Rs 19,821 |
| 5 | Deepak Nitrite | 506401 | DEEPAKNTR | Commodity Chemicals | Rs 17,459 |
| 6 | Narayana Hrudayalaya Ltd | 539551 | NH | Healthcare Facilities | Rs 9,365 |
| 7 | Gujarat Gas | 539336 | GUJGASLTD | Integrated Oil & Gas | Rs 37,214 |
| 8 | Trent | 500251 | TRENT | Specialty Retail | Rs 28,226 |
| 9 | Aarti Industries | 524208 | AARTIIND | Specialty Chemicals | Rs 2,697 |
| 10 | Sundram Fasteners | 500403 | SUNDRMFAST | Auto Parts & Equipment | Rs 25,369 |
Characteristics of Mid Cap Stocks
1. Diverse range of stocks
Mid caps have a wide range of stocks.Few of these stocks might have recently scaled up from small cap category. Hence they can provide high returns. For example,
Tanla platforms limited
has recently entered into mid caps and has provided a Compound Annual Growth Rate (CAGR) returns of  1,718.81% in the last year.On the other hand, few stocks might be heading towards the developmental stage and are soon to be large cap stocks. Hence they can provide stable returns.For example
Torrent power
- a soon to be large cap company with good fundamentals has provided an annual return of 37.14%.
2. Moderate risk
Mid caps are comparatively less sensitive to market volatility than small cap stocks. But they provide less stability than large cap stocks. Hence, they are known to carry moderate risk.
3. High growth potential
Mid cap companies are financially stable than small cap companies and hence are quick to make business decisions to grow revenue. They have the ability to take their business to the next level.Due to this, the stocks of these companies may provide good value appreciation in the long term.
4. High returns
In India, mid caps have historically generated huge profits for their investors. Apart from profits, they have also rewarded investors with dividends and bonuses.
Historical Returns generated by Nifty Mid cap index vs Nifty 50 in the last 10 years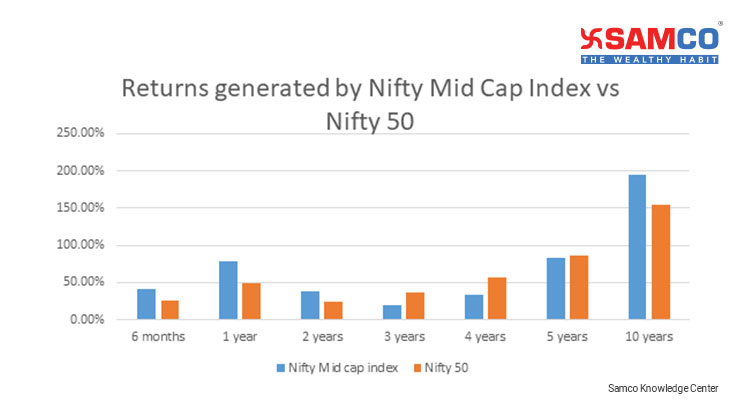 5. High liquidity
These stocks are more liquid than small cap stocks and are often bought and sold frequently. They have a stable business model which attracts investors, thus increasing liquidity.
What Should You Look at Before Investing in Mid Cap Stocks?
1. The financial health of the company
Before making any kind of investments, it is important to check the company's financial health. How much revenue is the company generating? How much debt does the company owe? Understand the company's future plans and analyse their past performance.The best way to do this is by reading their
annual report
and analysing the
financial statements
.For example, if the
liquidity ratios
and
current ratio
are poor compared to industry standards, it means that the company can face monetary crunch in near future.All of these factors helps an investor understand the financial health of the company.
2. High revenue growth and earnings growth
Revenue growth refers to the annual growth rate in revenue.
Earnings growth indicates the health and profitability of a business after all expenses are paid.
Best mid cap stocks are the one which has high revenue and earnings. They also have the potential to provide capital appreciation in the near future.For example, in the last  five years
Deepak Nitrite
has provided a revenue growth of 26.09% and has earnings growth of 63.32%!
3. Management quality
Management is the backbone of a company and its performance can majorly affect the working of a business.Hence, before you invest you must carefully analyse these factors:
Background of promoters
Promoters stake in the business
4. High margin business
To find the best mid cap stocks to invest, you must look for a business which has high margins.Companies can have a high margin because of low competition or because of operational efficiency.For example, Relaxo footwear's operating margins in the past years have been improving with consistency.
| | | | | | | |
| --- | --- | --- | --- | --- | --- | --- |
| Relaxo Footwear | March-15 | March-16 | March-17 | March-18 | March-19 | March-20 |
| Operating margin | 14% | 14% | 14% | 16% | 14% | 17% |
The goal should be to find such businesses and invest in them for the long term.
5. Competitive advantage
Another important criteria to find the best mid cap company is to analyse the competitive edge over their competitors.An example of such a company is
Crompton Greaves Consumer Electricals. 
This company has launched a unique anti dust fan and a bacteria bulb which kills up to 80% of germs. This zeal to keep innovating can differentiate them from their competitors.
Check out our video on how you can identify the best mid cap stocks to buy in India. 
https://youtu.be/DX5PdadDqSo
Alternatives to Investing in Mid Cap Stocks
If you have a high risk appetite, then you can invest in best mid cap stocks directly. Investors who do not have the knowledge or expertise in mid cap stocks, can invest in
mid cap mutual funds
. As per SEBI, mid cap mutual funds invest a minimum of 65% in mid cap stocks. They have historically generated higher returns than large cap mutual funds.
Historical Returns Provided by Mutual Funds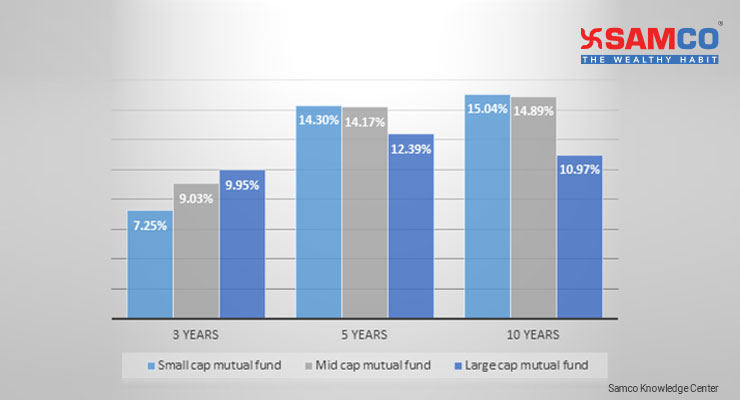 List of Top Mid Cap Mutual Funds
*This is simply the list of best mid cap funds. This is not investment advice.
To conclude, every investor should make investment decisions based on their risk appetite and
financial goal
s. Only investors with a high risk profile and long time horizon should invest in midcap stocks. These stocks are highly volatile in the short-term.Before investing do your research, check the company's financial statements and financial ratios. You can learn a lot about  a company through its
annual report
s.Investors who prefer investing small amounts monthly in mid caps should instead invest via a
systematic investment plan (SIP)
to reduce their overall risk.I hope this article helped you understand how to select the best mid cap stocks for your portfolio. So, invest in the best mid cap stocks with Samco by
opening a Demat account
today.
Happy investing!