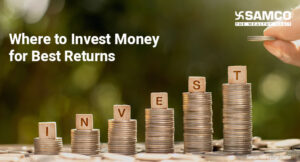 For most of us, figuring ou
t
where to invest money
can be a real challenge especially since the market is full of so-called money-making investment avenues and almost every other person is a market expert. 
To help you decide
where to invest money
, we have shortlisted the best investment options available in India in 2021 for you!
But before deciding
 where to invest money,
you need to answer the following questions: 
What are your financial goals?

What is your risk profile?

What is your time horizon? 
What are your Financial Goals? 
It is essential to define your financial goals as it plays a major role in deciding
where to invest money for good returns.
For example: 
Mr Sachin wants to buy a car in the next 1 year and he wants to accumulate Rs 2 Lakhs towards the down payment. This is a

short term goal

. 

Mr Nikhil wants to accumulate Rs 2 Crores in the next 15 years for his retirement. This is a long term goal. 
What is your Risk Profile? 
Each individual has his own capacity for bearing risk. Generally, higher the risk you take, higher the returns you make and vice versa. It is recommended to ascertain your risk profile before deciding
where to invest money for good returns. 
What is your Time Horizon? 
The tenure of your investment is the time for which you need to hold the asset for maximum returns. 
Longer the duration of your investment, higher are the potential returns and vice versa. Hence, knowing your time horizon is critical while deciding
where to invest money.
Where to Invest your Money for Good Returns in India?
1. Mutual Funds
Mutual funds are professionally managed investment portfolios, where a number of investors, who share a common investment objective, come together and invest as one unit. It allows investors to pool their money to invest in stocks, bonds, etc. 
Each investor owns units of mutual funds and it represents the portion of total holdings.
Mutual funds are a medium risk investment option
where you can invest
your hard-earn money.
Some of the popular mutual funds are index funds, equity funds, debt funds, etc.
Key takeaways
Mutual funds are highly liquid

Preferable for long term investments

Mutual funds compound your money and hence can provide high returns.
RankMF
is one of the leading mutual fund research platforms in India. 
2. Direct Equity or Stocks 
Stocks market investments or direct equities are the best investment option for investors with a long time horizon and high-risk profile. The key factor while building a stock portfolio is to
select schemes with strong fundamentals. 
Since equities are risky, it is recommended to diversify across various companies and market capitalisation. 
Direct equity or Stocks are high risk- high return investment option
where you can invest
your money.
Key takeaways
Equities are a highly liquid investment option.

Preferable for a long term time horizon and high-risk profile. 
3. Public Provident Fund (PPF)
Public Provident Fund is a low-risk
tax saving scheme
where you can invest
your hard-earned money. 
The tenure of PPF is 15 years but the scheme is guaranteed by the government and is a perfect option for long term investors with a low-risk profile. 
Key takeaways
PPF has a long tenure of 15 years, hence it is a less liquid investment option.

The minimum deposit ranges from Rs. 500- Rs. 1,50,000 in a financial year with tax-free returns.
4. Fixed Deposit 
A fixed deposit is a financial instrument issued by banks or NBFCs, providing higher interest rates than a savings bank account. If you have a lump sum amount to invest for a fixed period and for fixed income then a fixed deposit is the best investment option. 
FDs are the most preferred investment option
where you can invest
!
Key takeaways
The tenure of FD ranges from 7 days to 10 years.

It is considered as one of the safest investment options with moderate returns. 
5. Money Market Fund 
Money market fund is a type of debt mutual fund which invests in highly liquid instruments for less than a year. They generally offer higher returns than fixed deposits but face credit risks. 
Key takeaways
Money market funds are short term debt products

They face credit risks and need to be held for 3 years to qualify for indexation as per income tax. 
6. National Pension Scheme
The national pension scheme
is a pension scheme regulated by the Pension Fund Regulatory and Development Authority of India (PFRDA). If you are an Indian resident between the age group of 18 years to 60 years, you can open an NPS account.
Key takeaways
NPS is eligible for tax exemption up to Rs. 1,50,000 under Section 80C of Income Tax Act.

It is the

best long term investment plan

for those who want to plan for their own retirement.
7. Real Estate
Investment in real estate is highly profitable in the long run (based on the location of the property you purchase)
In real estate investments, the location of the property and development in the area determines its growth and appreciation in the long run.
You can earn returns from investment from these two ways:
Capital appreciation of the house you purchased. 

The rent earned from the tenants.
Nowadays, many banks and NBFCs provide home loan facility, you can visit any bank or NBFCs website for home loan calculator and EMI calculator. 
8. Gold
Since olden times gold is used as a piece of jewellery, investment and 'any time money'.
For a risk-averse investor, the answer to where to invest money? Will mostly be gold.  
This is because of these 2 reasons,
Gold acts as a hedge against inflation

Gold is an ages old investment option. 
As the making charges of gold is high, investors prefer to buy
gold EFTs
i.e. paper gold from the stock exchange. 
ETFs are tradable instruments in the stock markets with gold as the underlying asset.
Points to Remember When Deciding Where to Invest Money
Investing your money will not make you rich overnight. Creating wealth is a long-term process that needs patience and persistence. 

You don't need a lot of money to start investing. You can start investing in mutual funds with Rs 500 also.   

You need to invest in fundamentally strong investment options so that the power of compounding can multiply your profits. 
Final Thoughts
Once you decide
where to invest money for good returns,
the next step is to open an investment account through which you can invest your hard-earned money in productive avenues. 
When you open a Samco investment account, you get the benefit of a 3-in-1
Demat
-
Trading
and
Mutual Fund investing
account and Free brokerage trading for 1st month on all trades placed from the
Samco
App for the first month!