Want a synopsis of this article? Listen to this ♬
While selecting the best stock broker in India, investors are often confused regarding, 'Which is the best online stock broker in India?' or 'Which broker has the lowest brokerage charges in India?' or 'Which is the best discount broker in India providing high leverages?' etc. In this article, we will answer all these questions and also discuss:
In this article
» What is a Discount broker?

» How did the concept of discount broking emerge?

» What is the difference between traditional and discount brokers?

» How Samco charges for orders?

» What makes Samco the best discount broker in India?
The stock broking industry is broadly divided into 2 sub-segments –
Traditional Full-Service brokerages
Low-Cost Discount Brokerages.
Samco Securities is one of India's best discount brokers, as awarded by CNBC. Open a free online discount brokerage account with Samco Securities, a leading online discount broker in India, and get unlimited cashback for the 1st month!
What is a Discount Broker?
A discount broker is a stockbroker who executes buy and sell orders at an extremely low or flat brokerage as compared to traditional brokers who charge a percentage of the transaction size. Discount brokers can provide similar services or better in some cases because they leverage technology, do not invest in branches and use digital platforms to fulfil customer needs and pass on all the cost saved to the customer in the form of reduced brokerage commission.
These brokers are also known as online discount brokers as they entrust the complete responsibility and authority of the customer's account to the customer himself by envisioning and creating sophisticated, efficient, easy-to-use digital platforms eliminating any middlemen leading to reduced costs for the broker and increased savings for the investor.
Since the brokerage charges are low or discounted, they are termed as discount brokers. Since the investment activity can be conducted by the investors online through digital platforms, they are also termed as online discount brokers. Samco is one of the best online discount brokers in India.
[Suggested Reading: Why Trade Stocks at Samco]
Discount brokers have evolved over the years and provide services which are at par or better in some cases from traditional brokers. Discount brokers are targeted towards self directed traders and investors. Online discount brokers also offer a lot of training material and videos to help customers learn, navigate the lucid yet thorough mechanics of digital platforms, and invest without any discrepancies or hiccups.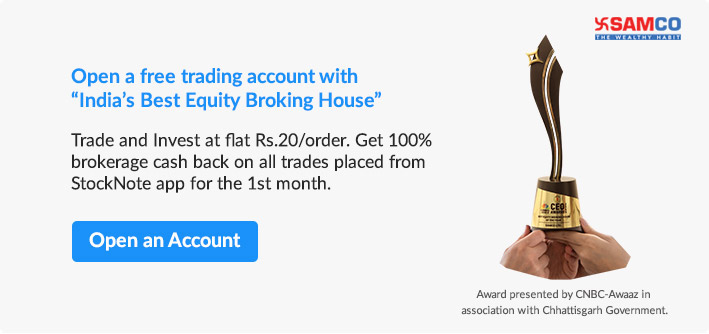 How did the concept of discount broking emerge?
On 1st May, 1975, the SEC (Securities Market regulator) in the US permitted free market commission rates for stock trading transactions. Enter - Charles Schwab which aligned it's business to the new regulations and went on to set up one of the world's biggest discount brokerage firms.
How do discount brokerages like Samco charge fees and how are they different from traditional full service brokers?
Discount brokers like Samco charge a flat fee on the number of transactions or executed orders unlike full service brokers who charge a fee on the value of each transaction.
Let's take an example to explain this better. Let's say you wanted to place an order for 1000 units of NIFTY Futures and your friend wanted to place an order for 5000 units of NIFTY Futures. You both called your broker-dealer who placed the order which got executed. The amount of effort required for your broker-dealer to place the order does not change for a 1000 unit or 5000 unit order yet the brokerage charged would be Rs. 2,400 (For you) and Rs. 12,000 (For your friend). Despite the amount of effort involved being the same – your friend paid 5 times the brokerage that you paid and you paid 120 times the brokerage that would have been paid by a Samco Client.
In Today's technology driven world, the cost borne by the broker for executing transactions is extremely low and discount brokers like Samco have unbundled complex brokerage services to pass on the cost benefits to customers by lowering the brokerage costs per transaction.
Benefits of Samco's discount brokerage services!
Zero percentage Brokerage for Trading and investing.
Truly discount brokerage with great savings up to 98% on brokerage as you pay Flat Rs. 20 per executed order – irrespective of order size (1 lakh or 1 crore), segment (NSE, BSE, F&O, MCX). Check out our Brokerage Savings Calculator and calculate your savings.
Huge Interest savings with first of a kind product BTPT – Buy today and pay in two days!
Super-Fast Trading with StockNote – India's Top-Rated Mobile Trading App
Trade all instruments – Stocks on NSE, BSE; Equity Derivatives i.e. Futures & Options on NSE; Commodity Derivatives on MCX and Currency Derivatives on NSE
Up to 100x Leverage for trading index futures like Nifty and Bank Nifty. Check out our margin calculator.
Up to 20x Leverage for trading options
Up to 4x Delivery leverage with margin trading facility – one of the only discount brokers to offer this facility!
Advanced Order types like bracket orders and cover orders.
Advanced Trading Tools like Charting, Live news feed, price alerts and notifications!
Multiple Trading Platforms – Mobile, Web, Trading APIs, Desktop EXE's, etc to choose from
Research Ideas for trading and Investing on StockNote
Ready-made portfolios for investment for creating long term wealth with StockBasket.
Invest in IPOs (Initial Public Offering)/ FPOs/ OFS (Offer for Sale) at the click of a button.
Trusted by over 200000+ traders and investors from over 4000+ cities in India!
And a lot more! Check out why should you trade stocks at Samco!
What are the service differences between discount brokers & full service brokers?
Unlike a full-service traditional broker, discount brokers like Samco don't offer a dedicated relationship manager.
Also unlike a full-service traditional broker, online discount brokers like Samco provide direct access to online trading to clients with elaborate and straightforward tools to help navigate the extensive digital platforms and rule out any sub-broker, which may unduly hike the brokerage costs in the form of massive commissions.
Here's a comparison table between discount brokers like Samco & traditional full-service brokers
Comparison between discount brokers and full-service brokers
Service aspect
Samco – A Discount Broker
Traditional Full service brokers
Brokerage Calculation Method
Flat Fee Trading irrespective of order value
Percentage Brokerage applicable on value of transaction
Options Brokerage
Applicable on Executed Order – Flat Rs. 20 per order. Irrespective of quantity traded – 7500 or 75, brokerage shall be flat Rs. 20 only.
Applicable per Lot - usually Rs. 20 per lot. So if 7500 quantity of NIFTY is traded i.e. 100 lots, brokerage would be Rs. 2000/-
Brokerage Charges
In case of small trades, brokerage applicable is 0.2% (Delivery) / 0.02% (Intraday or Derivatives) or Rs. 20 – Whichever is lower
Minimum per share or Per Transaction Value: Usually have a minimum per share charge or minimum fee per contract
Margin Policies
Standardised margin policies
Relationship-based Margin Policies - Adhoc margin policies that vary from client to client
Branches
No Branches Available
Branches are available for offline physical support
What is an Executed Order and how do I get charged in case of trading with Samco?
We are often asked –
How does Rs. 20/transaction (or Per Executed Order) work?
What happens in case of multiple trades for a single order?
What if an order doesn't get traded at all – do I still get charged?
How do brokerage charges apply with discount brokers in India?
An Order which gets executed either fully or partially is called an executed order. It doesn't matter if an order of 900 Nifty is executed in 12 trades of 75 units each. It still counts as one executed order since it was only one order that got executed in multiple trades. With Samco, irrespective of the number of trades that get generated, you get charged PER ORDER only! Understand the mechanics of this on our post on how share trading works.
If your order doesn't get traded at all, then it is not an executed order. Since it's not an executed order, you do not get charged at all.
How does Samco operate its business model and survive after levying the lowest brokerage charges in India?
Samco is a technology driven business model with technology at the forefront of its business operations. Our constant endeavour and vision is to be the best online discount broker in India and continuously drive fintech innovation to enhance customer's wealth creating and trading experience.
In the process, we have built a lean, agile and dynamic customer-centric organisation with low overhead costs (such as branches, expensive relationship managers, etc) which allows us to operate at low costs and be profitable even after levying the lowest brokerage charges in India.
Also one of the largest costs for a traditional full-service broker are commission expenses that are paid to intermediaries like Authorised Person or Sub-Brokers. In an increasingly online world, access to the markets for customers is now direct and this direct access has allowed us to eliminate the intermediation costs of offering these services and completely pass on the benefit to the customer.
[Suggested Reading: How to Open an Online Share Trading Account?]
Watch our video on the 10 golden rules for trading in the stock market
In addition to the lowest brokerage charges in India, Samco is one of the best discount brokers in India providing high leverage against a small margin. Open a Samco trading account in less than 5 minutes and enjoy the benefits of online share trading with the best discount broker in India.
FAQs on Discount Brokers
Q
Are discount brokers safe?
-
A
Yes, discount brokers in India are fully regulated by
SEBI
. That means all discount brokers have to comply with all regulations, compliance requirements as stipulated by SEBI and the Exchanges. That makes discount brokers as safe as full service brokers.
Q
Do discount brokers make money?
+
A
Yes, discount brokers operate as technology platforms and keep costs of running extremely low. That makes it possible for discount brokers to make money even by charging a very low cost fee per transaction. In fact Samco is one of the most profitable brokers in the country due to its efficient cost structure.
Q
How should one choose a discount broker?
+
A
Traders and investors should compare discount brokers on a variety of parameters such as the type of trading platforms offered, the type and quantum of leverage offered for trading, the value added services offered, speed and quality of customer support, etc. Know more on why should you select Samco,
India's best broker
as your discount broker!
Q
What are the different charges at discount brokers v/s full service brokers?
+
A
All the charges at discount brokers and full service brokers are broadly the same except the brokerage component. While full service brokers usually charge an ad valorem brokerage i.e. brokerage is charged on the value of the transaction, discount brokers charge brokerage on a flat per order basis irrespective of the value of the transaction. Compare the brokerage between full service brokers and discount brokers on our
brokerage calculator.
All other charges, pertaining to STT, CTT, Exchange charges, SEBI Fees, Stamp duty, etc shall remain the same.
Q
How should you decide if you need a full service broker v/s discount broker?
+
A
One of the most important factors for deciding if you need a full service broker v/s a discount broker is the level of personalised service or attention that you need. If you are a DIY or do-it-yourself trader / investor, a discount broker should work perfectly fine. However, if you need personalised human assistance with assistance for transferring funds, dedicated relationship manager to track your portfolio and share updates, etc then you may need to select a full service broker. However, one must weigh these facilities against the higher cost of doing business with a full service broker.
Q
Can I have 2 brokerage accounts with a discount broker and a full service broker?
+
A
While you can have only 1 trading account with 1 broker, you can have multiple trading accounts with different brokers be it discount brokers or full service brokers. There are no restrictions on the same.