Lets Start first with understanding what SAMCO Ledger account means
What is Ledger ?
In simple language Ledger is a statement of your financial transactions.
How can i check my Ledger account?
To check your ledger account you have to login to your SAMCO Star back office and follow the following steps
Step 1) Login to your SAMCO Star back office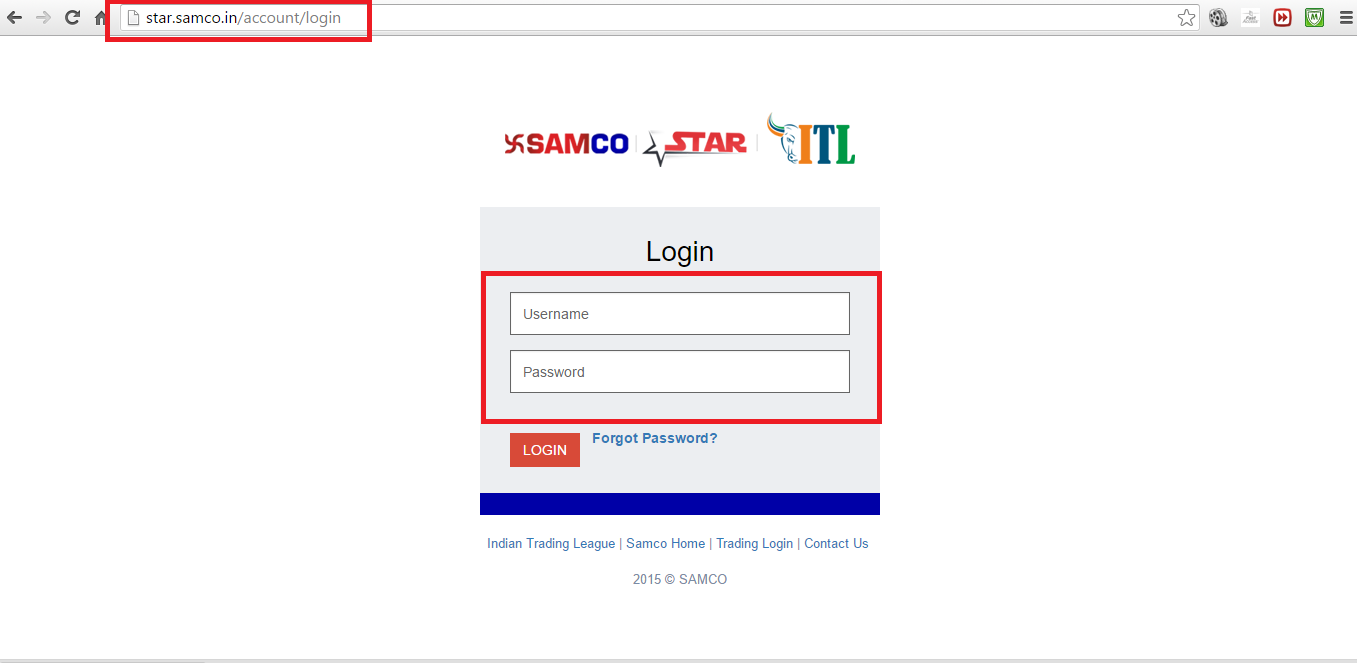 Step 2) Click on the "Ledger" from the back office menu options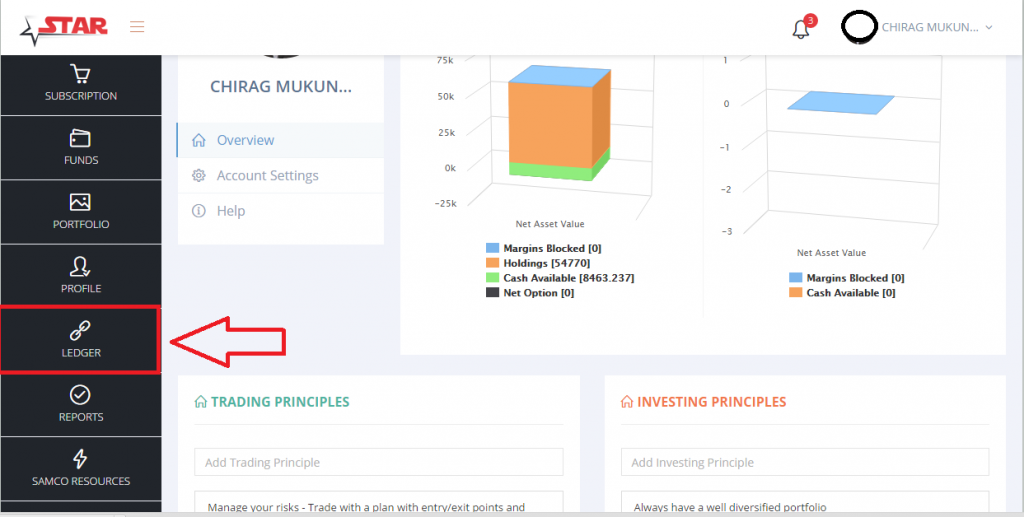 Step 3) Select appropriate options from the ledger menu, You can select the following options
Segment

This option allows you to select Equity / Commodity / Currencies segment

Exchange Settlement

This option enables you to select the type of contracts and the instruments you trade in

Financial Year

This option allows you to select the Financial year of which you want to check your Ledger account

From Date and To Date

This option further allows you to select dates between which you want to check your Ledger account. For example you would want to check your transactions and settlements between 1st August 2016 – 5th August 2016. This option allows you to to that.
The image below shows how to select options to see you Ledger balance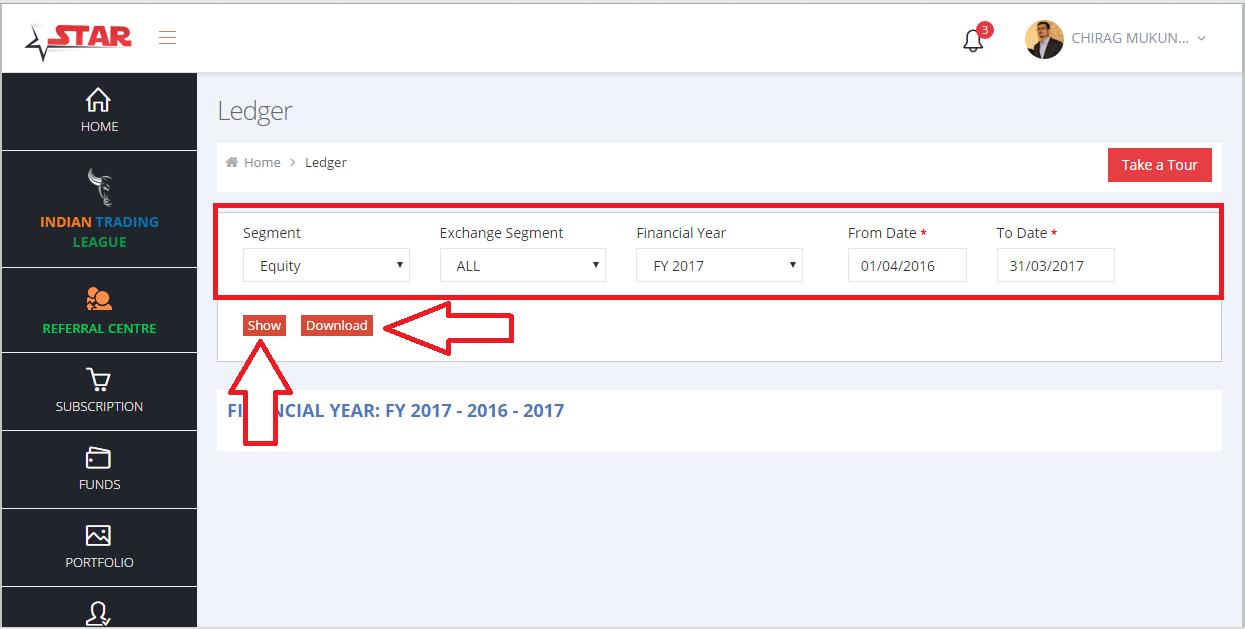 Once you have selected the respective options, click on "Show" button. Your Ledger statement will be displayed below.
You can also download your ledger statement by clicking on"Download" button has shown in the Image above
What does my Ledger account show ?
Your Ledger Account shows all transactions done in your trading account, It includes Credit of Funds, Debit of funds, summary of shares bought and sold, Additionally it also shows all the other charges levied by your broker in your trading account.
Lets see how exactly a Ledger looks like?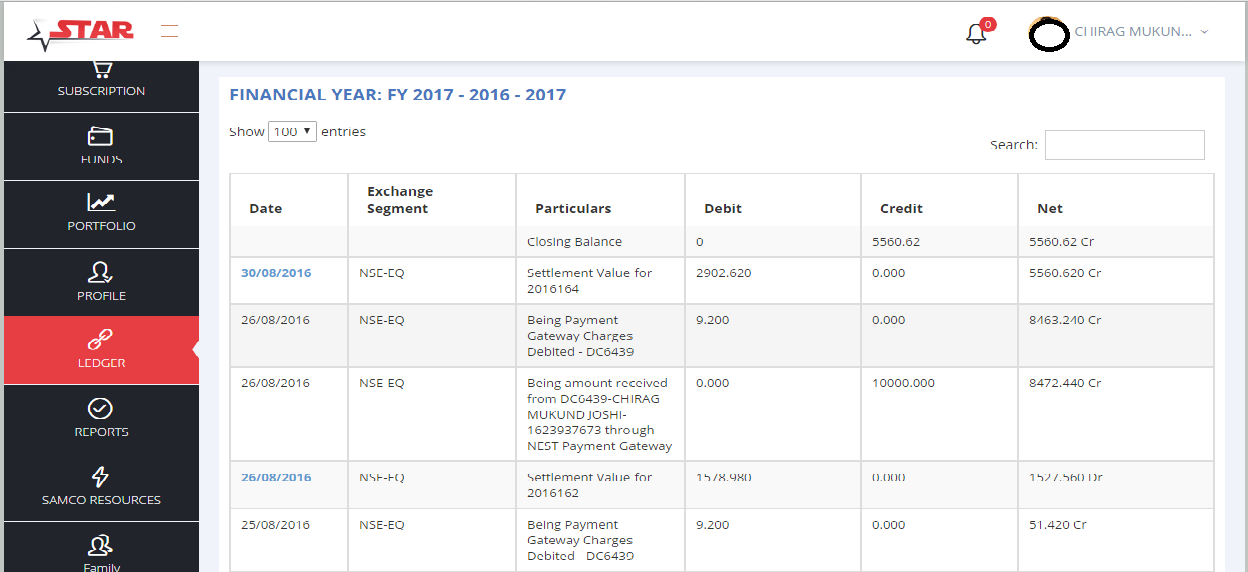 In the above image you can see ledger entries for the current financial year. This is how typically a ledger looks likes.
Now lets understand the entries that reflect in your ledger statement, following is a sample ledger statement. few sample entries have been highlighted in the below image.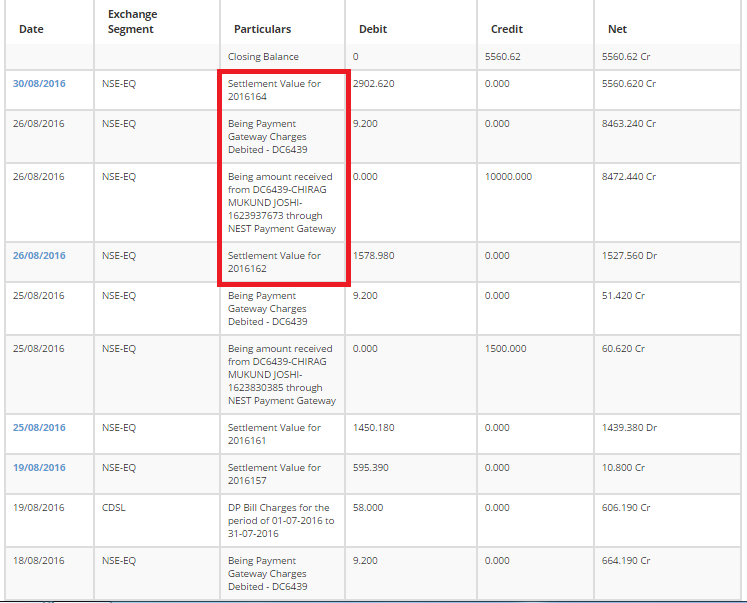 Lets understand the Entries in the above sample image
Settlement Value for 2016164 – This entry indicates an debit of Rs.2902.620. a Debit entry with settlement in particulars means the amount is debited against stocks bought on the said date.
Example: Lets assume you bought Stocks of worth Rs. 1000 today, the Ledger will have a settlement entry/debit entry of Rs.1000 against it.
Similarly the entries in the highlighted area are
– Payment Gateway charges – Debit entry from your ledger towards charges against a fund transfer activity
– Being amount received – this entry shows the amount of funds transferred by the account holder to his trading account.
Like any other Books of accounts ledger too has an Opening balance and a closing balance. These are credit or debit balances in your ledger account at the start of the respective duration selected.
Below are some of the other type of entries that you may find in your ledger account
Margins on Open Positions
DP Charges – DP charges are charges levied by the depository participant in case of selling or buying of shares
Auction charges – In case if you holdings are auctioned, Respective charges will reflect in your ledger
A M C Charges – Any other AMC charges on Demat that your DP may charge
Dividend – In-case dividend is declared by any of your holding companies they might reflect in your ledger account
Interest Charges in case of Cash plus and Intra plus – In case you have subscribed to any of the leverage products, their subscription and interest charges may reflect in your ledger account.

Was this article helpful?
Share