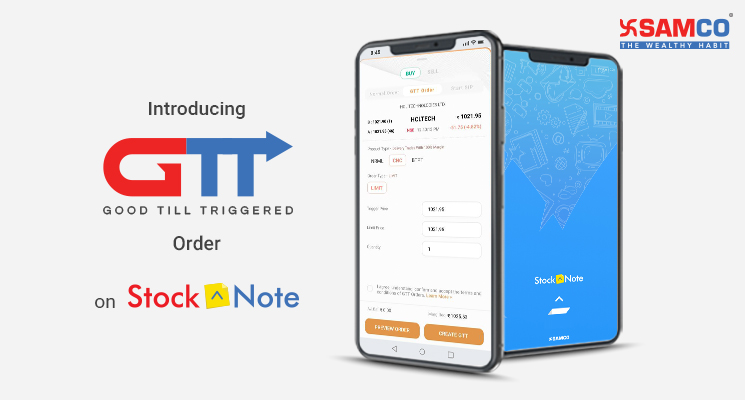 We bet you've experienced several instances when your positions corrected severely or soared sharply due to an unexpected announcement regarding the company or situations that prevented you from watching your positions for an extended period.
At times like these, we tend to despair at the missed entries and exits and think of what could've been if we had grabbed the opportunity at the right time.
We obsessively keep hoping for the same momentum, losing countless productive hours, then enter or exit at the wrong time and lose big.
We understand this very well! This happens to the best of us. Even professional traders and investors have such moments.
Wouldn't you like to have a solution to fix these troubles? An order that would let you place targets and stop-losses with a lifetime validity? An order that would execute without your intervention every day?
We have introduced just the tool for you.
Introducing GTT orders
The GTT or Good Till Triggered feature allows you to place buy/sell orders with lifetime validity on Samco. Enter and exit your F&O and delivery positions at the pre-set target or stop-loss prices with the help of GTT orders. 
What are the benefits of using a GTT order?
Sit back & Relax – No need to track the markets constantly once you've placed the order.
Easy To Use – Simply decide at what price you want to place an order and add long-term stoploss and target.
Lifetime Order Validity – The order is not time-bound. It will remain valid for life, until it gets triggered.
Zero Subscription Fees – You can use this feature for free. There are no additional fees/charges for using this order, only the brokerage cost will be applicable.
Modify/Cancel Order Anytime – Easily modify/ cancel entry and exit conditions of orders anytime and as many times as you want.
Applicable for F&O and Delivery – You can place GTT order to enter or exit F&O as well as overnight equity delivery positions.
So what are you waiting for? Experience the GTT feature on Samco now!
In case you need any assistance, please reach out to us at support@samco.in or connect with us at 022-2222-7777
Was this article helpful?
Share