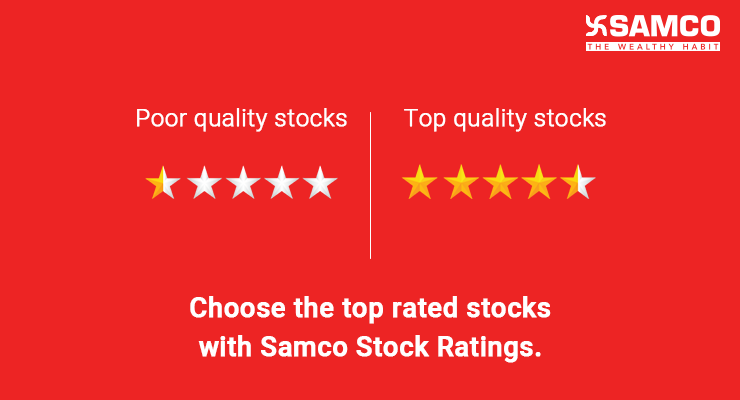 In the Indian stock market, there are over 4900+ listed stocks but over 70% of these stocks don't even end up beating FD returns over long periods. Most retail investors end up buying stocks-based on hearsay, without any scientific or rational basis. And many others don't have the financial skillset or understanding to evaluate a good stock and differentiate from a bad one, since there are so many complex factors at play.
Due to this, investors end up losing money by buying and holding poor quality stocks.
Furthermore, there is an adage that if you buy good stocks, you will make money over the long run. Yet there is no way for an individual to evaluate if a stock is good or not.
However your search for good quality stocks stops here at Samco
Introducing Samco Stock Ratings
India's only stock rating tool that helps investors choose the right stocks. It analyses more than 20 million data points everyday and assigns a rating on a scale of 1 to 5 stars to every stock based on 50+ financial parameters. 5 stars for best stocks and 1 star for poor stocks. Thereby, assisting investors in deciding which stocks to invest in and which to stay away from.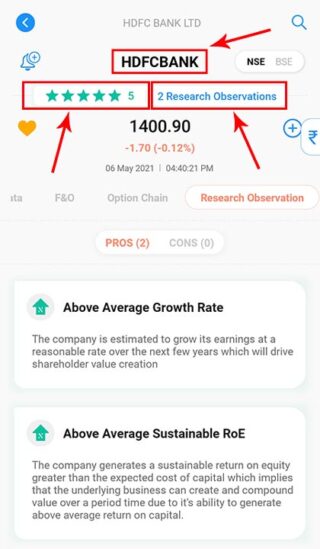 Not just that, Samco Stock Ratings also offers detailed observations to investors in the form of pros and cons of each business and assists them to understand the logic behind the ratings. These ratings are accessible for FREE on the Samco's flagship mobile trading app, Samco.
How can investors benefit from Samco Stock Ratings?
Buy only the right stocks that are highly rated – 3 stars and above
Avoid investing in poorly rated stocks, since usually lower rated stocks end up destroying wealth – 2 stars and below
Understanding the stock rating scale
Samco Stock Ratings evaluates more than 20 million data points and rates every stock between 1 star to 5 stars based on 50+ rating parameters. All the ratings are backed by detailed observations in the form of pros and cons which gives the investors an insight on which stocks to buy and which not to.

How does the Samco Stock Rating engine work?
Samco's proprietary system evaluates over 20 million data points to derive the Samco Stock Ratings. Each company is evaluated on several financial parameters including earnings, balance sheet and its quality, cash conversion of each business and a lot more and a quality score is assigned for each business.
Subsequently, the price of the stock and its estimated value are computed and compared to assign a margin of safety score. Finally, the business and price-value equation are evaluated together to assign a final stock rating based on the expected return potential and risk reward of each stock.
Some stocks accurately analysed and rated by Samco Stock Ratings
Stock Name
(30 April, 2021)
Ratings
(30 April, 2021)
Reco. Date
Reco. Price
Current Price
Returns
IEX
5 stars
17 Feb, 2020
190
370.35
95%
Asian Paints
4 stars
9 April, 2020
1651
2536.4
53%
Bharti Airtel
0.5 stars
4 June, 2020
572
536.75
-6%
IEX Rating – 5 Stars
Action: BUY
Recommendation Date: 17th Feb 2020
Recommendation Price: 190
Current Market Price: 370.35 (as on 30th April 2021)
Absolute Returns: 95% (as on 30th April 2021)
Rational: IEX is the country's largest energy exchange as it holds a near-monopoly position with a market share in excess of 95% in India. Samco's Stock Ratings had discovered this gem of a stock back in late 2019 when the stock was consolidating in a tight range of Rs. 138-180/share. The stock started its upward trend from these levels and within a span of 13 months touched highs of Rs.392, delivering a whopping 106% returns over this period, IEX still has tremendous growth potential. Our stock rating took a variety of fundamental factors into consideration, before giving it a 5-star rating. A fusion of these two factors and a number of other filters provided a magnificent opportunity in IEX.
Asian Paints Rating – 4 Stars
Action: BUY
Recommendation Date: 9th Apr 2020
Recommendation Price: 1651
Current Market Price: 2536.40 (as on 30th April 2021)
Absolute Returns: 53% (as on 30th April 2021)
Rational: Asian Paints has been a consistent compounder since over a decade. When the Covid-19 pandemic hit the Indian economy last year, nobody could have anticipated with absolute certainty which stocks would sustain and come out stronger post the pandemic. But during the second week of April, amidst peak lockdowns, Samco Stock Ratings efficiently determined that the company had the strength to withstand this turbulence and emerge stronger. The company's stock effectively delivered returns of 74% till highs of Rs. 2873/share in January. It has managed to generate robust returns for its shareholders proving its resilience in trying times.
Bharti Airtel – 0.5 Star
Action: Short / Sell
Recommendation Date: 4th June 2020
Reco Price: 572
Current Market Price: 536.75 (as on 30th April 2021)
Absolute Returns: -6% (as on 30th April 2021)
Rational: Bharti Airtel has a lower rating according to our Samco Stock Ratings and rightly so, since the stock fell 31% post our recommendation and in-fact has retracted back to the same levels over the past 10 months, not delivering any returns for shareholders holding this stock. The rating matrix considered its debt heavy nature, negative net profit margins, single digit to negative ROEs & ROCEs since the past 10 years and a number of other fundamentals into account before coming out with this rating. Due to intense competition from Jio and from a margin of safety perspective too, Bharti Airtel wasn't an ideal investment opportunity.
Check the Samco Stock Ratings in 4 simple steps
Step-1: Open the Samco app and navigate to your watchlist.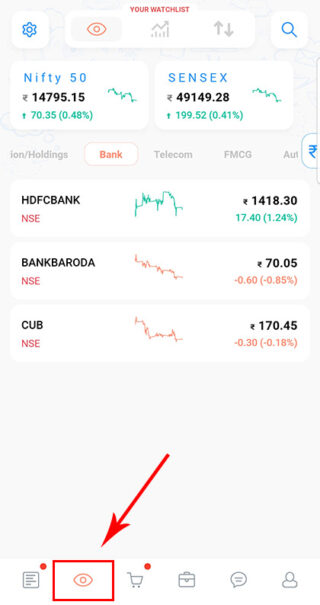 Step-2: Select the stock that you want to check the rating for and then select "Quote".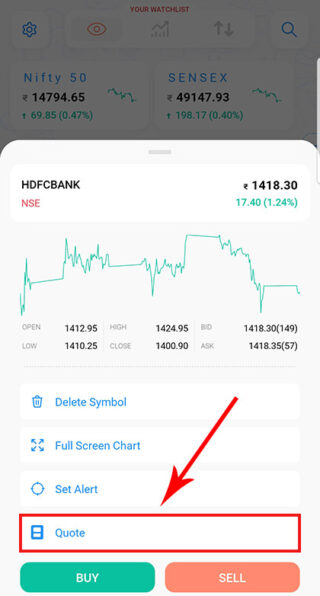 Step-3: You'll see the star rating assigned to that stock, below the stock name on the left-hand side.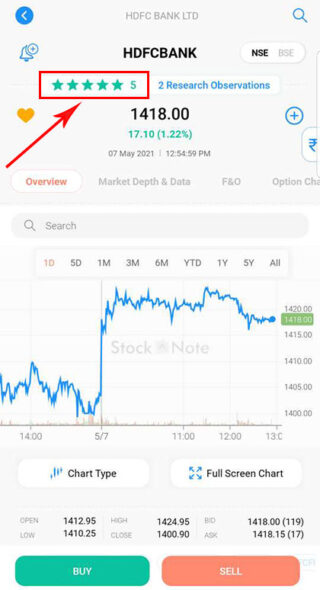 Step-4: You can further check the pros and cons of that stock by selecting "Research Observations" next to the star rating.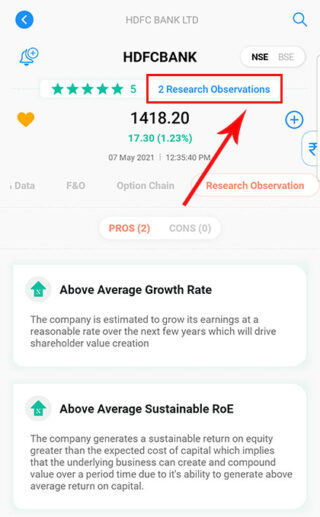 So now, before making any investments, we recommend that investors explore the Samco Stock Ratings on the Samco app and choose the right stocks wisely.
Ab sirf 5-star rated stocks mein invest karo aur stock market mein #DhokaMatKhao
In case you have forgotten your password, you can learn how to reset it here →
If you wish to share your feedback on this new feature, please feel free to email us on mobileapps@samco.in.
Was this article helpful?
Share