What is Penny Stock?
The concept of Penny stocks is originated in USA and derived from the unit of currency called "penny". Penny is equivalent to one hundredth of USD. Penny stocks or penny shares as they are referred to are stocks which trade at a low prices and have extremely low market caps. In India, usually stocks which are priced below Rs. 10 are commonly known as penny stocks.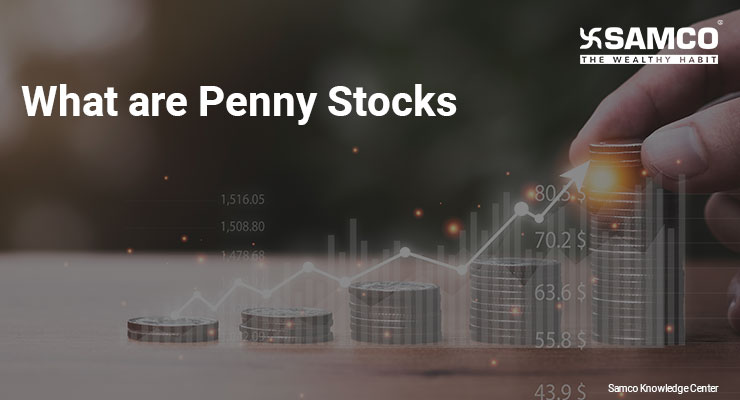 However, it is important to note that not all stocks which are priced low are penny stocks. Some great companies and businesses may also be trading at single or double digit prices due to smaller face values but they are essentially large companies with large capital structures and market capitalisation and not essentially penny stocks. Therefore it is very important to distinguish between penny stocks and penny business. These terms are used loosely and interchangeably in the stock markets and what investors really need to avoid is PENNY Businesses.
For Eg. Manappuram General Finance is a leading Gold known company in India but in 2014-15, the stock price used to trade at Rs. 15 per share. Applying the loose definition of penny stocks i.e. single/double digit prices to Manappuram, it could have been classified as a Penny stock. However, it had no characteristics of a penny business, since it traded at Rs. 2000 odd crores market cap, was an industry leader practicising high standards of corporate governance, etc. Therefore, since it din't possess the qualities of a penny business, it wasn't really a penny stock simply because it traded at a low price.
Penny Stocks vs Penny Business
When we state the term Penny stock, the actual reference is to a Penny business. A stock is referred as a Penny stock because of poor corporate governance standards, low liquidity and extremely high risk and bid-ask spreads (which lead to higher impact costs). From hereon in this article, when we state the penny stocks, the reference really is that to a penny business.
Extremely low market capitalisation of less than Rs. 50-100 crores
Extremely poor corporate governance practices
High Bid-Ask spreads with high impact costs
No core underlying business activity
Poor financials and business fundamentals
No institutional share holdings
Illiquid and infrequently traded
Low prices but extremely high valuations

For Eg. Stock Price may be Rs. 10 which may optically seem low but the EPS would be only Re. 0.01 which would mean a PE Ratio of 1000 which is obnoxiously high

Insufficient and irregular corporate filings and disclosures
Continuous Trading at upper/lower circuits
Factors to watch before buying penny stocks
"If the stock is trading at LOW PRICE, which means it is cheap". This is commonly found misconception among investors. Though, stock prices of penny stocks are low, they aren't necessarily cheap. In fact most of them trade at very expensive valuations and some do not even have a PE ratio as explained above.
For example – XYZ Company is an index stock trading at Rs 2000 and on the other hand penny stock PQR corp. is trading at Rs 5. Here one should look for value of these stock rather than the absolute price of the shares.
Many times, trader/ investors buy these stocks in search of multi-baggers. Since they are highly illiquid, even if one manages to buy, it is very difficult to sell.
Commonly seen fact about penny stocks is they often lock in upper or lower circuits. Investors/ traders shouldn't take this action as gathering of momentum. A stock locked in upper circuit today can be in lower circuit tomorrow.
Since, penny stocks have low volume, it's easy for big market participants with a vested interest – commonly known as "OPERATOR" can easily manipulate stock. Investors must be vary of such operators.
We read many "success stories" of penny stocks, how one can make multiple returns in no time by buying penny stocks. Investor/ trader should not get fooled by these "success stories". High possibility is this been planted by an operator, on some websites or blogs. Investors should try to get in depth of the story before putting in any money.
Penny stocks are high risk trades. One shouldn't commit large portion of portfolio in it.
Though, people invest in penny stocks for getting multi bagger returns, while investing one should keep in mind about not investing in more than 2-3 scrips and fund allocation shouldn't be big in reference to portfolio size.
Penny stocks are easy to operate and often move based on futuristic story, investors should never keep their eye off the stocks. Since, people get tempted by the long term capital gains applicability, it isn't recommended to wait for that. One should decide a target and get out when it gets achieved. Penny stocks can at best be trades, never investments.
Before buying such stocks, doing homework is necessary. One shouldn't fully rely on anyone.
One shouldn't buy low volume, illiquid penny stocks, one should ensure that there won't be any problem at the time of selling.
One more important thing is success in penny stocks can be only for the time being in case of a super bull market. One, shouldn't change its overall strategy by one or two successful penny stock trades.
Brokerage while trading penny stocks
A large number of full service brokers in India follow a practice of minimum brokerage per share. For instance, if you traded a stock of Rs. 5, then instead of your normal brokerage slab of 0.5% on delivery trades, you would be charged a minimum per share brokerage slab of let's say Rs. 0.05 per share. Usually at 0.5%, your brokerage per share would work out to Rs. 0.025 per share but because of the condition of minimum per share brokerage, the brokerage applicable would be Rs. 0.05 per share. So let's say you bought 10,000 shares of Rs. 5, your brokerage would be Rs. 500 (i.e. 10000 shares * 0.05 per share) instead of the usual brokerage of Rs. 250 on % turnover. This is done to increase broker realisations on small value transactions.
Whereas in case of discount brokers, there is a fixed brokerage applicable like Rs 20 or less. It never goes beyond the fixed brokerage as levied by the broker. So while trading penny stocks with Samco, the applicable brokerage is  Rs. 20 per executed order or 0.2%, whichever is lower. So in the above example, the brokerage applicable would only be Rs. 20 and not Rs. 500. Traders and investors in penny stocks must be careful of the amount of brokerage that they pay which can really eat in to their profits.
For more useful articles on trading, investing and market knowledge, visit our Knowledge Center section.