Last Updated – May 2022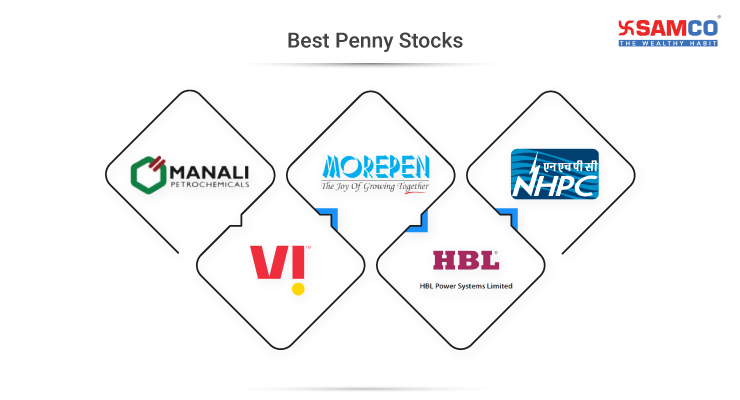 In this article, we will cover
What are penny stocks?
Penny stocks are stocks that trade at very low prices normally below 50 rupees. They have low market capitalization and mostly are illiquid. Penny stocks are lesser-known to the larger investing public. I Investors remain away from them because the information regarding their fundamentals and businesses is either not reliable or not available. However, penny stocks are known for generating multi-bagger returns within a few trading sessions.
Since penny stocks are illiquid, sometimes only a few orders can lead to hitting circuit limit on the exchange. These stocks mostly give higher returns when they are hitting upper circuits for a number of days. Generally, this period of hitting circuits is not accompanied with trading volumes. Sometimes there is a strong fundamental story that moves the stock up. Other times it might just be a case of manipulation by stock operators. They artificially inflate the price and volumes to attract innocent retail investors. Once they have enough traders participating in the stocks they would offload their own holdings. Now that we have understood the modus operandi of penny stocks. lets see why are penny stocks called "Penny" Stocks
Penny Stocks are Called Penny Stocks for a Reason!
Penny stocks trade at such low rates for a reason because most of the traders buying penny stocks don't even care about them and look to exit sooner or later once they have given decent returns. Penny stocks in India often don't comply with exchange regulations. They are not even transparent in their reporting.
It is only when there is some news or some turnaround stories on penny stocks, that they move. The speculation leads to an increase in trading volumes and prices soar. But very few of them turn out to be true or genuinely strong on a fundamental basis. Any negative news causes the price to turn south.
List of Best Penny Stocks to Buy now in India
People who generally trade or invest in penny stocks are generally the lower class of retail investors who do not keep a portfolio approach and invest in them based on news or tip from some random sources.
They think the price is so low thatthey will not lose much but if the stock turns out to be good then it could double or triple their investment. However, investors should always keep in mind that they might be investing in small amounts but still, they can lose 100 percent of their capital.
You can learn how to invest in penny stocks from this episode of our show The Right Choices with Oracles of Dalal Street.
Things to keep in mind while buying penny stocks
The risk that a penny stock will go bust is equally high. The company can suddenly shut down or there can be very little probability of giving multi-bagger returns. The total capital that deserves to be invested in penny stocks should not be more than 2 to 3 percent of a person's portfolio value.
Investing in penny stocks is mostly speculative. First of all, investors should avoid investing in them and if they buy any it should be treated as buying a lottery. You should never become emotionally attached to them in the hope of some good news.
Investors should also never follow a buy and hold approach even if they have got good returns recently. Because over a period of time neither they are able to generate value for shareholders nor they follow a transparent reporting system. Investors should also research extensively about the stock and the news going on in the public domain and not become the victim of operators' conspiracy, who later offload their holdings after manipulating the price.
The transaction cost for some penny stocks is also higher and on some the brokerage is charged on a per-share basis. Similarly when stocks trade at a very low price, the spread between the bid and ask price also turn out to be significant in terms of percentage.
The stocks mentioned in the watchlist have been determined after keeping in mind news, speculation, trend in their price chart, and a few fundamental factors such as debt to equity ratio and cashflows.
But this information will vary on a day to day basis depending on the newsflow and an investor should make some relevant background checks in his capacity before investing in these stocks.
Below is some more information about Best penny stocks in India
Vodafone Idea Ltd
Vodafone Idea Limited is an Aditya Birla Group and Vodafone Group partnership. It is India's leading telecom service provider. It is the third largest wireless operator by subscribers in India with a Revenue Market Share of approximately 15.9% of the Indian mobile telecommunications services industry.
The Company provides pan India Voice and Data services across 2G, 3G and 4G platforms. Competition from peers such as Reliance Jio and Airtel is a major blow to Vodafone's business as it is losing subscribers slowly to them. Vodafone can be on a speculator's radar, however, it is extremely risky and volumes should be closely observed before buying this stock.
You can watch our Spotlight video on Vodafone Idea by CA Paras Matalia, Head of Stockbasket.com to know his views on the stock.

NHPC Limited
NHPC Ltd is a Mini-Ratna Category-I Enterprise of the Government of India. The company is one of the largest organizations in the field of hydropower development in the country. It is a hydroelectric power generating company dedicated to the planning, development and implementation of an integrated and efficient network of hydroelectric projects in India. They execute all aspects of the development of hydroelectric projects, from concept to commissioning of the projects.
The company has a good dividend yield of around 6.17% and low debt to equity ratio. The stock has a broader price range and generally fluctuates within a range from Rs 14 to 34 and has average yearly volatility of 40 percent.
Morepen Laboratories
Morepen Laboratories is a Pharmaceutical company. Morepen has steadily grown from a single product company to a multi-activity company with a global vision and satisfied customers in over 50 countries. The company has three state-of-the-art manufacturing plants in the northern state of Himachal Pradesh (HP) in India.
The main plant at Parwanoo is inspected and approved by the United States Food and Drug Administration (USFDA) for production of Loratadine, which is the best selling anti-allergy drug globally. It is the largest producer of Loratadine in the World and presently has over 90% market share of generic Loratadine in the US market, a supplier to top-class customers like Novartis, Merck, etc.
The company has a good debt to equity ratio of 0.05. Since the last 10 years, this stock has been moving in a broader range of Rs 2.5 to 45 on the higher side and has an average daily volume of around 18 lakh shares.
Manali Petrochemical Ltd.
Manali Petrochemical Ltd. (MPL) is a petrochemical company based in Chennai. It markets propylene glycol and polyols. Manali Petrochemical annually produces 27000 metric tonnes of propylene oxide, 14,000 metric tonnes of propylene glycol and 15,000 metric tonnes of polyether polyol and system polyol.
These chemicals are key inputs for the manufacture of polyurethane foams having wide ranging applications. Propylene glycol is extensively used in pharmaceuticals, food flavours, essences, cigarettes, cosmetics and perfumery.
The company has a good debt to equity ratio of 0.03 and a good dividend yield of around 1.26%. The stock has high historical volatility. For the last 10 years, this stock has been moving from Rs. 6 to 46 and has an average daily volume of 30 lakh shares.
HBL Power Systems
HBL Power Systems Ltd is a listed Indian company, in business since 1977, with a focus on engineered products and services. The company's business strategy was to identify technology gaps in India that they could fill by 'indigenous efforts'. The first products selected and successfully developed were Aircraft batteries – eventually leading to HBL offering the world's widest range of specialized batteries.
Now the company has become a leading supplier of specialised batteries and power electronics in India with a strong presence in several other countries.Ths stock has been moving horizontally since the last 10 years from Rs 10 to 60 with an average daily volume of 4 lakh shares.
Best Penny Stocks: Here's a quick video 
List of Penny Stocks in India: Model Watchlist
If one wants to bring down the list to 4 to 5 stocks for closely tracking, then the below table is suitable for a beginner.
Best penny stocks to buy: A detailed table with various parameters for 
You can check the live prices and trade in these or any other penny stocks at lowest brokerage with SAMCO, India's leading discount brokerage. Open a Free Demat and Trading Account today!
Sr. No
Company Name
BSE Scrip Code
NSE Symbol
CMP (Rs.) 04 May2022
Rating
(Stars)
Industry
PE ratio
Dividend yield (%)
ROCE (%)
5 year average ROE (%)
Debt equity ratio
5 yr CAGR revenue (%)
5 yr CAGR PAT (%)
1
ALOK INDUSTRIES LTD
521070
ALOKINDS
24.4
0.5
TEXTILES
N/A
0
-0.63%
N/A
N/A
-22%
6.07%
2
DISH TV INDIA LTD
532839
DISHTV
16.15
0.5
BROADCASTING & CABLE TV
N/A
0
11.70%
-1%
0.2
1%
N/A
3
MOREPEN LABORATORIES LTD
500288
MOREPENLAB
48.65
0.5
MOREPENLAB
20.1
0
21.50%
16.40%
0.02
20%
41%
4
GMR INFRASTRUCTURE LTD
532754
GMRINFRA
36.85
0.5
AIRPORT SERVICES
N/A
0
1.08%
N/A
N/A
-6%
5%
5
HFCL
500183
HFCL
67.45
0.5
TELECOM CABLES
29.8
0.21%
20%
15%
0.34
9%
0%
6
VODAFONE IDEA LTD
532822
IDEA
9.35
0.5
TELECOM SERVICES
N/A
0
-51.7
N/A
N/A
3%
N/A
7
JAMMU&KASHMIR BANK LTD
532209
J&KBANK
30.65
0.5
BANKS
4.66
0
4.37%
-5%
16.2
3%
1%
8
BANK OF MAHARASHTRA LTD
532525
MAHABANK
17.65
0.5
BANKS
12.6
0
4.25%
-14%
14.5
-2%
37%
9
INDIAN OVERSEAS BANK
532388
IOB
18.05
0.5
BANKS
23
0
4.71%
-28%
14.4
-6%
18%
10
MMTC LTD
513377
MMTC
44.35
0.5
COMM.TRADING & DISTRIBUTION
83.6
0
-0.90%
-2%
24.2
19%
20.40%
11
NBCC LTD
534309
NBCC
37
0.5
CONSTRUCTION & ENGINEERING
29.7
1.19%
16.00%
17%
N/A
-3%
-7%
12
RAIL VIKAS NIGAM LTD
542649
RVNL
33.27
0.5
CONSTRUCTION & ENGINEERING
6.11
4.82%
11.30%
15.40%
1.02
28%
17%
13
NATIONAL FERTILIZERS LTD
523630
NFL
56.35
0.5
FERTILIZERS
42
0
9.04%
12%
1.29
9%
5%
14
SJVN LTD
533206
SJVN
28.3
1
ELECTRIC UTILITIES
7.1
7.65%
15.00%
13%
0.39
0%
4%
15
TV18 BROADCAST LTD
532800
TV18BRDCST
49.35
0.5
BROADCASTING & CABLE TV
18.6
0
14.90%
5%
0.17
37%
19%
16
TRIDENT LTD
521064
TRIDENT
50.45
0.5
TEXTILES
37.3
0.65%
10.00%
12%
0.37
4%
6%
17
NHPC LTD
533098
NHPC
32.6
1
ELECTRIC UTILITIES
8.2
5.62%
9.21%
9%
0.65
3%
10%
18
UJJIVAN SMALL FINANCE BANK LTD
542904
UJJIVANSFB
17.3
0.5
BANKS
N/A
0%
5.81%
N/A
5.16
N/A
N/A
19
HBL POWER SYSTEMS LTD
517271
HBLPOWER
84.1
0.5
HBLPOWER
28.6
0.57%
4.43%
4%
0.08
-7%
3%
20
YES BANK LTD
532648
YESBANK
13.75
1
BANKS
N/A
0
3.15%
-9%
6.83
8%
N/A
Related Articles: