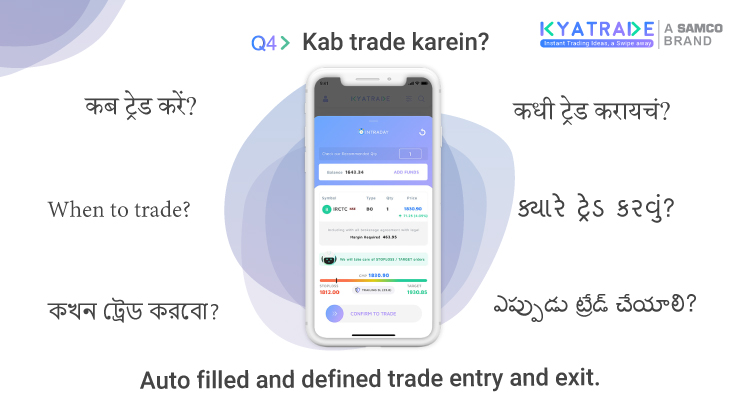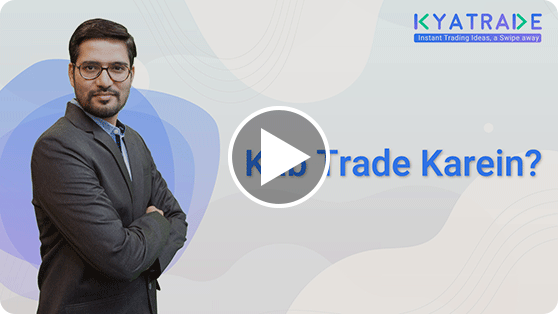 There are 3 variables in trading that one must be fully aware of before placing an order in the market – entry price, stop-loss, and target price.
When traders ask the question, "kab trade karein" (when to trade), they are usually seeking the answers to these 3 variables, without which, they cannot enter or exit any trade.
A lot of research and time goes into the technical and fundamental analysis on each stock just to determine these 3 crucial variables; missing out on any one of these, could prove to be catastrophic for the trader/ investor.
Luckily, with KyaTrade, every trade comes with a predefined entry price, target price, and a stop-loss price.
You need not rely on anyone to provide you with the details of entering and exiting a trade; the system automatically takes care of it.
Watch a short video by Samco's Chief Markets Editor, Mr. Apurva Sheth, as he talks about the importance of entry and exit in a trade and how KyaTrade addresses these with a simple solution.

The opportune time when you'll receive your intraday ideas on KyaTrade is usually between 9 AM and 10 AM – the period when the market is most volatile. And besides that, you'll also receive ideas during the trading hours, though intermittently.
For investment, opportunities are presented when companies exhibit various signs like breakouts or breakdowns, changes in holding patterns, etc.
So, if you're a trader or an investor, be ready when presented with ideas on the KyaTrade app and swipe away for consistent returns.
Trading on the KyaTrade app:
Swipe right for ideas you'd like to trade.
Swipe left to reject the idea.
Swipe up for the next trading idea.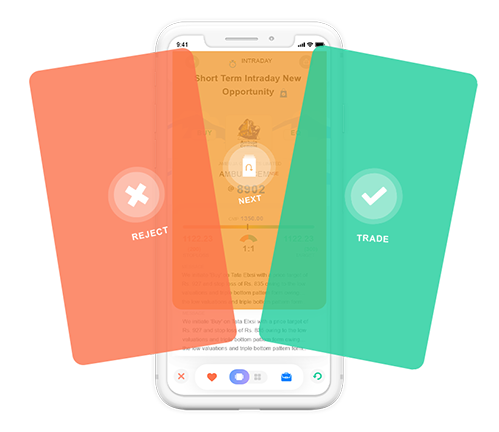 To help you get started on KyaTrade today, we have a special offer for you as well.
Special Offer of KyaTrade:
We understand that you'd like to experience KyaTrade before committing to our subscription plans. This is why we're offering the first-month starter pack for just Re. 1.
We also give you a 100% refund guarantee* on your subscription fees, in case you don't make money on our Investment Plan recommendation. *Read T&Cs
KyaTrade app access:
For existing clients:
You can log into KyaTrade with your existing Samco account; use your Samco client code and trading password to access KyaTrade and start trading and investing right away!
For non-existing clients:
Since KyaTrade is a Samco exclusive product, you need to have a Samco account to access it. To get unrestricted access to KyaTrade today, open a free Samco account now →
Without further ado, download the KyaTrade app and start trading and investing with high-conviction ideas today.
For more info, visit the KyaTrade website: www.kyatrade.com
If you wish to suggest additional features or give feedback on the app, please write to us at mobileapps@samco.in with your user ID; we'd love to get your inputs to further improve our application and deliver better trading and investing experience for you.
Important links:
KyaTrade Introduction | KyaTrade Investment Plans | KyaTrade IntraDay Plans | KyaTrade Pricing | KyaTrade FAQs
Was this article helpful?
Share