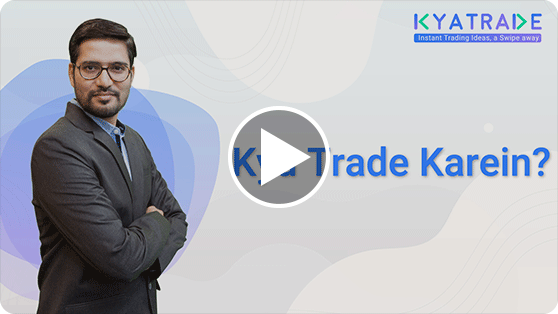 There are 4000+ unique stocks listed in India. And the answer to "kya trade karein (what to trade?), can be suggested by anyone…even someone who has been in the stock markets for less than a week.
But, hardly anyone would give you the right answer to "kyu trade karein?" (why to trade?)
Trading based on recommendations from "someone" or online tips and calls can never bear fruits in the long run; only research-backed, high-conviction ideas on the most fundamentally strong stocks and a sophisticated risk management system, can do wonders.
You can find the answer to "kyu trade karein?" (why to trade?) with KyaTrade.
Kyatrade delivers such research-backed, high-conviction trading and investment ideas regularly on its app. The ideas are derived after processing back-tested data, various technical indicators, and applying multiple chart signals.
Watch a short video by Samco's Market Editor, Mr. Apurva Sheth, as he talks about KyaTrade's operating logic and utility that will help traders and investors make a sound decision in the market.
Click on the image below to watch the video


Applying KyaTrade ideas to your trades: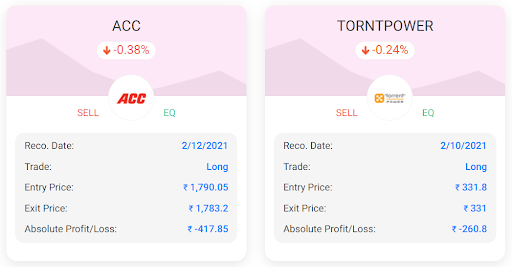 The brains of KyaTrade, the sophisticated Giga Trading Engine, captured some major market movements in the past and presented opportunities in certain stocks.
We've back-tested our intraday trading recommendations from the past and presented them here today.
Following are the trading calls and ideas the Giga Trading Engine had recommended in the past.

The losing side of the intraday trades had been limited to under 1%, while the winning side trades made over 4% returns in each case. More intraday case studies here →
Similarly, we had back-tested our investment ideas from the past.
Following are the investment calls and ideas that the Giga Trading Engine had recommended in the past.

More investment case studies here →
Many of the investment recommendations have made sizable returns (as seen in the above case studies).
The signals to all these ideas were generated in real-time when our proprietary Giga Trading Engine made the discovery after analyzing 20 million data points – an average trader cannot identify opportunities at such speeds.
Moreover, the system works because it makes emotionless, unbiased decisions to grab the best opportunity for you in the market.
You simply need to swipe on an idea and trust the system to do the rest for you.
So, as you see, placing orders on the KyaTrade is the logical step when it comes to trading and investing.
Trading on the KyaTrade app:
Swipe right for ideas you'd like to trade.
Swipe left to reject the idea.
Swipe up for the next trading idea.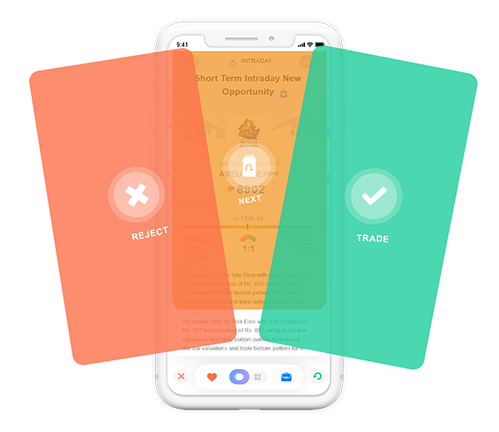 To help you get started on KyaTrade today, we have a special offer for you as well.
Special Offer of KyaTrade:
We understand that you'd like to experience KyaTrade before committing to our subscription plans. This is why we're offering the first-month starter pack for just Re. 1.
We also give you a 100% refund guarantee* on your subscription fees, in case you don't make money on our Investment Plan recommendation. *Read T&Cs
KyaTrade app access:
For existing clients:
You can log into KyaTrade with your existing Samco account; use your Samco client code and trading password to access KyaTrade and start trading and investing right away!
For non-existing clients:
Since KyaTrade is a Samco exclusive product, you need to have a Samco account to access it. To get unrestricted access to KyaTrade today, open a free Samco account now →
Without further ado, download the KyaTrade app and start trading and investing with high-conviction ideas today.
For more info, visit the KyaTrade website: www.kyatrade.com
If you wish to suggest additional features or give feedback on the app, please write to us at mobileapps@samco.in with your user ID; we'd love to get your inputs to further improve our application and deliver better trading and investing experience for you.
Important links:
KyaTrade Introduction | KyaTrade Investment Plans | KyaTrade IntraDay Plans | KyaTrade Pricing | KyaTrade FAQs
Was this article helpful?
Share