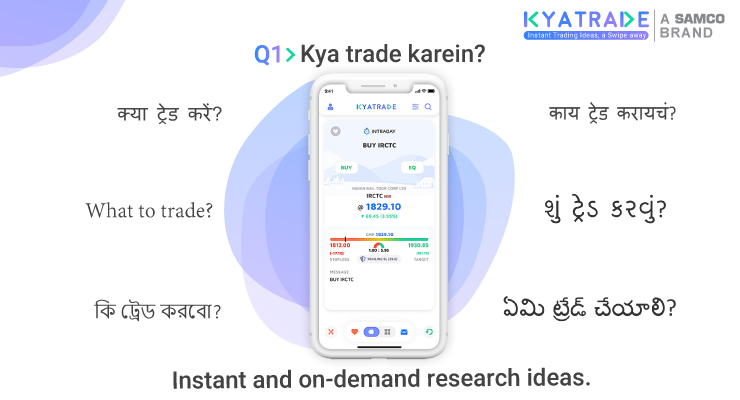 There are only 5 basic questions that a stock trader or investor may have, ever!
Why to trade? (Kyu trade karein)
When to trade? (Kab trade karein)
How much to trade? (Kitna trade karein)
How to trade? (Kaise trade karein)
But the most important of all is…
What to trade?

(Kya trade karein)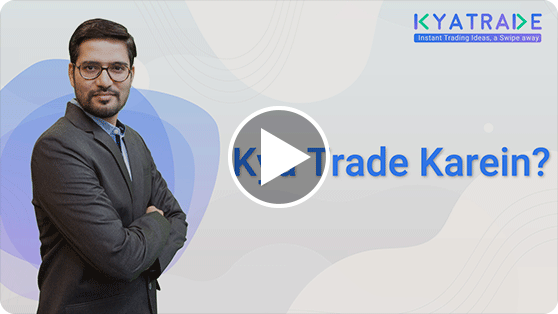 Answers to these 5 crucial questions are the key to developing the perfect trading strategy, thereby making money in the stock market.
But here's where it gets tricky.
Even if traders/ investors find the answer to a few of these questions, they often struggle with the remaining questions, and as a result, end up making losses.
Repeat this pattern multiple times, now they have a huge loss sitting on their shoulders.
And, it is reasonable to be confused about the right stock picks and its accompanying trade details after considering how much information comes flying in from all directions; 4000+ unique listed stocks, 100+ chart patterns, 100+ financial ratios – the information download would be overwhelming for anyone.
To add to this, in the quest of finding the right stocks, retail traders have developed this unfruitful habit of listening to hot online tips from their peers and family and applying toxic stock recommendations to their portfolio. They also tune in to the free tips and advice from social media influencers and TV channel personnel, but they often jump into the recommendation after the rally has dried up, and end up losing again. Stock picking in these manners never pans out in the long run.
So, today, we press upon the importance of picking the right stocks for trading, cause even with good luck by your side, choosing the wrong stock can still land you in a hole.
So to address the question of "kya trade karein" (what to trade), we have a straightforward answer…KyaTrade.com →
Watch a short video by Samco's Market Editor, Mr. Apurva Sheth, as he talks about KyaTrade's utility in helping traders and investors pick the right stocks at the right time.

As the name implies, KyaTrade is a platform where you'll find answers to your trading and investing dilemma.
On KyaTrade, you'll get high-conviction trading and investing ideas in real-time with predefined target and stop-loss at the opportune moment, using which you can win trades a greater number of times than the average discretionary trader.
Using the KyaTrade ideas: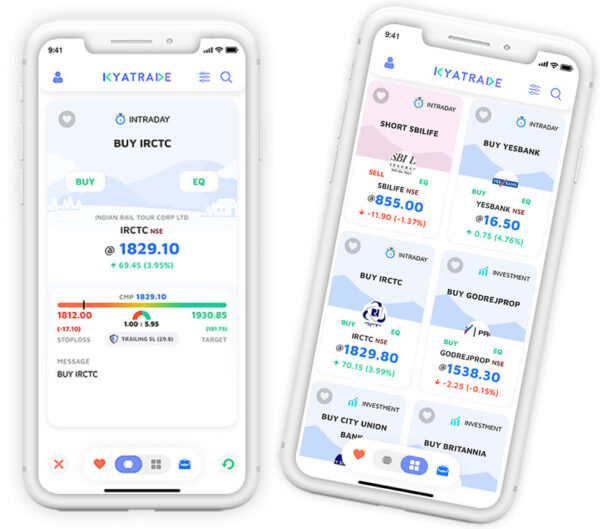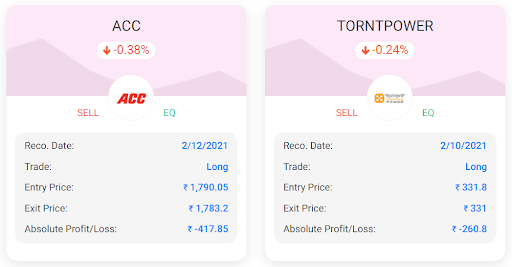 The ideas of equity trading (intraday and long-term) are generated at the opportune moments on the KyaTrade app and can be traded with a simple swipe gesture.
Every idea within the app is derived after processing various technical indicators and applying multiple chart signals on fundamentally strong and liquid stocks; the KyaTrade logic doesn't permit trading or investing in low-grade stocks.

Since almost all trades on KyaTrade come with an accompanying target and stop-loss order, you can rest assured that your risk is managed efficiently and profits/loss are consistent.
For intraday trades, opportunities are presented during the first half of the day (usually between 9 AM and 10 AM – the period when the market is most volatile; you'll also receive ideas during the course of the trading day, though intermittently).
For investment, opportunities are presented when companies exhibit various tell signs like breakouts or breakdowns, changes in holding patterns, etc.
Following are the trading calls and ideas the Giga Trading Engine (the brains of the KyaTrade app) had recommended in the past.


More intraday case studies here →
The evidence is right in front of you.
Only by trading or investing in the right stocks at the right time can you build a corpus of wealth…and this is what KyaTrade does for you!
Trading on the KyaTrade app:
Swipe right for ideas you'd like to trade.

Swipe left to reject the idea.

Swipe up for the next trading idea.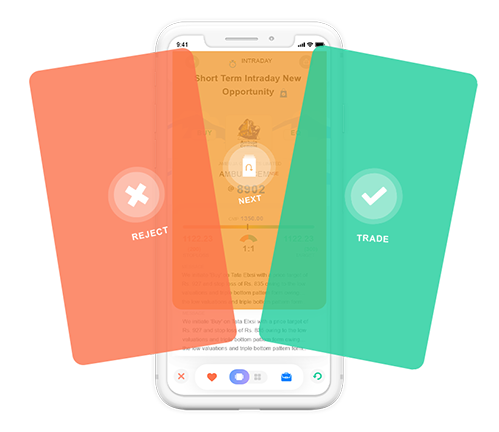 To help you get started on KyaTrade today, we have a special offer for you as well.
Special Offer of KyaTrade:
We understand that you'd like to experience KyaTrade before committing to our subscription plans. This is why we're offering the first-month starter pack for just Re. 1.
We also give you a 100% refund guarantee* on your subscription fees, in case you don't make money on our Investment Plan recommendation. *Read T&Cs

KyaTrade app access:
For existing clients:
You can log into KyaTrade with your existing Samco account; use your Samco client code and trading password to access KyaTrade and start trading and investing right away!
For non-existing clients:
Since KyaTrade is a Samco exclusive product, you need to have a Samco account to access it. To get unrestricted access to KyaTrade today, open a free Samco account now →
Without further ado, download the KyaTrade app and start trading and investing with high-conviction ideas today.
For more info, visit the KyaTrade website: www.kyatrade.com
If you wish to suggest additional features or give feedback on the app, please write to us at mobileapps@samco.in with your user ID; we'd love to get your inputs to further improve our application and deliver better trading and investing experience for you.
Important links:
KyaTrade Introduction | KyaTrade Investment Plans | KyaTrade IntraDay Plans | KyaTrade Pricing | KyaTrade FAQs
Was this article helpful?
Share