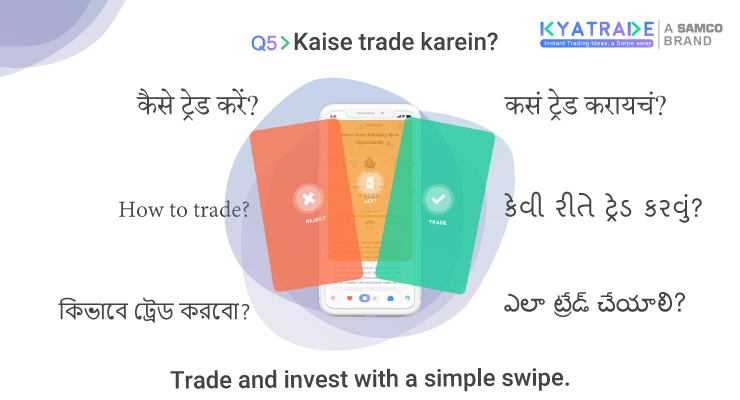 KyaTrade is a simple yet unique trading and investing platform that helps you generate consistent returns in the market.
It deploys high-quality research ideas and recommendations with a predefined target, stop-loss, and position sizing which can be traded instantly with a simple swipe on the screen.
Identifying an idea on KyaTrade:
You will see a number of ideas on the KyaTrade app, especially in the first hour of the day.
If you're an intraday trader and have activated the intraday plan, ideally, it is recommended that you remain logged in on the app so as to capture a high amount of the opportunities presented by the app since many intraday trades may only offer momentum in the short term.
And if you're an investor and have activated the investment plan, the opportunity will come to you when the stock exhibits various signs like breakouts or breakdowns, changes in holding patterns, etc.
The app will provide you an entry recommendation at a price level such that the momentum is strong while the risk is limited.
Trading on the KyaTrade app: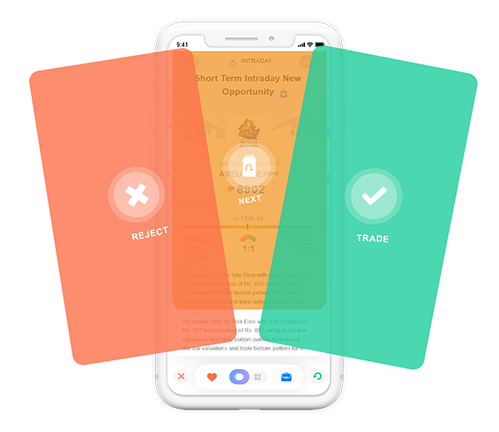 You can operate the KyaTrade app with simple swipe gestures:

Swipe right for ideas you'd like to trade:
Once you see an opportunity, simply swipe right if you'd like to initiate a trade.

You'll see the predefined stop-loss and target along with recommended position sizing. Swipe right on the screen again and your order is placed successfully.
Swipe left to reject an idea:
If you do not like an idea and don't want to see it again, swipe left and reject the idea.

If you reject the idea, it will be deleted. You can also undo a rejected idea by tapping on the undo icon on the bottom right corner of the screen.
Swipe up to check out the next idea:
If you like an idea but you'd prefer to trade on it later, not immediately, then simply swipe up.

It will take you to the next idea but at the same time, allow you to check the idea again in the grid view or at a later point in time.
Watch a short video by Samco's Chief Markets Editor, Mr. Apurva Sheth, as he talks about how easily you can choose from the list of recommended trading and investment ideas and enter a trade on the KyaTrade app.

Entering and exiting a trade on KyaTrade:
Entering a trade is extremely easy; swiping right on an idea will take you to the order page where there will be a prefixed quantity of shares defined along with the stated target, stop-loss, and trailing stop-loss (for a few intraday ideas). With a right swipe again, your order gets executed directly, and you do not have to go through the hassle of finding and placing a trade manually.
The shares are pre-defined, taking your total portfolio allocation and concentration risk into consideration, and it can be changed manually, however, it isn't recommended.
For exit, you will be notified when the stock hits the target price, stop-loss (trailing stop-loss in some intraday ideas), or intraday square-off.
If research decides to close an opportunity, you will get a prompt notification for exits, and you will have to manually exit the order from the app.
Special Offer of KyaTrade:
We understand that you'd like to experience KyaTrade before committing to our subscription plans. This is why we're offering the first-month starter pack for just Re. 1.
We also give you a 100% refund guarantee* on your subscription fees, in case you don't make money on our Investment Plan recommendation. *Read T&Cs
KyaTrade app access:
For existing clients:
You can log into KyaTrade with your existing Samco account; use your Samco client code and trading password to access KyaTrade and start trading and investing right away!
For non-existing clients:
Since KyaTrade is a Samco exclusive product, you need to have a Samco account to access it. To get unrestricted access to KyaTrade today, open a free Samco account now →
Without further ado, download the KyaTrade app and start trading and investing with high-conviction ideas today.
For more info, visit the KyaTrade website: www.kyatrade.com
If you wish to suggest additional features or give feedback on the app, please write to us at mobileapps@samco.in with your user ID; we'd love to get your inputs to further improve our application and deliver better trading and investing experience for you.
Important links:
KyaTrade Introduction | KyaTrade Investment Plans | KyaTrade IntraDay Plans | KyaTrade Pricing | KyaTrade FAQs
Was this article helpful?
Share