Ever since the market is in the bullish phase
, Initial Public Offering (IPOs)
have created a lot of buzz among retail investors. Most of us think that every hyped IPO is worth investing. Well that's not true.
Reliance Power
, Adlabs,
Gammon Infra
,
Shriram EPC
,
DB Realty
are some of the failed IPOs and to avoid such wrong investment decisions you must read a
Red Herring Prospectus (RHP)
.
What is a Red Herring Prospectus?
A red herring prospectus is a document filed by a company who wishes to raise money by issuing an IPO. This document provides all the useful information to the investors starting from the business model of the company to objective of raising funds. Now you must be thinking that, why should you read a red herring prospectus? Well, we all could relate to this. Whenever we buy anything be it a new phone or a new bike, even if it's a newly launched or extremely hyped you would take a step forward to research about the product. You will compare its features, prices and then decide if it's worth buying or not. Similarly, before applying for any
upcoming IPO
, you must research about the company by reading the red herring prospectus or else you might fall into a trap and end up investing in the wrong 
IPO
. Download red herring prospectus of some of the most popular recent IPO's by clicking on the links below.
Process of Issuing a Red Herring Prospectus
Firstly, a company who wants to raise funds from an IPO needs to hire an investment bank which also acts as an underwriter. The underwriter initially prepares a draft red herring prospectus (DRHP). It is submitted to the 
Securities and Exchange Board of India (SEBI)
. Once the DRHP is approved by SEBI, the red herring prospectus is prepared. It ranges between 400 to 500 pages and contains all the information about the
 upcoming IPO
 like:
Company's business operations
Promoter holding
Company's objective behind raising funds
Risks of investing and a lot more.
However, this document does not disclose details like the offer price, lot size or the issue date of the IPO.
Importance of Red Herring Prospectus to Investors
During an 
upcoming IPO
, there is a lot of talk about how good the company is and why one should invest in it. Rather than listening to others' opinions, you must do your own research. But, reading the entire red herring prospectus is indeed a tedious task. To help you out, we have shortlisted five important sections of the red herring prospectus. These sections will help you analyse the company better. You will also be able to recognize the pros and find possible red flags in a company if any.
Five Important Elements to Analyse in a Red Herring Prospectus
1. About the Company Section
Before buying any product or service you often go through each detail. Similarly, before investing in any 
upcoming IPO
 it is important to know about the company. For this, you can simply visit 
about the company section of a red herring prospectus
. In this section, you will get all the details regarding the company like:
The business model of the company:
This is a highly detailed section which focuses on the core business of the company.  As a potential shareholder you must know how the company conducts its business operations and how is the company's future growth prospects as compared to their competitors. This is because the money you are investing will be utilised by the company to operate and grow their business.
Industry structure and market opportunities:
This section includes estimates related to the industry in which the company is operating. It also focuses on gross domestic product (GDP) growth, consumption patterns of their customers and the recent improvements made by the company to sustain in the industry.
This section mentions about the board of directors and the management of the company. Various details are disclosed in this section such as their name, designation and date of birth. It also provides a brief about each management person with information like:
Their remuneration and shareholding pattern.
Lawsuits and frauds they were involved in (if any).
The managements' criminal records (if any).
This is your best chance to gather quality insights into the company's management personnel.
Dividend policy of the company:
Declaring 
dividends
 is not mandatory. But few companies coming up with an IPO prefer specifying a formal dividend policy by the end of about the company section.
2. Financial Information Section
Financial information is one of the most important aspects to understand a company. This section contains audited reports of the last five years. It includes:
Assets and Liabilities
Statement of changes in equity
Intangible assets
Borrowings
Shareholdings
Related party transactions
Capitalisation statement
Various financial ratios such as adjusted EBITDA, cash flows, etc.
Points to Analyse in The Financial Information Section:
a. 
In the income statement, you need to analyse if there is consistent growth in the revenues of the company.
Recommended reading: 
How to Read an Income Statement of a Company
b. 
In the 
balance sheet
 you need to check the capital base as well the 
debt levels of the company
. A debt-ridden company may not be able to provide value in the long run as a certain part of their profits will be contributed towards debt repayment.
Recommended reading: 
How to Read a Balance Sheet of a Company
c.
Cash flow statement
 helps you analyse how well the company generates cash to pay its debt obligations and fund its operations. Ideally, a company with consistent increase in cash flows is considered to be an ideal investment option.
Recommended reading: 
How to Read a Cash Flow Statement of a Company
The overall financial information section helps you gauge the safety and profitability of your future investment.
3. Objects of the Offer
Before you invest your hard-earned money, you must check what the company plans to do with the raised funds. If the funds are being raised with the motive of future expansion, then the IPO can be considered worth investing as eventually the company's revenues would increase and you will make good return on your investment. However, if the company is raising funds to repay debt, then investing in the IPO may not be the best investment decision. For example, Zomato's objective to come up with an IPO was to fund its day to day operations and expand their business. Whereas, if we take a look at objects of the offer of Macrotech developers Ltd. (Lodha Group), their objective to raise funds was to repay its debt to a great extent. Hence, checking the objects of the offer is very essential before investing.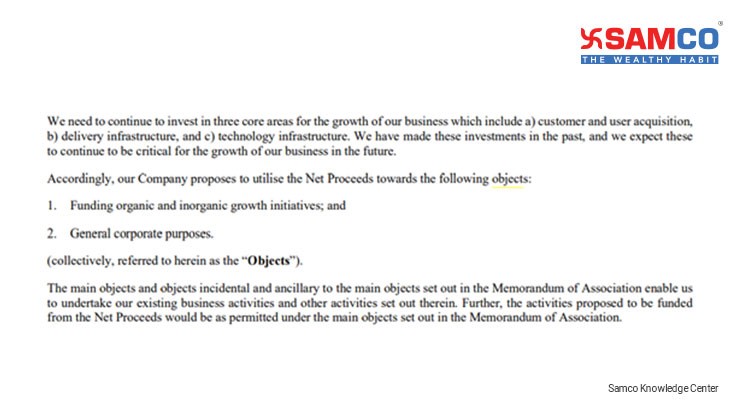 Objects of Offer of Zomato Ltd.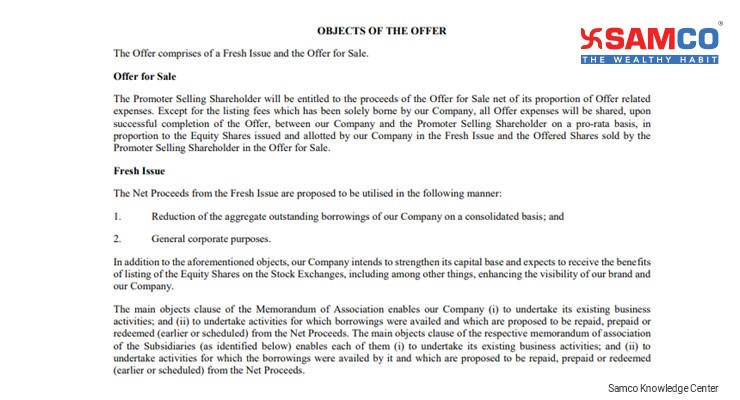 Objects of Offer of Macrotech Developers Ltd. 
4. Quantitative and Qualitative Disclosures about Risks
Risk is a part of every business hence, the company lists down all the possible risks it could face in the future. This includes market risks, interest rate risk, foreign currency risk, credit risk and competitor risk. As an investor, you must identify the real risks that could pose a threat to the company's future growth.
5. Legal and Other Information
In this section, you will find all the unsettled lawsuits filed against the company or promoters. Remember, a company which has critical lawsuits is not an attractive investment option. Now, even though you check these five things before investing in an IPO. But, let me give you a bonus tip which you must check post issue.
Bonus point: Promoter's Holdings post listing of share on the exchanges.
Apart from the above, you need to check if the promoters are diluting their stake post issue. Partial reduction in the promoter's holding is normal. But one should keep a close watch on whether the promoter is reducing the stake substantially. Nobody likes to exit a company when it has the potential to reach new heights. But if you find that the promoters are diluting their stake, it can be a red flag. It means they no longer have faith in the company. It is best to avoid investing in such a company.
Recommended watch: Five most important things you must check in a red herring prospectus
Where Can One Find a Red Herring Prospectus?
Investors can access a company's red herring prospectus on various platforms.
SEBIs website
Step 1:
 Visit the official SEBI website: 
https://www.sebi.gov.in/
Step 2
: Go to the 
filings page
 and click on 
public issues
. There you will find DRHPs and offer documents of 
upcoming IPOs
. Or you can also download the red herring prospectus from the stock exchange websites.
To download it from the National Stock Exchange (NSE) website – Click here
To download it from the Bombay Stock Exchange (BSE) website – Click here
To download it from Samco's IPO page – 
Click here
.
Concluding Thoughts:
Picking the best IPO is not hard if you know what to look for. Hence reading the red herring prospectus is important. The more you know about the company and its business, the better informed decision you can make. For a layman, the red herring prospectus might still be a bit overwhelming. But relax as we have a solution…Samco's expert research team provides research recommendations after analysing an
upcoming IPO
and recommends if you should subscribe or avoid the IPO. To get access to this exclusive data all you need to do is simply subscribe to our YouTube channel by 
clicking here
 and hit the bell icon so you will be notified whenever we post a new video. Recently, our research team had recommended applying for 
Paras Defence And Space Technologies Ltd
., which was listed 185% above its issue price. So, don't miss out on such money making opportunities. Follow our recommendations today and start creating wealth in by opening a 
Demat account with Samco
.
Happy investing