The wait is over.
LIC's IPO
is all set to open on 4th May 2022 and is expected to close on 9th May 2022.
The curiosity of LIC policyholders, potential investors and everyone else is quite evident as they are constantly looking for details like LIC IPO date, LIC IPO price, LIC IPO launch date and a lot more. Indeed, this hype is justified as LIC IPO is the most awaited and biggest
IPO
in the history of India. Hence, it is also known as the Aramco moment for India. 
I'm sure you are equally excited as everyone else. If yes, then this article is for you. Today, we are going to reveal the key data points you must know from the DRHP of LIC IPO. Not just that, we are also going to cover a lot more things about the upcoming LIC IPO. So, stay with me till the end of the article. 
Let's begin. 
In this article
About Life Insurance Corporation of India (LIC)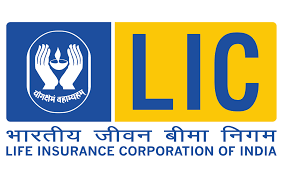 Every time the name LIC is mentioned, we automatically say, – 
Zindagi ke saath bhi, Zindagi ke baad bhi 
followed by the classic whistle.
Indeed, these advertisements were the ones which introduced and made us realise the importance of 
bima 
(insurance) in our lives. The advertisements by LIC were so heart touching that at least one member of a family has an insurance policy from LIC.
So, how did LIC manage to become such a huge part of our lives? Let's dig a bit into the history of LIC.
Till the year 1912, The Indian Life Assurance Companies Act was used to regulate the life insurance businesses in India. During those days many small companies entered into the life insurance space. Later in 1938, the government came up with the insurance act which focused on providing insurance policies to the general public. Under this act, the central government nationalised 245 Indian and foreign insurance companies with the motive of preventing frauds by private insurers.
In 1956, LIC was formed with a capital contribution of Rs. 5 crores from the Government of India. Since then LIC has been insuring millions of lives in India. In 2001, private players entered the life insurance space. But still, as of 2021, around 
66% of the market share
 in terms of insurance premium is held by LIC.
It is also said that insurance is a cash-rich business. This is because policyholders keep paying insurance premium regularly but only a few claim the sum assured. So, these companies have a good cash inflow.
The Government of India 
holds entire stake
 of LIC till date. But, now LIC is coming up with an
IPO
. Finance Minister, Nirmala Sitharaman had mentioned in her budget speech that the Government of India has a disinvestment target of Rs. 1.75 lakh crore for the fiscal year 2021-2022. To fulfill this target, the major contribution was expected from the privatization of LIC.
On 13th February 2022, LIC filed its
DRHP
with SEBI. The IPO is a 100% Offer for Sale (OFS). Recently, LIC has updated its draft red herring prospectus, which lists a 3.5% stake sale instead of 5% as mentioned in the previous DRHP.
The DRHP filed by LIC is 649 pages long. Let's take a look at a few key findings from the DRHP of LIC.  
1. As mentioned in
our business
section of the LIC IPO DRHP,
the embedded value of LIC is Rs. 5,39,686 million as on September 30, 2021. 
But what is embedded value of a company?
Embedded value is simply a metric used for life insurance firms. It represents the present value of future profits of the existing business and adjusted Net Asset Value (NAV) of the company. 
2. The
industry overview
section mentions that
India is the fifth largest insurance market in Asia
. When it comes to LIC, the company holds a 64% share by total life insurance premiums. It grew at 9% Compounded Annual Growth Rate (CAGR) from the year 2016 to 2021. Whereas, private players grew at a 18% CAGR during the same period.
If we talk about the global positing of LIC, it has
ranked fifth globally in terms of life insurance gross written premium (GWP)
. 
3. LIC is the largest asset manager in India
with managed assets worth Rs. 36.8 trillion as of March 31, 2021. 
LIC's Asset Under Management (AUM) is more than three times higher than total AUM of all private life insurers in India
. Moreover,
LIC is also 1.2 times the AUM of the entire mutual fund industry in India
. Just imagine how huge is LIC.
4. In the
financial statements section
of the DRHP, LIC has disclosed a gross Non Performing Asset (NPA) of 7.78% and a net NPA of 0.05% as of 31
st
March 2021. 
5. In the
risk factors section
of LIC IPO's DRHP, the company has disclosed outstanding legal proceeding of approximately 26,919 criminal, consumer, civil proceedings, tax proceedings and actions taken by statutory or regulatory authority as on 6
th
February 2022.
You can download LIC IPO's DRHP of LIC by
clicking here
.
Lately, the markets have been sharply volatile considering the geo-political tension between Russia and Ukraine. But in an interview LIC's chairman Mr. M R Kumar said that "We are watching the situation closely and carefully...but we are very keen on having a listing in March."
So, here is a tentative schedule of the LIC IPO Date
| LIC IPO open date | 4th May |
| --- | --- |
| LIC IPO close date | 9th May |
| Share allocation date | Expected to be by 12th May 2022 |
| Listing of shares | Expected to be by 17th May 2022 |
Recommended watch: Everything about LIC IPO
Why Is LIC Said to Be the Mammoth IPO of The Indian Markets?
In November 2021,
PayTM IPO
was the talk of the town. It was known to be India's biggest IPO with an issue size of Rs. 18,300 crores. But, if we compare LIC with PayTM, LIC has an issue size of around 21,000 crore. 
LIC IPO is also compared to the Gulf's oil giant company – Saudi's Aramco. It is a company which had the biggest issue size of around $29.4 billion. Looking at the mammoth issue size of LIC, it is said to be the Aramco for the Indian capital markets.
After realising how huge LIC IPO is going to be, retail investors are excited to apply for the IPO. Many first time inventors have opened
 Demat accounts
 just to invest in the IPO.
LIC has also offered various quotas in the IPO for employees and policyholders.
10% of the entire issue size will be reserved for LIC policyholders.

5% of the entire issue size will be reserved for LIC employees.
As per reports, Rs. 60 discount is offered to the policyholders and Rs. 45 discount is offered to LIC employees. 
So if you are a policy holder, here is what you must do.  
How can LIC Policyholders apply for the IPO under reserved category?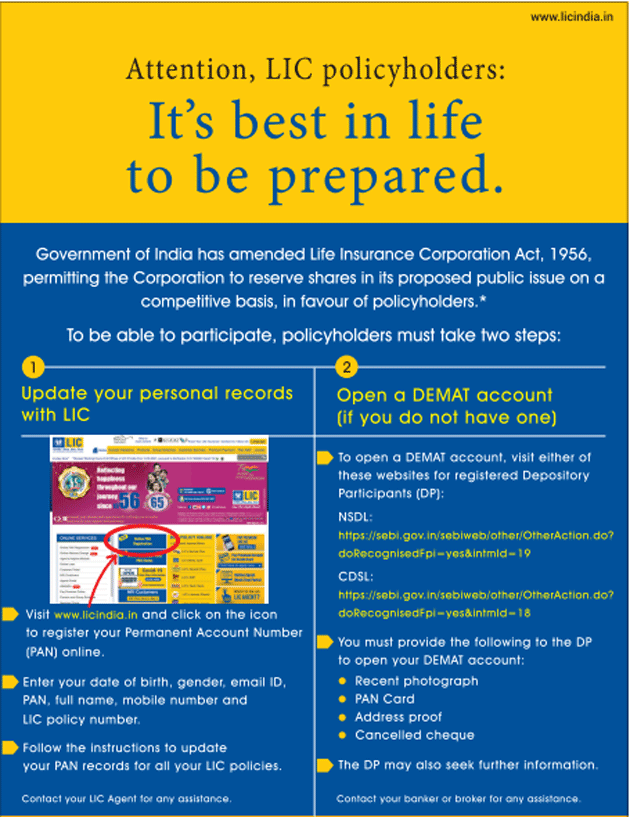 1.
Make sure your PAN number is linked to your LIC policy. A few days back, LIC had issued a public notice stating that you must complete your KYC and ensure that your PAN details are updated in the Corporation's records. So, if you wish to get the privilege of applying in the IPO (being a policyholder), then linking your PAN card is a must.
2.
Secondly, if you wish to apply for an IPO then having a
Demat account
is a must. So,
Open a free Demat account with Samco
and get ready for the LIC IPO. Now, if you are wondering how to update your PAN details, don't worry it's a two-minute process…Here is what you must do.
Visit the PAN card linking page of LIC
Fill out the form.
Tick mark on the declaration box and enter the captcha code.
Click on get OTP. Enter the OTP you have received and the verification process is done.
Why Is The LIC IPO Important to The Government?
Whenever the country ends up in a fiscal deficit, it uses disinvestment as a tool to reduce the fiscal burden and raise money. This raised money is then used to balance out the difference between government's revenue and expenditures. A recent example of disinvestment we saw was when Air India was acquired by the Tata Group in October 2021. Out of the total sales value, most of it was offered towards repayment of debt of Air India itself. Similarly, the capital raised by the upcoming LIC IPO will be used towards the betterment of the country. Hence, the motive of the government is to raise as much capital as possible by listing the LIC IPO at good valuations. The bottom line is that the listing of LIC IPO date is indeed going to be a huge moment for the Indian capital markets. Also, LIC is actively promoting its IPO by sending out text messages to its policyholders. It has also published various advertisements in the newspaper to attract potential investors. Many stockbrokers are also sending out emails and messages to encourage investors to
open a Demat account
.
So, there are many companies and sectors which might benefit because of the LIC IPO. To know which are these companies, watch the video below.
Now, we have gathered all the information about the LIC IPO and the listing is just around the corner. If you are keen to know details such as LIC IPO date, LIC IPO price, all you need to do is subscribe to
Samco Securities YouTube channel
. On our YouTube channel, our expert research team provides research recommendations after analysing all 
upcoming IPOs
 and recommends if you should subscribe or avoid the IPO. 
I don't want you to miss this golden opportunity. So, all you have to do is keep your 
Demat account
 ready.
If you haven't opened a Demat account yet, then don't wait for the last moment. 
Open a FREE Demat account with Samco
 sit back, relax and let's wait for LIC IPO.