Listen to Advantages & Disadvantages of Demat Account ♬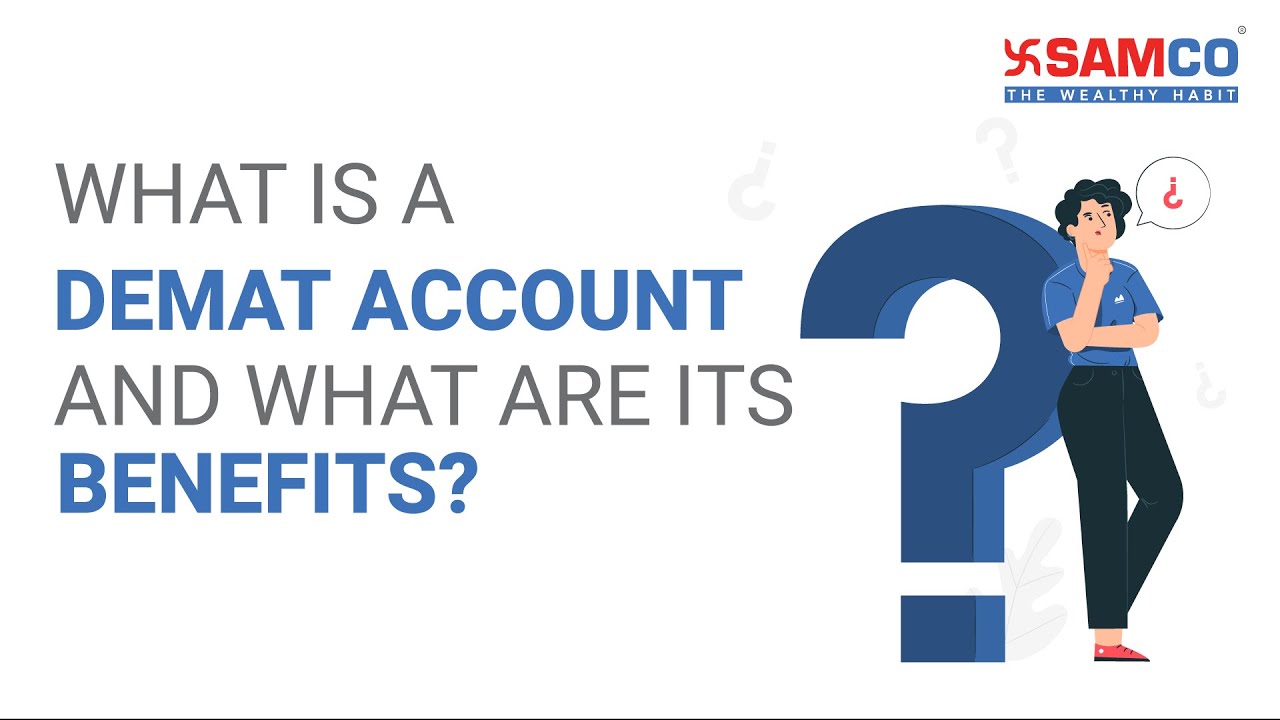 Demat Account - Advantages & Disadvantages
The introduction of Demat accounts in 1996 changed the landscape of the Indian stock markets. By shifting to an electronic trading system, the hassles of physical shares such as loss, theft, forgery, stamp duty expense, etc were eliminated.
Today, it is compulsory to hold a Demat and trading account to trade in the Indian stock markets. In this article. we will understand the pros and cons of a Demat account.
10 Most Important Advantages of a Demat Account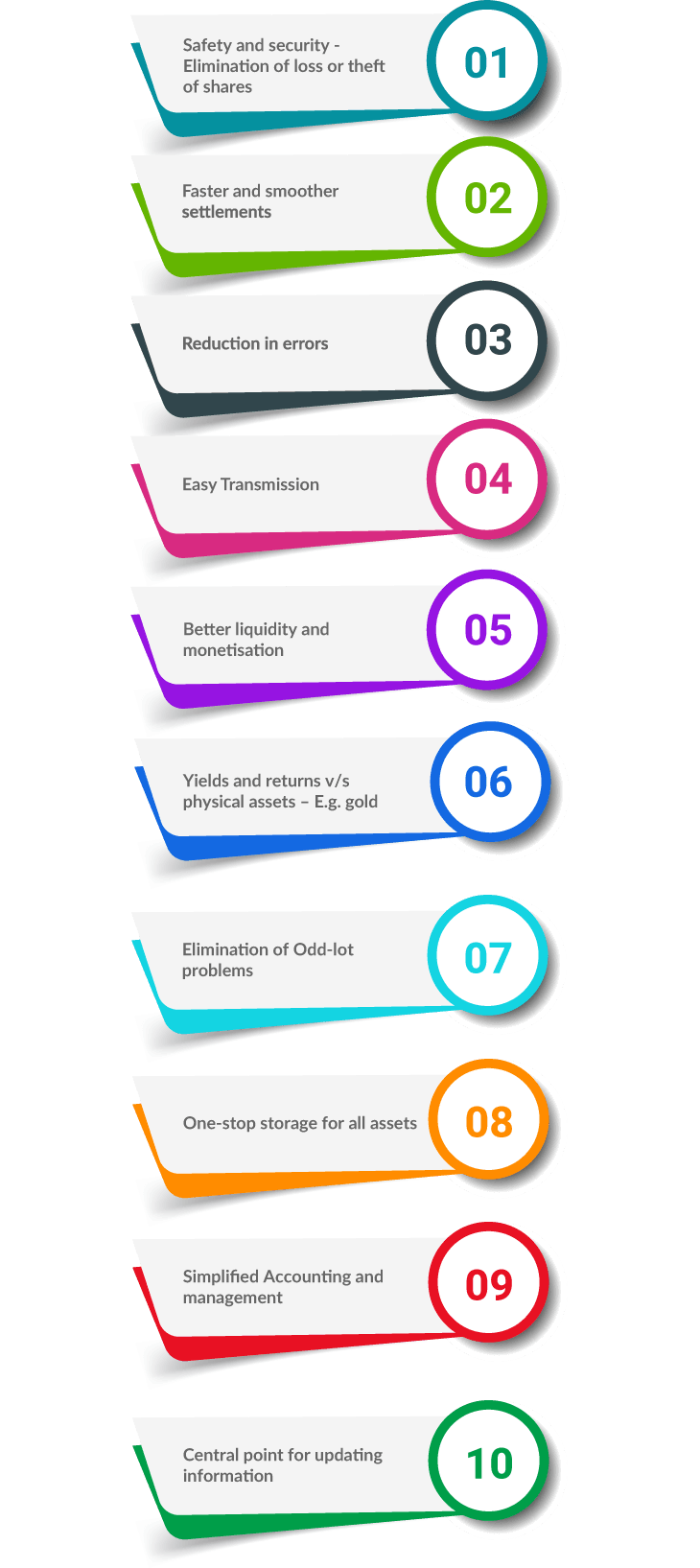 Safety and security - Elimination of loss or theft of shares
The most important advantage of a Demat account is the safety and security that it offers. When financial assets were held in physical form, there was always a risk of loss or theft of the share certificates. In a scenario of loss or theft, an investor would have to go through a ton of paperwork and operational challenges to be able to try and recover those assets. And even then there would be no guarantee of recovery. Holding shares in Demat form is safer and more secure. There is a negligible chance of theft or loss of assets when held in Demat form.

Faster and smoother settlements
Before dematerialisation, settlement of trade used to take 14 days due to the physical movement of paper shares from the seller to the RTA to the buyer. But with a Demat account, the settlement cycle has reduced from 14 days to 2 working days, saving the investors' time, effort and energy. It's rightly said,'time is money!'.

Reduction in errors
In the world of physical and offline settlements, due to the extent of manual work involved, there were a lot of manual errors as well. These were often referred to as "Vanda" trades or error trades. One of the biggest advantages of a Demat account is that these erroneous trades have been significantly reduced.

Easy Transmission
Due to dematerialisation, in the unfortunate event of the death of a Demat account holder, the ownership of assets held in the Demat account can be quickly transferred to the next of kin. This is possible by either opening a joint Demat account or by adding the next of kin as a nominee to the Demat account. This was not possible when shares were held in physical form since the legal heirs had to go through too much effort to claim rights on the financial assets of the deceased Demat account holder. Easy transmission (transfer) of assets has been a major advantage of Demat accounts.

Better liquidity and monetisation
Apart from easy transfer, another advantage of Demat account is that it facilitates easy liquidation of assets. You can easily liquidate i.e. sell, or take a loan against shares, mutual funds etc if you are holding these financial assets in a dematerialised form. Easy liquidation and monetisation is not possible when assets are held in physical form.

Yields and returns v/s physical assets – E.g. gold
In addition to providing safety and higher liquidity, Demat accounts also help you hold physical assets in dematerialised form. Recently, the Government of India issued Sovereign Gold Bonds, which effectively gives an investor exposure to Gold with an additional return of 2.5%. This works wonderfully in favour of investors as they get the twin benefit of exposure to Gold as well as 2.5% annual interest which is otherwise not received by holding gold as an asset in a physical form.

Elimination of Odd-lot problems
The greatest advantage of a Demat account is that it has solved the odd-lot problem. Earlier, physical shares used to be sold in lots but with the introduction of Demat accounts, you can buy and sell even a single share.

One-stop storage for all assets
A Demat account not only stores your shares but also stores all your financial assets such as debentures, bonds, exchange-traded funds, unit linked insurance policies etc. An important advantage of a Demat account is that all the assets are available under one roof, which makes for easy maintenance and tracking. It is also helpful while filing taxes as all your records are maintained in one place.

Simplified Accounting and management
When financial assets are held in Demat form, all transactions get auto accounted for by the depository participant. This makes reconciliation and management of accounts extremely simple.

Central point for updating information
Earlier, any change in address, contact details or nominee details had to be intimated to multiple companies. But with a Demat account, you can simply inform your depository participant i.e broker of the change in KYC records and the same will be rectified across all Demat accounts.
Disadvantages of a Demat account
While Demat accounts have revolutionised the way securities are traded in India, it does have certain shortfalls. Let us discuss the main disadvantages of a Demat account.
Costs associated with a Demat account
One of the main disadvantages of a Demat account is the cost associated with opening and operating a Demat account. Demat account costs include account opening charges, transaction charges, custodian charges and annual maintenance charges.
[ Suggested Reading:Demat Account Charges ]
While many brokers charge absurdly high Demat fees, Samco provides free Demat account opening to its clients. Also, with Samco, the annual maintenance charge for the first year is completely waived off. Unique features such as StockPlus truly makes Samco the best Demat account in India.
[ Suggested Reading:17 Reasons Why Samco is the Best Demat Account in India ]

Dishonest brokers
Selecting an honest, fiduciary broker is akin to finding a needle in a haystack. Many brokers indulge in proprietary trading i.e. they become the counterparty to a client's trade. But at Samco, we follow the highest standards of corporate governance and ensure 100% transparency with 0% conflict of interest.

Constant portfolio churning
With a Demat account, trading is literally just a click away. This ease of trading has resulted in constant buying and selling which affects the clients long-term wealth creation goals. Earlier, investors used to practice coffee-can investing strategy which is a 'buy-and-hold' strategy. But with Demat accounts facilitating 'ease of trading', many investors gamble in short-term trades instead of focusing on long-term wealth creation.

Tech Savvy
While you do not have to be a technology expert, you do need to be tech savvy to understand and operate a Demat account. Often, investors depend on their brokers to put through a deal, which can lead to fraud or misappropriation of funds by the broker.
Conclusion
While Demat accounts have their fair share of disadvantages, the positives outweigh the negatives by a huge margin. Since a Demat account is a prerequisite to trading in the stock market, instead of avoiding the stock market due to a few bad brokers, you can do adequate research and open a Demat account with a reputed, fiduciary stockbroker in India.
Samco has been awarded as the best equity broking house in India by CNBC - Awaaz and provides the best Demat account in India. You can open your free Demat account with Samco here.
Converting physical assets to Demat form
Gold
As discussed above, investors can now also hold quasi gold in a Demat form by buying Sovereign Gold Bonds issued by the government of India. You can buy these bonds as they either periodically issued by the government or you could buy them via a secondary transaction on the Samco app - India's Best Mobile Trading app.

Physical Share Certificates
In case you hold physical share certificates of companies, you can take benefit of the advantages of a Demat account by converting these shares into a Demat form. Check out the detailed steps for converting physical shares into a Demat form.

Mutual Funds
Historically, it has been a practice to hold MF units in a physical form with RTAs (Registrars and Transfer Agents). Even now, more than 80% - 90% of units are held in a physical form which means that investors can't benefit from the advantages of a Demat account. Samco is one of the few platforms that allows investors to hold units in a Demat form as well. You can select your recommended mode of holding mutual funds as Demat mode or non Demat mode. In case you would like to convert to your existing physical holdings to Dematerialised form, you'd have to submit to dematerialisation form for the same.