Listen to Demat Account Charges in India ♬
Demat Account Charges
Demat account charges and cost: a comprehensive list of all charges and fees related to Demat accounts in India
Prior to 1996, trading in shares was a hassle involving tedious paperwork and stamp duty costs in addition to the 14 day settlement cycle. To eliminate these drawbacks, Demat accounts were introduced which maintained financial assets like shares, debentures, sovereign gold bonds, mutual funds etc in electronic form to facilitate quick and efficient trading at lower costs.
But there are no free lunches in the world. Often marketed as free, Demat accounts have multiple hidden charges which can greatly impact your overall investment return. Let us understand the different Demat account charges and how to smartly avoid them by opting for the best Demat account in India with Samco.
Demat account charges can be categorised as:
Demat account opening charges
Demat account annual maintenance charges
Demat account transaction charges
Lowest Demat Account Charges in India at Samco.
Demat Account Opening Charges: Rs. 0 – completely free
These charges are levied at the time of opening the Demat account and cover the operational costs. While most Demat brokers charge between Rs. 200-400 for account opening, opening a trading and Demat account at Samco is completely free.
[Suggested Reading: 17 Reasons Why Samco is the Best Demat Account in India ]
Demat account opening charges comparison table
| Charges | Competitors | Samco (Free) | Savings |
| --- | --- | --- | --- |
| Demat account opening charges | Rs.400/- | Free (Rs 0) and Online | Rs.400 |
Demat Annual Maintenance Charges – free for 1st year, Rs. 400 from second year onwards
These are charges that are charged for the maintenance of the Demat account. Every year depository participants incur a certain operational and compliance cost for maintaining Demat accounts. These costs are recovered from customers by charging annual maintenance charges. Also known as folio maintenance charge, brokers and banks typically charge between Rs 300 - 900 annually. While the charges are levied annually, many brokers also charge quarterly fees.
At Samco, our customers have the option to pay a one-time lifetime maintenance fee instead of an annual maintenance fee. In case you'd like to opt for this option, please raise a ticket with our customer service department at www.samco.in/support
Demat account annual maintenance charges comparison table
| Charges | Competitors | Samco (Free) | Savings |
| --- | --- | --- | --- |
| AMC for 1st Year | 900 | 0 | 900 |
| AMC 2nd year onwards | 900 | 400 | 500 |
Differential transaction charges are charged for different types of transactions like on-market transfers, pledge transactions, un-pledge transactions, etc.
On Market Debit Transfers
From an investor point of view the most important charges for comparison are charges for on-market transfers. This is because these are charges incurred for transferring stocks from Demat account to the exchange in case of Sale transactions.
Samco is the best Demat account in India as it charges Rs. 10, the lowest in the country, per transaction for on market debit from Demat account.
On market debit transaction charges comparison
| Charges | Competitors | Samco (Free) | Savings |
| --- | --- | --- | --- |
| On Market Debit | Rs 25 - Fixed fee with a minimum 0.05% of value | Flat Rs/10 | Rs 15 |
When you open an investment account with Samco, a unified account gets opened i.e. - a Demat account, online trading account and mutual funds investing account.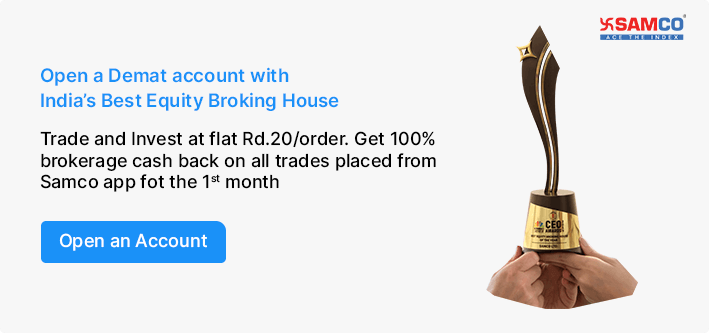 Limited period offer
Open the lowest cost Demat account in India today and get 100% unlimited brokerage cashback for the 1st month! No conditions apply.