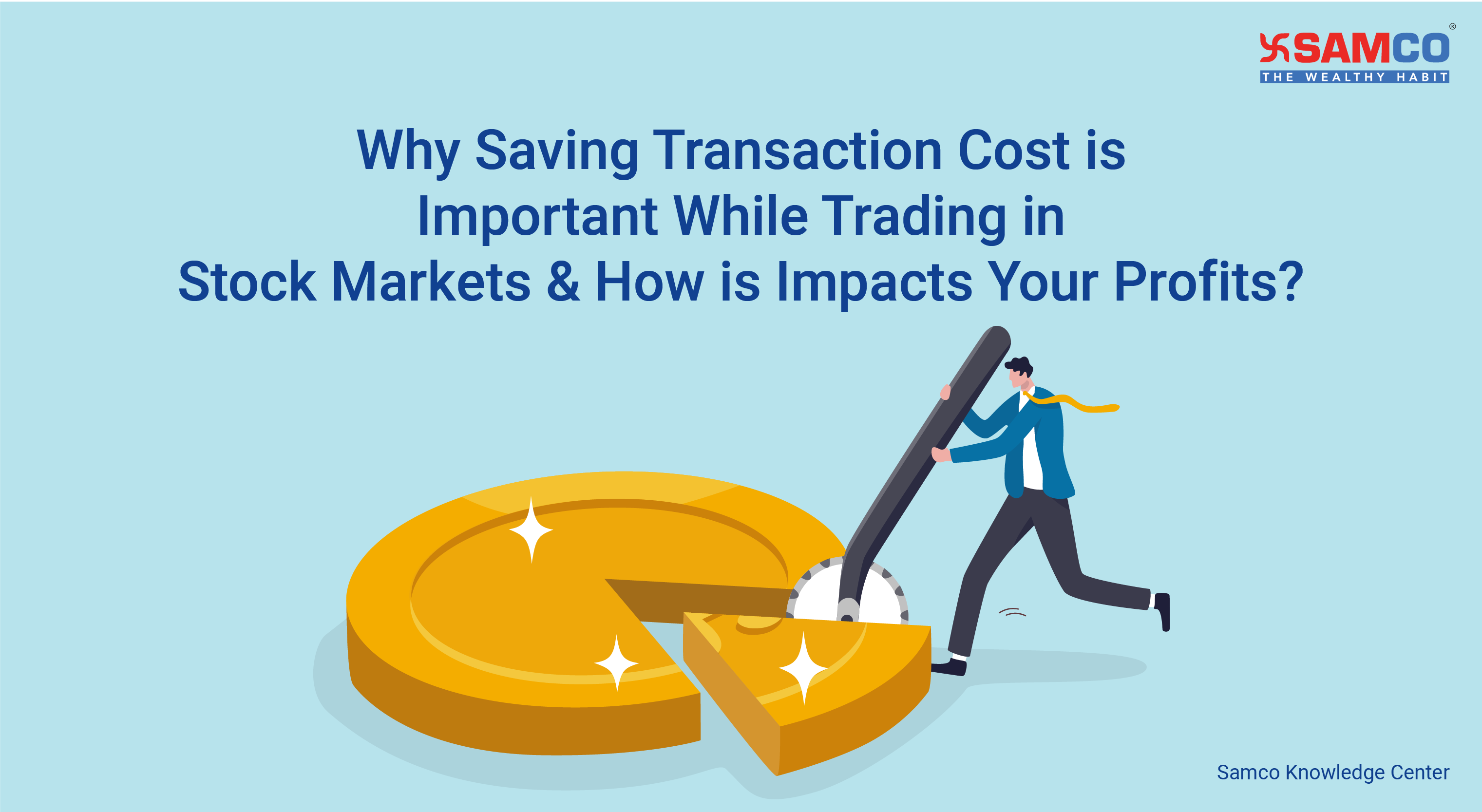 The classical Economics theory claims that 'When cost reduces manifestly, profits increase steadfastly'. There are a lot of costs involved in trading in stock markets, Brokerage is one such cost that is involved in trading and investing in stock markets.  When you enter trading as a career, you need to remember that lowering down your cost of trading is a stepping stone towards making more profits. Over long periods, the money spent on
brokerage costs
, etc., add up to a huge reduction in investible capital of traders and investors alike, thereby creating at the very threshold, the challenge for generating higher returns. The capital forgone in favour of brokers makes a daunting task to consistently generate higher positive returns. The amount forwent towards traditional high % brokerages, we bet, is the entire initial capital. Shocked?? Let's explore!
Trading Cost For an Investor:
The initial capital of an investor Rs 5,00,000/- if he just churns 3 times during the entire year, his entire capital is consumed by the traditional broker in 12 straight years at just a marginal brokerage slab of 0.35% for delivery plus other statutory levies extra which are not considered as they being Govt. levies, brokers have no control and are more or less same for discount brokers also. Assuming an investor generates 20% p.a. return every year, had he been transacting with the discount broker like Samco, in a matter of just 12 years he would have been richer by Rs 5,00,000. The ending investment corpus would have been Rs 44 lacs if he would have placed orders on a
discount broker
platform and Rs 39 lacs if transacted with traditional brokers, a whopping Rs 5 lacs lower, giving it away to a traditional broker. Let's show you how the math works out. Let's explore further!
Transaction Cost For a Trader:
The initial capital of the trader Rs. 5,00,000/- he just takes a conservative and prudent leverage position of just 3 times his initial capital at any point in time and therefore trades in 5 lots, assuming 3lacs as the average contract size. He churns his capital 10 times in a month meaning total completed trades 20 (buy and sell) multiplied by 5 different contract specifications resulting in 100 trades (5*20) a month. He pays 0.03% as brokerage to traditional broker and Rs 20/- per executed trade to the online broker like Samco. The results are mind-blowing. Entire initial trading capital of Rs. 5,00,000/- is consumed in 9 straight years. Corpus at the end of the 9th year for a trader having traded with a discount broker would be Rs. 25.3 lacs and for the trader who traded with a traditional broker would be only Rs. 19.6 lacs whopping Rs 5 lacs lower, giving it away to a traditional broker. Again, let's see how the math for this works out. To look from a different perspective, it's surprising, investors are paying a whopping 
275%
 more all-inclusive brokerages and other statutory levies as compare to 
Samco
 broking tariff for taking delivery of shares worth just Rs. 1,00,000/- however higher the capital deployed for taking delivery, the increase in overpayment percentages rises exponentially. Attached is the table showing scenarios for the delivery of shares worth Rs. 1 lac, 5 lacs, 10 lacs. Why should anybody pay higher charges when low-cost options are available?? So, the number one reason to embrace Samco is substantial savings in cost and which can run up to as high as 98% of all costs ever paid to brokers, it may seem a joke but yes it is possible. If you believe it, Samco has it. To satisfy yourself, you can check at the 
Samco Savings calculator
. A Question may arise for Samco, that they are pure discount brokers and therefore do not provide any value-added services to the clients. There are several benefits of
opening an account
and investing with Samco
Zero percentage Brokerage for Trading and investing.
Truly discount brokerage with great savings up to 98% on brokerage as you pay Flat Rs. 20 per executed order – irrespective of order size (1 lakh or 1 crore), segment (NSE, BSE, F&O, MCX). Check out our Brokerage Savings Calculator and calculate your savings.
Super-Fast Trading with Samco App – India's Top-Rated Mobile Trading App
Trade all instruments – Stocks on NSE, BSE; Equity Derivatives i.e. Futures & Options on NSE; Commodity Derivatives on MCX and Currency Derivatives on NSE
Up to 100x Leverage for trading index futures like Nifty and Bank Nifty. Check out our margin calculator.
Up to 20x Leverage for trading options
Up to 4x Delivery leverage with margin trading facility – one of the only discount brokers to offer this facility!
Advanced Order types like bracket orders and cover orders.
Advanced Trading Tools like Charting, Live news feed, price alerts and notifications!
Multiple Trading Platforms – Mobile, Web, Trading APIs, Desktop EXE's, etc to choose from
Research Ideas for trading and Investing in Samco App
Ready-made portfolios for investment for creating long term wealth with StockBasket.
Invest in IPOs (Initial Public Offering)/ FPOs/ OFS (Offer for Sale) at the click of a button.
Trusted by over 200000+ traders and investors from over 4000+ cities in India!
And a lot more! Check out why should you trade stocks at Samco!
Conclusion
The acceptances of "
Discount Broker
 or 
Online Broker
 or 
Flat Fee Broker
" are at an unprecedented scale in today's seamlessly interconnected online world. It's a beginning of a new era, an era of Discount brokers, wherein broking costs, henceforth, shall be practical, negligible!! We welcome you all to explore the whole new world of securities market at the click. With the rising power of e-commerce and online business models, the dynamics are changing rapidly and the same is also encompassing the securities markets too. In the always ever-evolving world, it's truly the beginning of the rising power of on-line brokers, and it will consume the entire industry, the sooner you embrace, the ahead shall you be. Welcome to the world of negligible costs!! And substantially increased profits!! Welcome to Samco!