Introduction to Demat Account
Similar to a Bank account which holds your Money, Deposits etc, a Demat account or an online demat account is the account which holds shares, bonds, government securities, mutual funds and exchange-traded funds (ETFs) in digital form. These days having a demat account is must as without it it would next to impossible to hold any securities in your portfolio. In 1996 Demat accounts were introduced and after dematerialization process, all physical share certificates were converted into electronic form and the same deposited into shareholders Demat Account.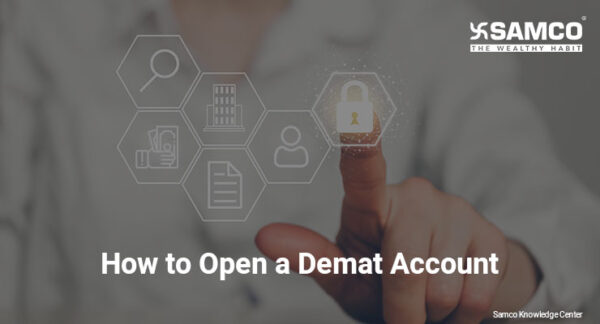 Let's delve a bit deep to understand:
Full-Form & Meaning of Demat account
Benefits of having a demat account
Working of Demat account
How to open a demat account online
What is a Demat account?
As highlight above, demat account is a mandatory requirement to operate in Indian stock markets. Demat account is basically a depository where all information related to stock investment and information on other financial instruments are kept like how much is the quantity bought, which all stocks and instruments are in the holding and much other relevant information.
There are only depository service providers in India. CSDL and NSDL. There are the two depositories managed by BSE and NSE respectively. These two depositories are connected through hundreds of depository participants like banks, full-service brokers and discount brokers. Every demat account has a demat account number to enable all electronic settlement of all transactions done.
Full-Form & Meaning of Demat Account: Full form of demat account is a dematerialized account.
So to simply put, the meaning of demat account is having a central depository which enables all electronic transactions to happen and having all necessary information related to demat account of any individual.
Watch this video to understand about demat account

Demat Account has made life a lot simpler bringing in paperless transactions avoiding all manual processes. Following are 4 benefits of a Demat account.
1) Common account – Does not matter you have multiple bank accounts and trading accounts, your single Demat account details are with all participants and all your Bonds, Investment Instruments, Shares are deposited in your common Demat account
2) Auto Update – Your Demat account details are automatically shared with third parties, you need not keep submitting your Demat account details everywhere you transact in shares, bonds or mutual funds
3) Lower cost – Paperless transaction has cut down the cost dramatically also avoiding stamp duty and registration compared to previous Trades executed manually
4) Safe and Secure – Demat account transactions are safe and secured; also it avoids fraud by eliminating the chances of receiving duplicate shares, Theft, Wrong deliveries. Because of paperless transactions, it has also reduced the time frame of deliveries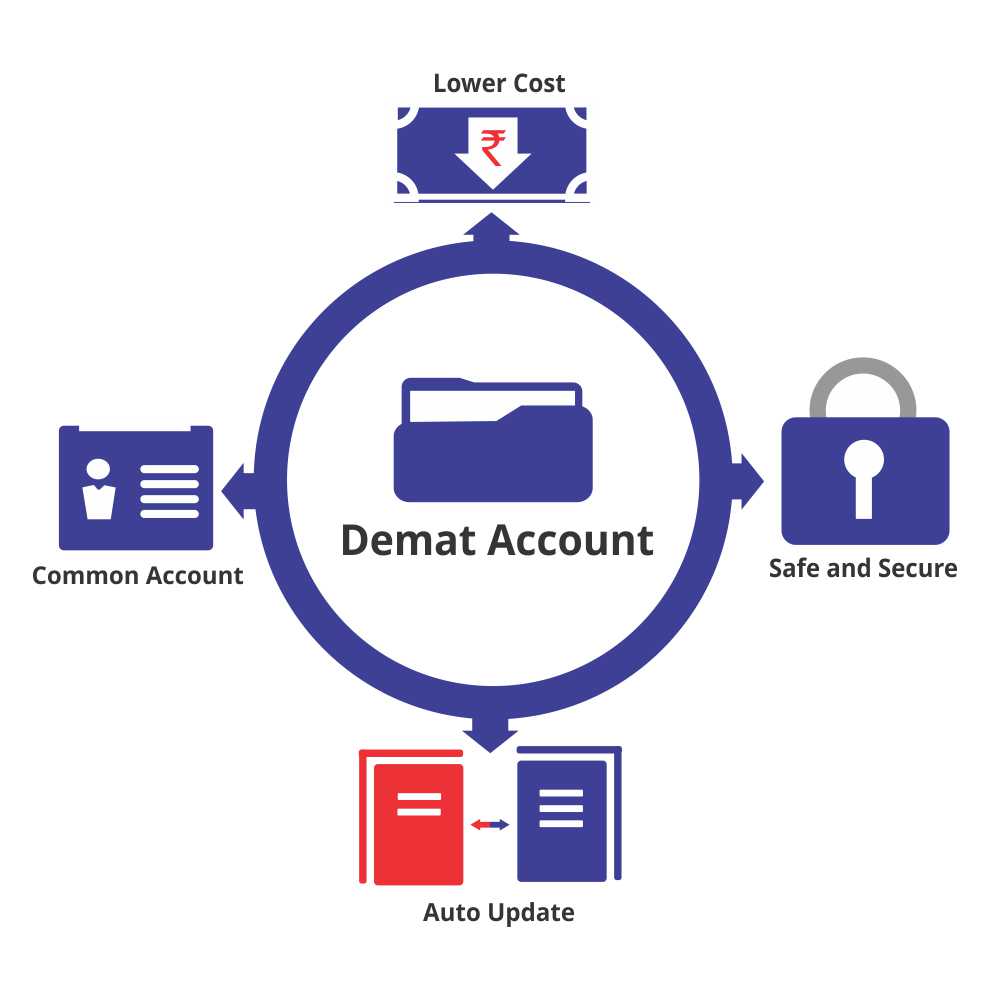 How does a Demat Account work?
In Today's Scenario, you cannot Trade in Stock markets without a Demat Account. Demat Account acts as your Bank for your Shares, Government Bonds and Mutual funds. Depositories hold Shares, Mutual funds etc on behalf of the holder and the Intermediaries act as Depository Participants who facilitate account opening
Central Depositories: Central Depository Services India Limited (CDSL) and National Securities Depository Limited (NSDL) are the two bodies which are known as the Depositories.
Depository participants: Depository participants are intermediary who are authorized to offer Demat services. They can be Your Bank, Stock Broker or other financial institutions. Samco Securities is one such Depository Participant. You can open an account online with Samco Securities by registering here.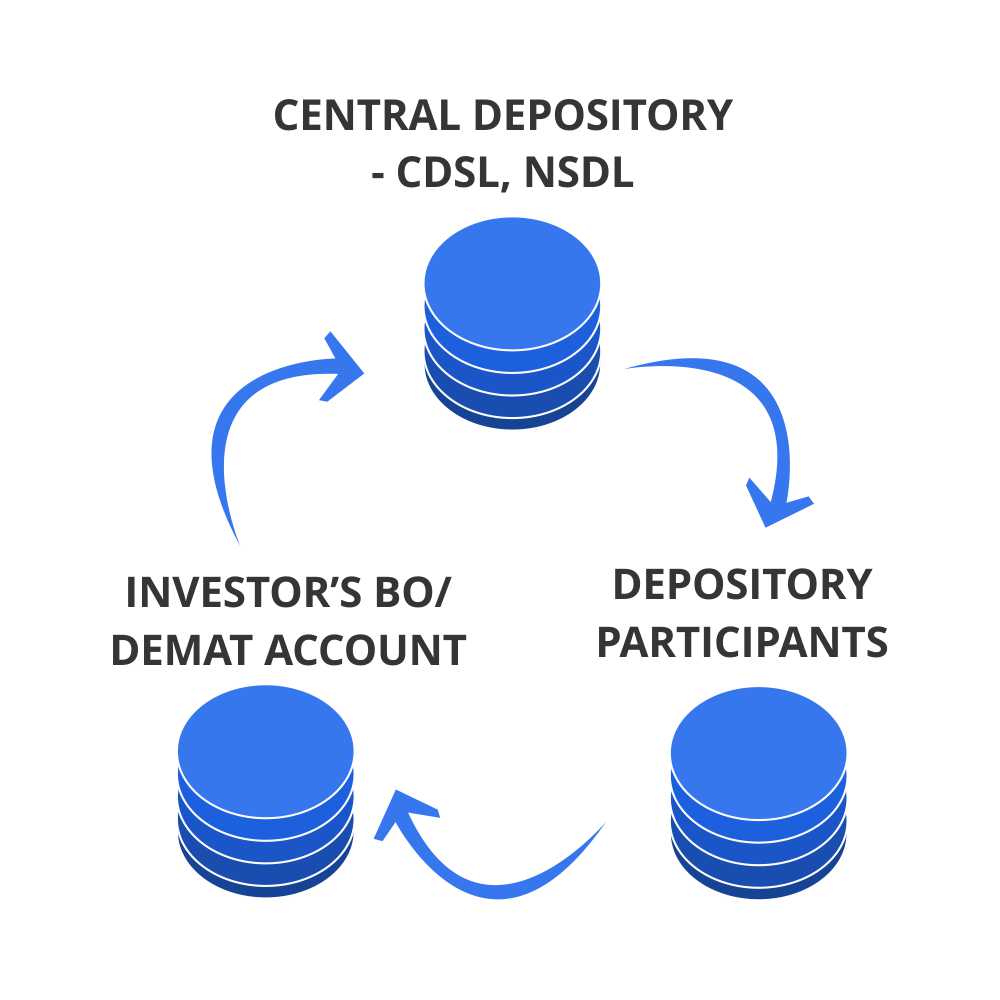 Each Demat Account number has a Unique Identification Number. Whenever you Buy Shares they automatically get deposited into your Demat account. Unlike other accounts, you need not provide your Unique ID every time you trade.
CDSL or NSDL sends you a consolidated Account statement every month, you can check all your holdings through this one single Demat Account
How to Open a Demat Account?
Here are 5 simple steps to open a Demat Account
Step 1: Select your Depository Participant like Samco Securities
Step 2: Fill up the form and upload the required documents
Step 3: Submit the form and said required documents. PAN card is compulsory for opening a Demat Account
Step 4: In-person verification by an employee of the Depository Participant
Step 5: Account Number and details provided by the Depository Participant
Read a detailed article on how to open a Demat account with Samco.
Fees and Documents required for opening a Demat Account
Fees: You would have to pay a fixed annual fee for opening a Demat Account which is the Annual Maintenance Charge for Demat Account. Depository participants may at their own will also charge an account opening fee. However, Discount brokerages like Samco Securities offer free online demat accounts with no account opening fees. Other than maintenance fees the DP – Depository participants charge a Variable fee on a transaction basis. This fee is charged either on Buying or Selling Instruments and usually is either a fixed fee per transaction or a percentage of your transaction size. Understand the Demat Charges with Samco Securities.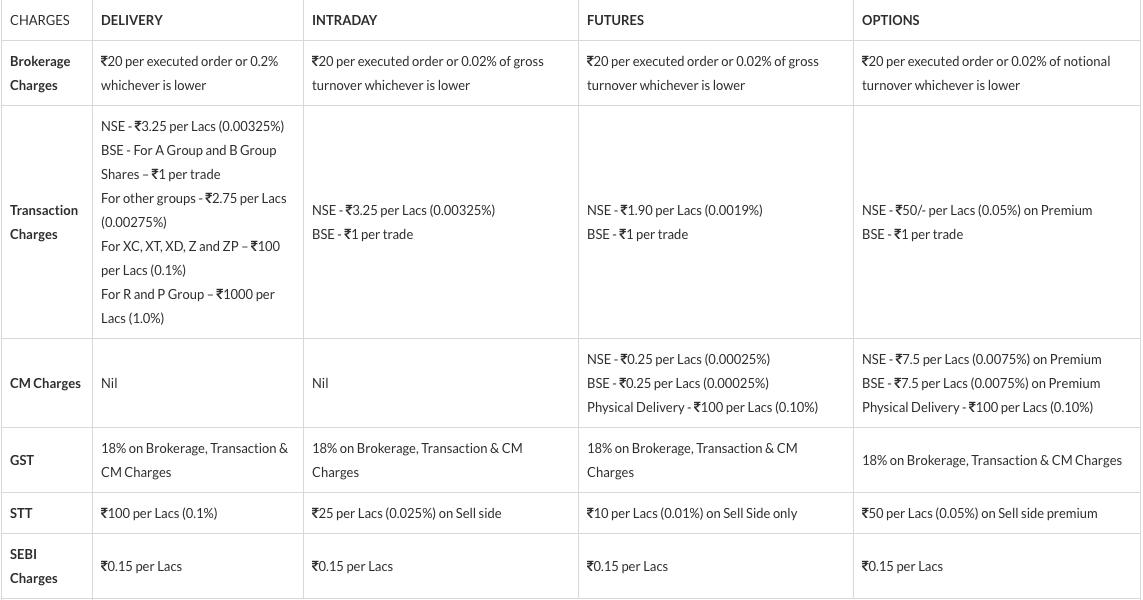 This chart shows the schedule of charges for transactions in your Demat Account
Documents required for opening a Demat Account
You broadly require 2 Kinds of documents to open a Demat account
1) Identity proof
PAN Card

Voter's ID

Passport

Driving License

Aadhaar Card
ID cards with applicant's photo issued by the central or state government and its departments, statutory or regulatory authorities, public sector undertakings (PSUs), scheduled commercial banks, public financial institutions, colleges affiliated to universities, or professional bodies such as ICAI, ICWAI, ICSI, bar council etc.
2) Address proof
Ration card

Passport

Voter ID card,

Driving license,

Bank passbook or Bank statement

Verified copies of electricity bills or residence telephone bills,

Leave and license agreement or agreement for sale
Self-declaration by High Court or Supreme Court judges, identity card or a document with address issued by the central or state government and its departments, statutory or regulatory authorities, public sector undertakings (PSUs), scheduled commercial banks, public financial institutions, colleges affiliated to universities and professional bodies such as ICAI, ICWAI, Bar Council etc.
Go Ahead and open a demat account with one of India's leading discount broker and low-cost depository participants – Samco Securities.
You should usually select a SEBI registered intermediary who offers 2-in-1 accounts i.e. Demat accounts and Trading accounts. This can result in significant ease of transacting and operating the accounts. If you need information on how to select a stockbroker then visit the page.


Important Links
Why Samco is the Best Demat Account in India?
Advantages of a Demat Account
Understanding a Demat Account statement
Do's & Dont's of a Demat Account
How to use a Demat Account?
Detailed Demat Account charges
—-
Visit the Samco Knowledge Centre for more such useful articles
Learn StockMarkets for free on www.tradeflix.com
—-
Was this article helpful?
Share