To Trade in Stock market in India, a Demat account and trading account is compulsory; one cannot trade without a Trading and Demat account. To open a Demat Account and trading account one has to submit a set of documents along with the account opening application form.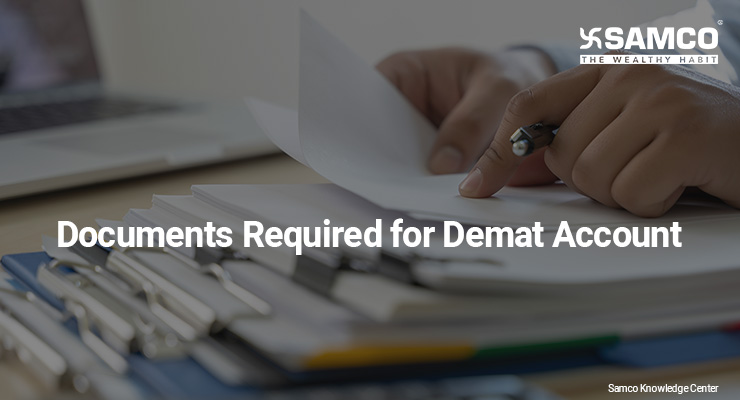 A must-have requirement for opening a trading and Demat account is a PAN. One must have a PAN Card issued by the Government of India for the same. In certain cases mentioned below, the PAN card requirement is exempt.
Watch this Video to understand about Demat and Trading account

To open an account you need 4 types of documents –
Proof of identity
Proof of address
Proof of income – Only required in case of trading in derivatives segments.
Valid proof for a corresponding Bank account i.e. Proof of Bank Account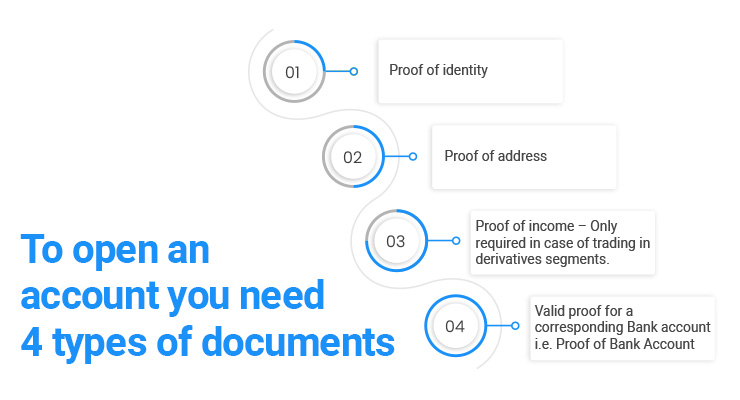 Let's look at each document type and understand what documents are accepted as valid documents.
Proof Of Identity (POI) – List of documents admissible as Proof Of Identity
Unique Identification Number (UID) (Aadhaar Card)/ Passport/ Voter ID card/ driving license.
PAN Card
Identity card with applicant's photo issued by either the Central or State Government or any of its Departments, Statutory and/or Regulatory Authorities, Public Sector Undertakings, SCB's i.e. Scheduled Commercial Banks, PFI's i.e. Public Financial Institutions, Colleges affiliated to Universities and Recognised Professional Bodies such as Institute of Chartered Accountants i.e. ICAI, Institute of Cost Works Accountants – ICWAI, Institute of Company secretaries – ICSI, Bar Council etc to their Members. This is also acceptable as a proof of address as long as the Identity card also carries the address.
Proof of Permanent and Correspondence Address (POA) : – List of documents admissible as Proof of Address:
In case permanent and correspondence addresses are the same, only one proof may be submitted. In the case of different addresses, valid proofs will have to be submitted for both the addresses.
Passport or Voters Identity Card or Ration Card or Rent Agreement or Registered Lease or Sale Agreement of Residence or a State issued Driving License or a Flat Maintenance bill and/or an Insurance Copy stating the address.
Utility bills like land-line, Electricity bill or Gas bill. These should not more than 3 months old on the date of submission.
Bank Account Statement or Bank Passbook which is Not more than 3 months old. This should be stamped and attested by the Bank.
Proof of address issued by any of the following: Bank Managers of Scheduled Commercial Banks SCB's or Scheduled Co-Operative Bank or Multinational Foreign Banks or Gazette Officer or Notary Public or Elected representatives to the Legislative Assembly (M.L.A.) or Parliament (M.P.) or Documents issued by any Government or Statutory Authority.
The proof of address in the name of the spouse may be accepted.
Proof Of Income (POI) 

To Trade in FNO segment, one needs to submit Proof of Income. Some examples of proof of income include

Copy of ITR Acknowledgement submitted to the Income Tax Department
Copy of Annual Accounts audited by a chartered accountant or a Net Worth certificate certified by a CA.
Proof of Salary Income by submission of Salary Slip or a Copy of Form 16 Net worth certificate
DEMAT account holding statement with a depository participant.
Bank account statement for last 6 months demonstrating the income of the client
Any other relevant documents substantiating ownership of assets by way of a self-declaration with relevant supporting documents.

Valid proof for a corresponding Bank account i.e. Proof of Bank Account

A Cancelled Cheque (with your name above the sign here section) is required of the bank you wish to link with your trading account.
Bank statement of the respective bank.
Exemptions/clarifications to PAN 
In case of transactions undertaken on behalf of Central Government and /or State Government and by officials appointed by Courts e.g. Official liquidator or a Court receiver/administrator etc
Residents of the state of Sikkim.
United Nations entities / multilateral agencies exempt from paying taxes / filing tax returns in India.
In case of institutional clients, namely, FIIs, Mutual Funds, Venture Capital Funds, FVCIs, SCB's i.e. Scheduled Commercial Banks, Multilateral and Bilateral Development Financial Institutions, State Industrial Development Corporations, IRDA registered Insurance Companies and PFI's i.e. Public Financial Institution as defined under section 4A of the Companies Act,1956, Custodians shall verify the PAN card details with the original PAN card and provide duly certified copies of such verified PAN details to the intermediary.
List of people authorized to attest the documents:
Notary Public, Gazetted Officer, Manager of a Scheduled Commercial / Co-operative Bank or Multinational Foreign Banks (Name, Designation & Seal should be affixed on the copy).
In case of NRIs, authorized officials of overseas branches of Scheduled Commercial Banks registered in India, Notary Public, Court Magistrate, Judge, Indian Embassy /Consulate General in the country where the client resides are permitted to attest the documents.
In case you don't have a trading and demat account with India's leading discount broker, Open a Free Trading and Demat Account today.


Important Links
Why Samco is the Best Demat Account in India?
Advantages of a Demat Account
Understanding a Demat Account statement
Do's & Dont's of a Demat Account
How to use a Demat Account?
Detailed Demat Account charges
—
Visit the Samco Knowledge Centre for more such useful articles
Learn StockMarkets for free on www.tradeflix.com
Was this article helpful?
Share