Currently, most brokers insist on paying 100% upfront margins when clients buy stocks for delivery in the cash markets. This is despite the fact that exchanges follow a T+2 settlement cycle where only a part of the margin (usually 20-25%) needs to be settled upfront but the balance (70-75%) can be paid on T+2 days.
Once you pay 100% upfront margins for your stock purchases on T Day, you stand to lose on the accrued interest for 2 trading days. But if you were to split the margin payment to 20:80 or 30:70 ratios, you will not only save interest but also gain a ton of flexibility with your capital.
So it's time you said goodbye to the old way of delivery trading, where you are obliged to pay the 100% delivery margin upfront.
Introducing BTPT or Buy Today, Pay in Two Days – a Samco product that permits you to pay for your acquired shares in delivery within 2 days from the date of purchase.
You only pay the initial margin at the time of purchase and can pay the rest in 2 days.
What's more, is that by holding the outstanding sum in your savings account for an additional 2 days, you stand to gain a good interest amount upon it, which diminishes the value of brokerage paid in the delivery transaction. Thus making BTPT product superior to any brokerage-free trading model out in the market. It also frees up your capital for 2 days and gives you the freedom to utilize that capital as you see fit.
Illustration of Interest Savings:
Let's understand the mechanism behind BTPT:
For example: If you bought a stock of value Rs. 10,00,000 on Monday which had a 20% (Rs. 200000) upfront margin ratio, you would still hold on to the outstanding 80% (Rs. 800000) in your savings account for 2 trading days which accrues interest at an average rate of 6% p.a. This interest would equate to about Rs. 263 in those 2 days!
| | | | | |
| --- | --- | --- | --- | --- |
| Date | Current Funding Requirement | Funds Required under BTPT | Additional Amount in Bank | Savings Interest earned @ 6% p.a. for each day |
| Day 0 | Rs. 10,00,000.00 | Rs. 2,00,000.00 | Rs. 8,00,000.00 | Rs. 131.50 |
| Day 1 | – | – | Rs. 8,00,000.00 | Rs. 131.50 |
| Day 2 | – | Rs. 8,00,000.00 | – | – |
| Total Interest Earned Extra for 2 days with BTPT | Rs. 263 | | | |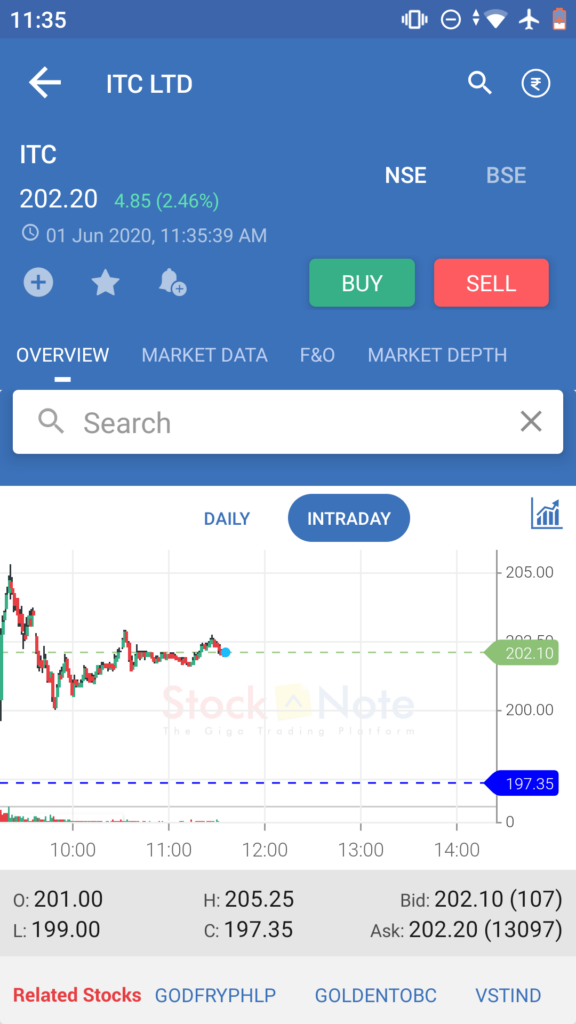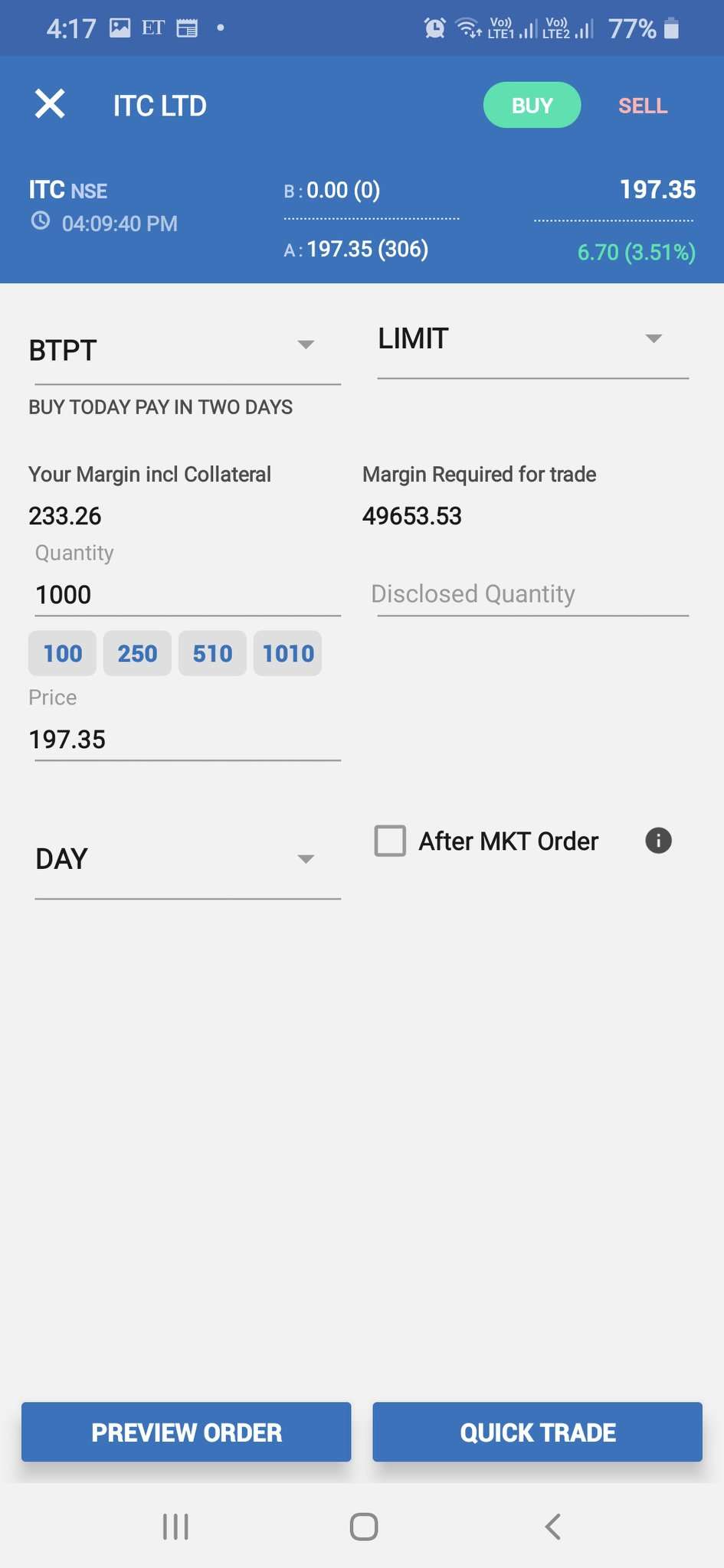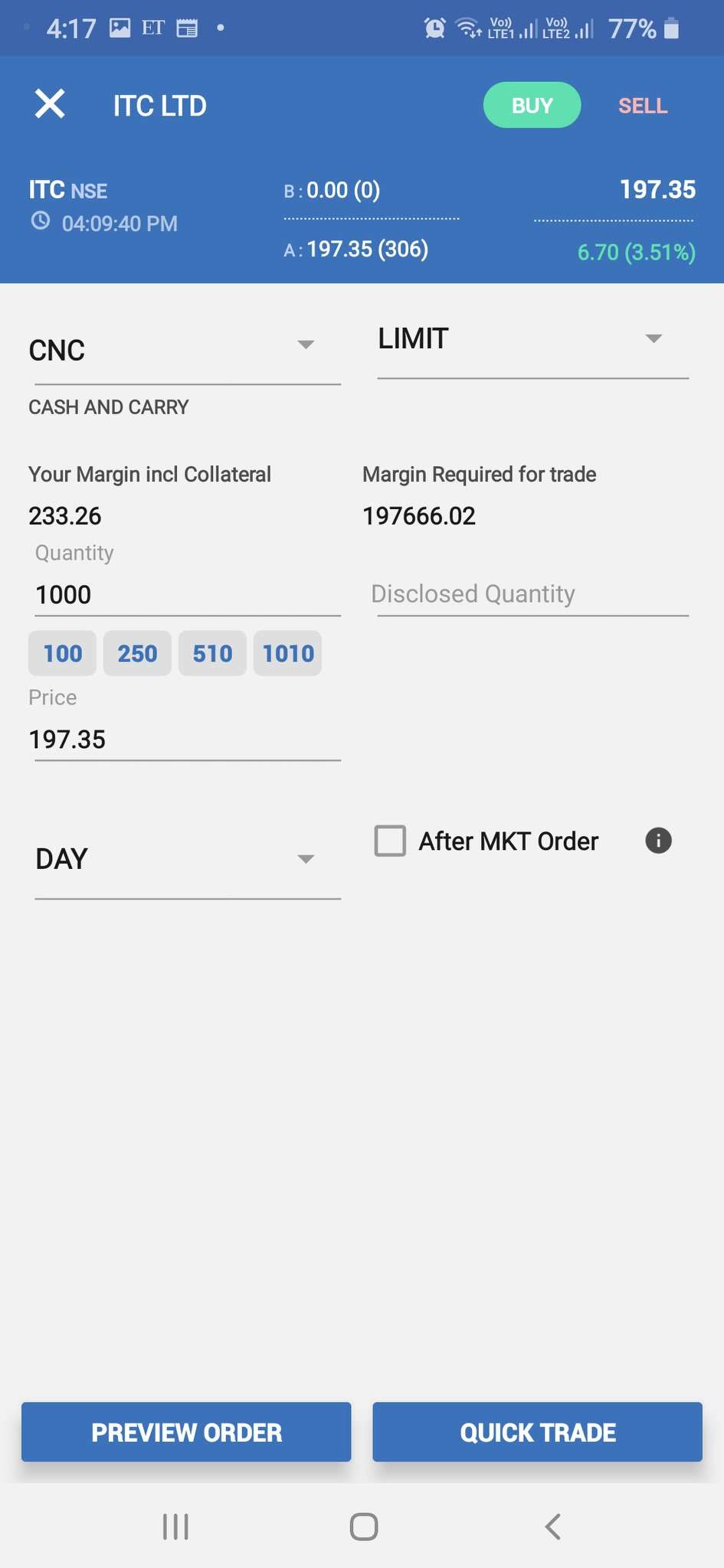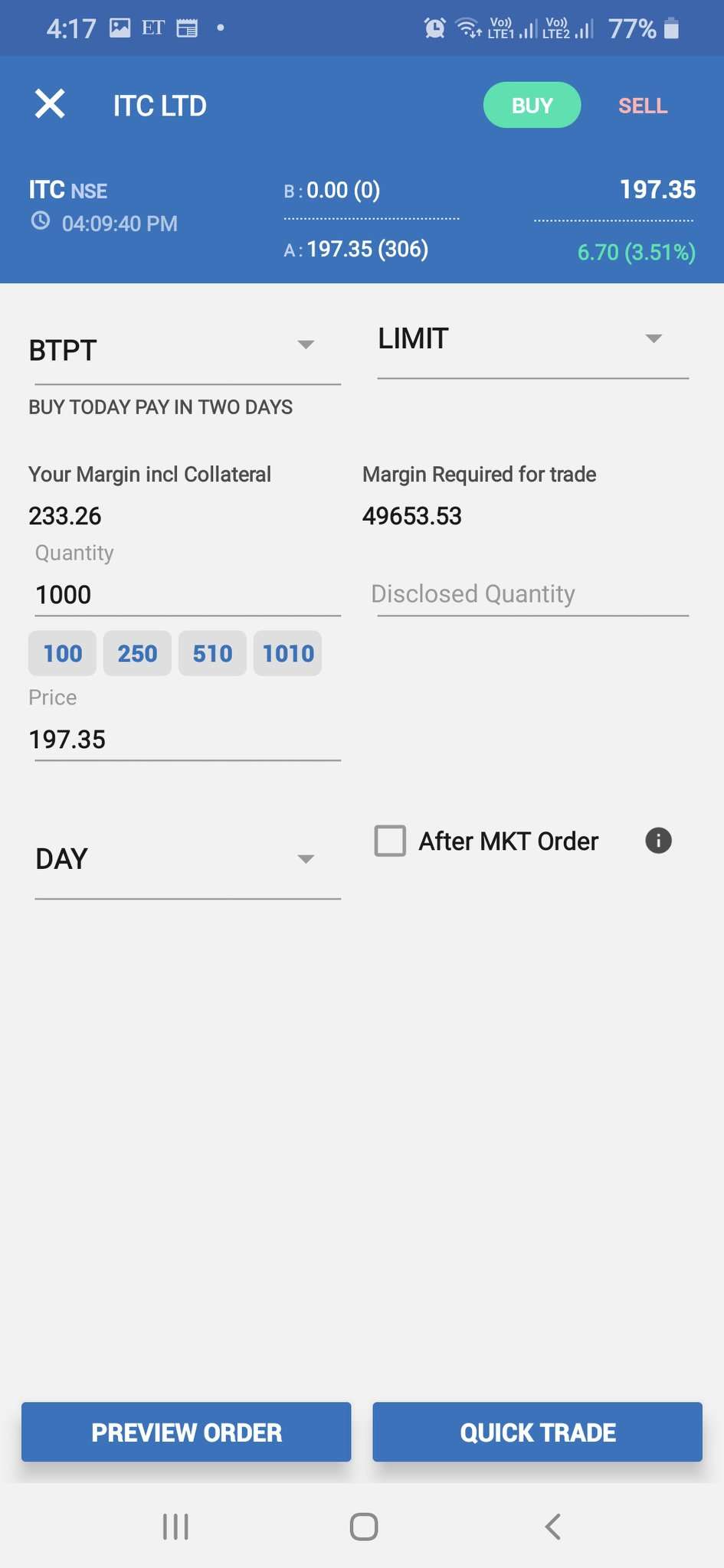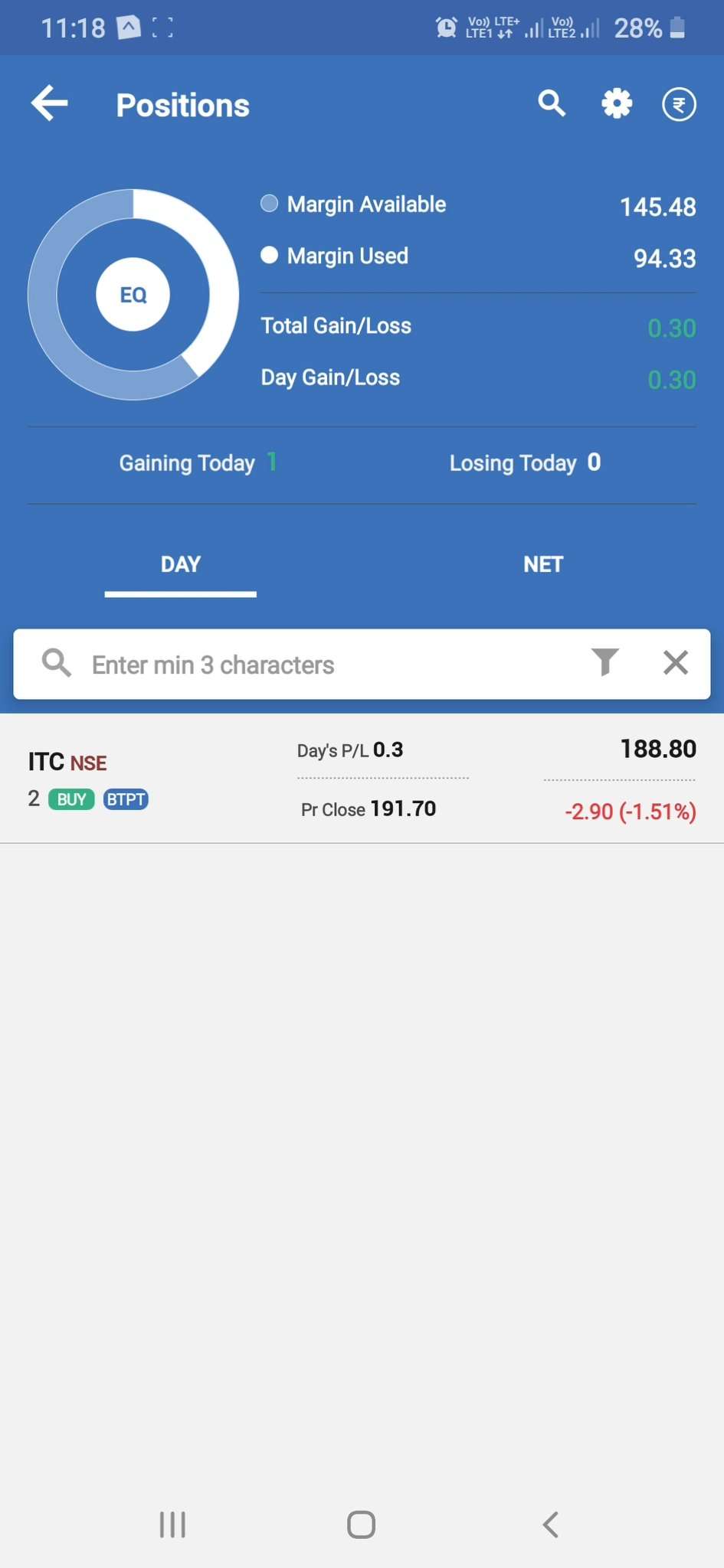 And as for the brokerage, you still only pay Rs. 20 per order. Meaning, you are saving Rs. 243 (Rs. 263 earned interest – Rs. 20 brokerage) in this transaction.
The product of BTPT is absolutely free of charge for all Samco clients. You pay no subscription cost for it. You need not pledge your holdings for it. And it can be used like any other product type on the mobile app, web terminal, and desktop application.
If you aren't a Samco customer, open a free account today and experience this one-of-a-kind product.
Now let's take a look at how you can use this product for your benefit on the StockNote app.
Using BTPT product in 3 simple steps:
Step 1:
Before using the BTPT product for purchasing any stock, please ensure that the said stock is within the purview of the BTPT category. You can verify it directly in the app while placing your orders (from the order window) or you can check the BTPT stock list on the website: www.samco.in/btpt
Step 2:
Select the script name which you wish to buy and tap on BUY.

Step 3:
Select the product type as BTPT, select order type, enter the quantity and price, click on preview order to verify, and Tap on Quick Trade to confirm and place the order.

It is that easy!
Now let's see this with an example of how BTPT works in your favour.
BTPT in Action:
As you can see from the following screen snippet, if you were to buy 1000 shares of ITC in delivery at the current rate in CNC (Cash & Carry), you would require a margin sum of Rs. 197666.

Now if you were to switch the product type to BTPT for the same 1000 shares of ITC, you see that the margin amount drops to Rs. 49653. You pay this amount on the day of purchase and the rest in 2 days (T+2 days).

You can verify from the order preview that the brokerage and other costs still remain the same as if you were placing just another regular delivery trade.
Once your order is completed you can check your position in My Position option available under My Account tab.

You can see the BTPT marker besides your positions until the payment obligations are met.
This novel and exclusive product of BTPT is made available for 300+ NSE & BSE stocks, and can only be utilized if you have a Samco account.
For additional information on BTPT, you can refer the dedicated page on our website. You will find the BTPT margin calculator, interest saving calculator, even FAQs related to the product: Read more on BTPT
If you wish to extend the Samco experience to your friends and family, refer them to Samco today. You and your dear ones can benefit from Samco's lucrative referral offer. Refer Now!
If you are not a Samco client follow this link to open a free online demat and trading account
Watch This Video to Understand what is BTPT
Important Links
Why Samco is the Best Demat Account in India?
Advantages of a Demat Account
Understanding a Demat Account statement
Do's & Dont's of a Demat Account
How to use a Demat Account?
Detailed Demat Account charges

Visit the Samco Knowledge Centre for more such useful articles
Learn StockMarkets for free on www.tradeflix.com
Was this article helpful?
Share